Watch on the Rhine, Donmar Warehouse review - Lillian Hellman's 1940 play is still asking awkward questions |

reviews, news & interviews
Watch on the Rhine, Donmar Warehouse review - Lillian Hellman's 1940 play is still asking awkward questions
Watch on the Rhine, Donmar Warehouse review - Lillian Hellman's 1940 play is still asking awkward questions
In wartime, when tough actions are needed to back up easy words, what do you do?
Wednesday, 11 January 2023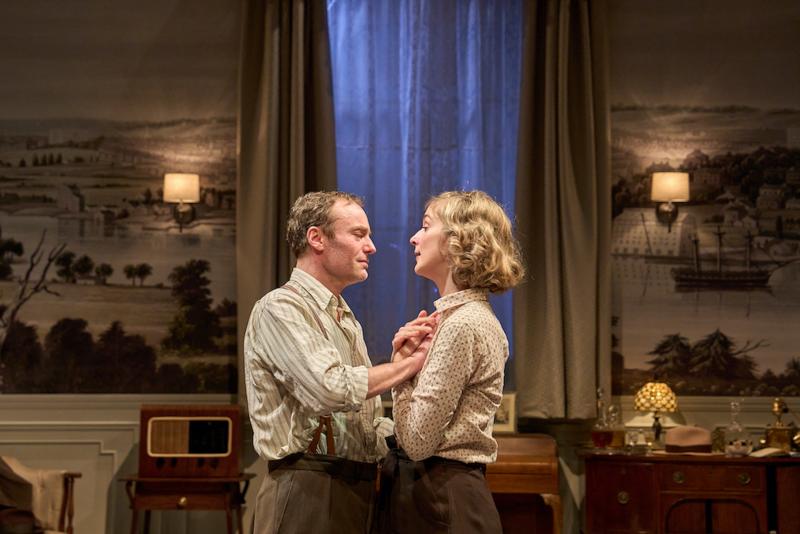 Do forsake me: Mark Waschke and Caitlin FitzGerald in 'Watch on the Rhine'
We're reminded, in a grainy black and white video framing device, that, as late as the summer of 1941, the USA saw World War II as just another European war. As brilliantly illustrated in Phillip Roth's The Plot Against America, not only was such indifference to the rise of fascism more widespread than feels comfortable to reflect upon, but so, too, was a sympathy extended to the Nazis in their psychotic mission to make Germany great again.
It was against that complacent background that Lillian Hellman wrote Watch on the Rhine, a seductive call to arms that knew its audience of New York's WASPish well-to-do, so took good care not to frighten the horses. But it packed enough punch then and, in another January that sees a major democracy failing to deliver a peaceful transfer of power, it packs plenty in the new Donmar revival, as well.
We open on a DC country house that finds Fanny, the matriarch, bickering with long-suffering servants, fading aristocratic guests falling out in public before breakfast, the useless son, everything in a tizzy at the prospect of the daughter, Sara, returning home after two decades in Europe. It all feels a bit Blandings Castle, or maybe Downton Abbey, but with less wit and less vivid characters. Eventually, the play finds its feet when Hellman finds her fire.
That comes in the form of Sara's family, her three precocious children who are multilingual, charming and intelligent if shabbily dressed, and her husband Kurt, physically and psychologically wounded but unbowed, and somewhat reluctant to discuss the last seven years – we can all guess why. So emerges the central question of the play: can comfortable circumstances and distance excuse inaction when democracy and humanity are under direct threat elsewhere? Hellman's play was a call to arms staged a few months before Pearl Harbour rendered such questions otiose.
Ellen McDougall directs a stellar cast who give everything to a play that doesn't quite deserve it. Carlyss Peer gives her all to the painfully underwritten role of the Countess de Brancovis, while John Light all but twirls his moustache as the villainous Count, a Romanian pegged as a wrong 'un the moment he turns up. Kate Duchêne delivers a fine cameo as the housekeeper, Anise, and David Webber's observant butler, Joseph, present purely to roll his eyes at the entitlement of it all, is another of whom we would like to see more.
That said, the central plot is fully compelling. Mark Waschke is magnetic as the mysterious, damaged German engineer (who is not an engineer), and Caitlin FitzGerald brings real agency to Sara, a role that could easily slide into the over-familiar trope of the long-suffering wife without her sensitive portrayal of the costs levied on those who fight for the cause in their own way. As much-needed comic relief, Billy Byers, Chloe Raphael and Bertie Caplan make a wonderfully warm trio of kids, but, like the von Trapp children, they also know the price their parents are paying with their principles and bring out that poignancy beautifully.
It is the mother and son relationship that poses the central question, Geoffrey Streatfeild finding his voice as David, leaving his Bertie Woosterish buffoonery behind as he (and by extension us) realises that, as the phrase has it, shit just got real. So too Patricia Hodge's Fanny (pictured above), whom we know is more than the walking cliche of Act One, but it is still satisfying to see her tested and coming through, as we all hope we would in such circumstances.
Josh Middleton's musical choices, drawing on the Weimar songs of Mischa Spoliansky and Friedrich Hollaendar, along with one or two minor textual changes, adds a much-needed Jewish dimension to the play, one that Hellman felt she had to hide on Broadway 80 years ago, where, one presumes, Jews were admitted as entertainers but not agitators. It'll be a matter of taste, but by giving us a little of this context, I felt this rather half-hearted approach denied a lot. It's not like we don't know about Kristallnacht or the death camps, nor about how anti-Semitism has crawled out of the sewer in the USA and UK in recent years. The subtext of the early 1940s can sustain text in the 2020s.
That is a quibble though in a play that, for all its structural flaws, refuses to talk down to its audience, makes some salient points without sugaring its message. The "What did you in the Great War, Daddy?" poster of 1915 has its critics, but I fear our children will ask us that same question some 20 years hence unless those of us who value democracy are prepared to defend it with a bit more than a smile or two at satirical pieces in the New York Times.
It all feels a bit Blandings Castle or maybe 'Downton Abbey', but the play finds its feet when Hellman finds her fire
rating
Explore topics
Share this article