Favour, Bush Theatre review - Ambreen Razia's punchy new tug-of-love drama |

reviews, news & interviews
Favour, Bush Theatre review - Ambreen Razia's punchy new tug-of-love drama
Favour, Bush Theatre review - Ambreen Razia's punchy new tug-of-love drama
A brilliant balance of raucous comedy and immense pathos
Leila's choice is between Aleena (Avita Jay) and Noor (Renu Brindle)
Where should Leila live — Ilford or Kent? It doesn't sound like an earth-shattering decision for a 15-year-old to make, but the stakes are higher than they look in Ambreen Razia's latest play, Favour.
Ilford means Leila continuing to live with Noor, the strict grandmother who took over when Aleena, Leila's recovering alcoholic mother, went to prison for two years; Kent means moving into a bedsit with fun but wayward Aleena, now coming home and keen to start over. Which will Leila favour? It's the simplest of agons, but it packs a big punch here.
Razia carefully builds up the two factions. Noor's desire to give Leila a firm footing in life means regular routines, lots of homework, no sugar after 9pm, no trash TV like Love Island, it's "just stupid naked people". And no fizzy drinks, ever. Under her roof, Leila will observe the Muslim faith that she admits gives her comfort, and will progress to college, Noor hopes. Renu Brindle plays her with a sad-eyed delicacy that shades into sternness and remoteness. The first chinks appear when we discover she is a surreptitious smoker.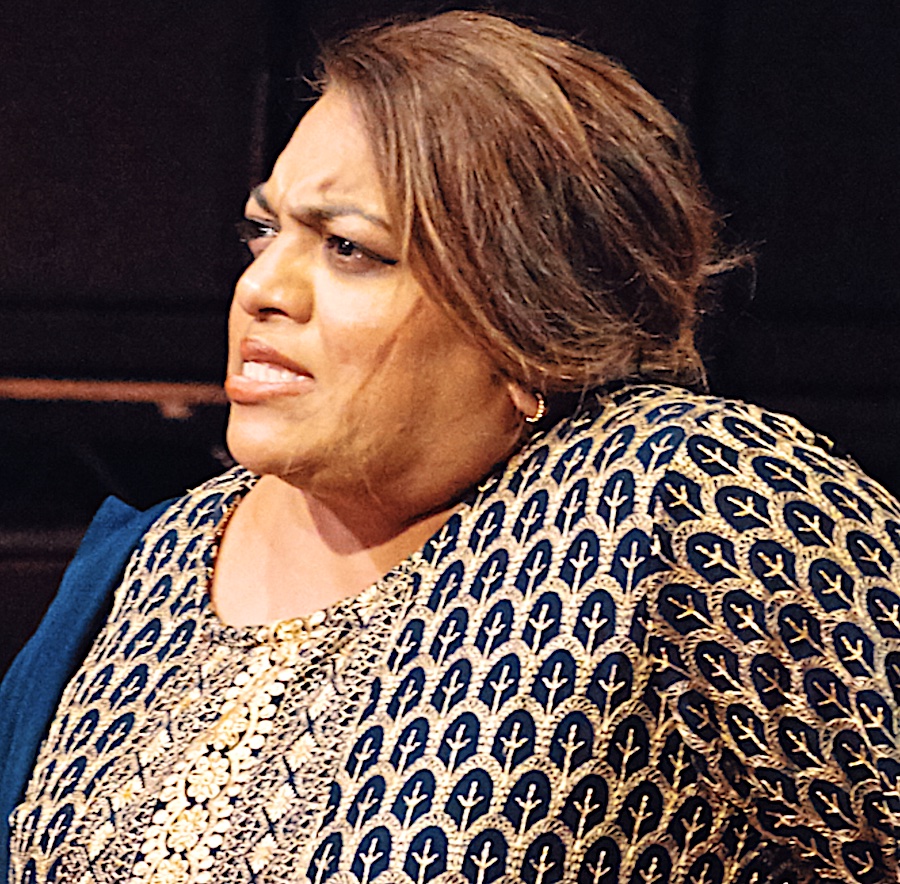 Aleena's interior life, on the other hand, bursts out in a messy rush before she has even taken her coat off. She has found a new "faith" in prison. She has realigned her chakras and seen her spirit animal, she cheerily tells Leila and a highly sceptical Noor. She has also, though, started reading Shakespeare. Most importantly, she wants to take Leila along on the carefree ride she herself clearly needs, bunking off school, having movie nights with popcorn, dreaming of visits to New York. But she is still an angry woman, and Avita Jay projects this fury perhaps too emphatically at times so that it almost eclipses the vulnerable woman feeling unloved by all – the cold mother and younger sister, the finger-pointing locals – all except her daughter.
Aleena's anger notably erupts when "auntie" Fozia calls round, the queen-bee who dispenses favours to Noor, helped her secure her drab little house, provided the barrister for Aleena's defence and now corrals her into working gratis at the local mosque and community centre. Rina Fatania (pictured above) transforms Fozia into a gorgeous comic monster, an Asian Hyacinth Bucket with a big streak of self-serving hypocrisy. When Fozia is offered a selection of biscuits, Leila wails, she complains "her sugar is high" then eats all the chocolate ones. Noor has no choice but to kowtow to her, we suspect, as the alternative is far worse.
Leila (Ashna Rebheru, pictured below, recently seen in the Hampstead's excellent Animal Kingdom) is an especially winning character, a perky, music-loving teen with the fashion passions of her tribe ("He's wearing Kangol! Who wears Kangol!?"), but a serious commitment to her studies and wearing her hijab. Now her best friend isn't allowed to come round, and she is finding herself being ostracised along with her mother. We come to see the damage behind the high spirits, in a sparkling, wholly convincing performance from Rebheru.
As Razia fleshes out the tug-of-love for Leila with spilled secrets and insights, we see the difficult choice Leila has to make. We realise why Noor is desperate to protect her; why Aleena hates being stared down at by the family portrait of her younger sister Shabana, husband and two boys; the real reason why she went to prison. Tellingly, Shabana never makes an appearance.
Noor becomes a compelling creation. She has built a structure of falsehoods she hopes will protect everybody in the family, but especially around Leila. She is a liar, but also a selfless woman who has worked double shifts in a factory to keep the family afloat. Competing with her faded embossed wallpaper and secondhand furniture, Aleena is conjuring a white dream house with "nice pieces here and there, lamps, lots of lamps!" But the reality is that she is racking up a big bill at the local shop and giving in to kleptomania. Her OCD is ever-present, her medication too.
Co-directors Roisin McBrinn of Clean Break and Sophie Dillon Moniram keep all the tonal elements in play, from raucous comedy to immense pathos. In a masterly scene, created with some nifty stagecraft, Aleena helps Leila live out a fantasy – a manicure in a pink neon-lit salon, sipping a mango mocktail and wearing a tiara – and we watch it magically appear, then slowly dissolve under the weight of reality into intense sadness. Even more moving is the final scene, where the three generations reveal their decisions. There were tears in the audience as well as onstage.
Favour is at the Bush, W12 until 6 August

Aleena wants to take Leila along on the carefree ride she herself clearly needs
rating
Explore topics
Share this article