Edinburgh Fringe 2022 reviews: The Last Return / Psychodrama / Exodus |

reviews, news & interviews
Edinburgh Fringe 2022 reviews: The Last Return / Psychodrama / Exodus
Edinburgh Fringe 2022 reviews: The Last Return / Psychodrama / Exodus
Three shows at the Traverse take in gritty realism and no-holds-barred farce
Naima Swaleh, Fionn Ó Loingsigh, Anna Healy and Fiona Bell in 'The Last Return'
The Last Return, Traverse Theatre ★★★★★

Put a leafless tree prominently on stage – especially in an Irish play from an Irish company – and you're asking for parallels to be drawn. And indeed, there's a god-like figure that the characters in Sonya Kelly's brilliant, scabrous comedy are waiting for – someone called Oppenheimer, who, of course, never appears. More specifically, it's tickets for Oppenheimer's Return to Hindenburg (a play? an opera? something else entirely? who knows?) that a ragtag and increasingly bizarre collection of punters are desperately seeking, each with their own life-depends-on-it reasons. Return to Hindenburg, however, is sold out, and they have no option but to form an orderly queue for returns.
As if that queue is ever orderly. There's a neat parallel between writer Kelly's conceit and the pushing-and-shoving hi-jinks of Fringe queues that makes The Last Return feel particularly apt in Edinburgh at the moment, quite apart from any Beckett references. But more importantly, Kelly's play is a merciless dissection of social mores, of levels of awkwardness, audacity and outrage, and one that takes on an ever broader significance as the character count increases.
The Last Return is blisteringly funny, and so tightly written that barely a word feels out of place. More than that, though, it holds up an unforgiving mirror to our petty social interactions, revealing all the malevolence, fury and deceit within them. And it gets a pitch-perfect performance from Galway's Druid Theatre Company, from Fiona Bell's protein ball-wielding harridan to Anna Healy's sublime, all-powerful ticket seller (oh, but she's so much more than that). Sara Joyce's direction is brisk and vivid, each line unfailingly hitting its target. And complete with bare, Beckettian tree, Francis O'Connor's bright and clutter-free design gives just the clinical backdrop needed for these relationships to entangle and ensnare each other.
You might get the feeling that The Last Return's closing minutes have bitten off more than they can chew – and its conclusion, admittedly, feels somewhat sentimental after all the vitriol that's gone before. But it nonetheless serves to remind us of the wider context to our small-minded squabbles, which Kelly and the Druid team so unforgivingly scrutinise.
Psychodrama, Traverse Theatre ★★★★
The actor in front of us ate nothing in her 20s, she tells us near the very start of Matt Wilkinson's tense, unpredictable solo thriller, and she consequently did fairly well for stage and TV work. It's a sarcastic, knowing statement that both shocks and amuses with its unforgiving self-awareness, and the obvious connection it draws between looks and success. And it sets the tone perfectly for an hour of frank talking about the theatre and film industries – even if we might increasingly wonder how much of it we can believe.
Played with machine-gun-like delivery and world-weary cynicism by a compelling Emily Bruni (pictured above, picture by Mihaela Bodlovic), Wilkinson's central character has found herself auditioning, then kind of informally helping out, on a new stage version of Hitchcock's Psycho by brilliant Dutch director Peter Coevorden. The further she gets sucked into Coevorden's intense, increasingly unreal world of one-on-one rehearsals and intimate confessions, however, the more events begin to resemble those of the film they're reimagining.
Add in a layer of high-fashion designer name-dropping – our protagonist makes ends meet schmoozing customers in a high-end boutique – and Wilkinson has created a claustrophobic world in which you can seldom take things on face value. There's a clear theme of male manipulation and abuse of women, something else the writer draws from Hitchcock's movie. But Psychodrama is more than a straightforward dissection of masculine power. It's an elusive work, delving into contested versions of the truth, and you'll probably still have questions about its events and implications long after the show is over. But with Bruni's mesmerising performance, and Wilkinson's many layers of artifice and deceit, it's a play that quickly and unsettlingly gets under the skin.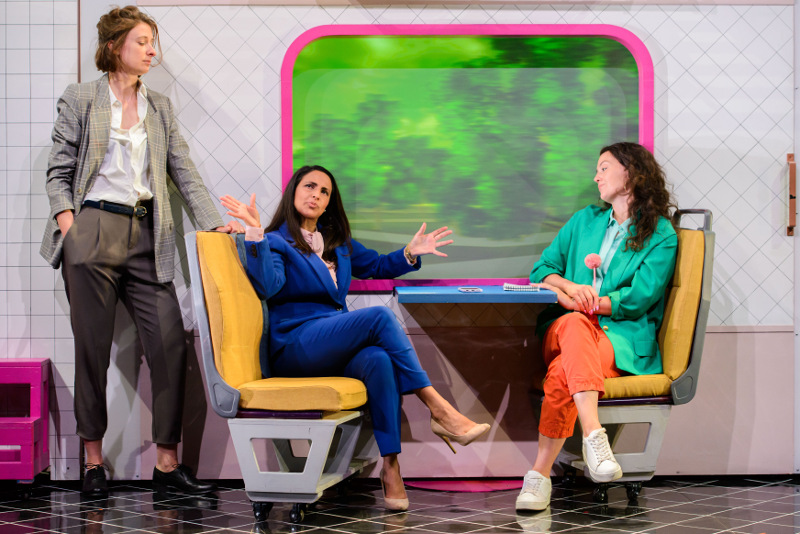 Exodus, Traverse Theatre ★★★

By way of complete and utter contrast, Exodus bursts on to the stage with dayglo colours and unstoppable pantomime energy. Which are hardly qualities you might associate with a play about a deeply unpleasant UK Home Secretary and her plans to prevent immigrants reaching the Motherland once and for all.
Asiya Rao, a second-generation British Asian (a swaggering, posturing Aryana Ramkhalawon, pictured above, centre with Sophie Steer and Anna Russell-Martin, picture by Tim Morozzo) has eyes on the top job with an increasingly unpopular and disrespected PM (just stop me if any of this is sounding familiar). She's so determined to present herself as a caring, sharing figure that she hires an actor (the charismatic Habiba Saleh) to play her mother and chat about her abominable policies to a Times hack (an increasingly bewildered Anna Russell-Martin) in a sweet and loveable way. Or at least Rao's Machiavellian adviser Phoebe Bernays does the hiring – her choice of actor being (slightly unaccountably) the woman she's slept with the night before.
There's a blistering chaotic energy to Uma Nada-Rajah's sprawling four-hand farce, and it's hard not to get swept along in the relentless, rictus-grin enthusiasm of it all. There's masses to sit back and savour, too, from Sophie Steer's wasp-tongued adviser to the plotline that joyfully spirals ever further away from credibility. Director Debbie Hannan lets Nada-Rajah's inventions run loose in all their grotesque glory.
In truth, though, it's all a bit of a mess – overlong, increasingly nonsensical, and chucking around pretty abhorrent concepts with comic abandon. Maybe pushing the audience further than they're comfortable going is part of the point – if so, Exodus hits the mark brilliantly. Either way, it's a hell of a ride.
'The Last Return' is blisteringly funny, and so tightly written that barely a word feels out of place
Explore topics
Share this article