War and Peace, Welsh National Opera, Royal Opera House - bold epic weakened by loosely-directed characterisations |

reviews, news & interviews
War and Peace, Welsh National Opera, Royal Opera House - bold epic weakened by loosely-directed characterisations
War and Peace, Welsh National Opera, Royal Opera House - bold epic weakened by loosely-directed characterisations
Strong singing and conducting, but Prokofiev's psychological acuity is ill served
'So, it's begun': Simon Bailey's Kutuzov and the Welsh National Opera Chorus react to the first cannon-fire at Borodino
On the UK's biggest day of shame, it was some relief to tap in to the fury of the Russian people at a much greater national degradation (Napoleon's invasion in 1812, Hitler's in 1941).
Though it works even better at the end of the first, "Natasha Rostova" part of
Prokofiev
's selective homage to Tolstoy, his choral epigraph gave us a good blasting at the start in the firm profiling of
WNO
forces under their music director Tomáš Hanus. The operatic
War and Peace
, though, is no more just about big gestures than the novel, and Prokofiev's astuteness in characterisation, which can be as assured as
Janáček
's, wasn't so well met by David Pountney's broad, sometimes coarse brushstrokes. Clearly they pleased many reviewers at the Welsh unveiling back in 2018 more than they did me, though Stephen Walsh for
theartsdesk
had some reservations, and he offers plenty of insights on the context.
One aspect, at least, was finely honed, and perhaps here I can add something to what Stephen wrote. This was a necessary compromise between Prokofiev's first complete version, realised by Rita McAllister and impressively mounted in pure form by the Royal Scottish Academy of Music and Drama (now the Royal Scottish Conservatoire), and a selection of the additions he made in the last decade of his life. It would be hard to sit through this opera again without the New Year's Eve Ball scene where Natasha dances a moonstruck waltz with Prince Andrey Bolkonsky and he decides she will be his wife, or the War Council at Fili which culminates in Kutuzov's magnificent aria based on an emotional theme from Prokofiev' music to Eisenstein's Ivan the Terrible (fortunately the Kirov/Mariinsky Opera was persuaded to reinstate it when Andrey Konchalovsky's gorgeous but ruthlessly cut production came to the Royal Opera House in 1999).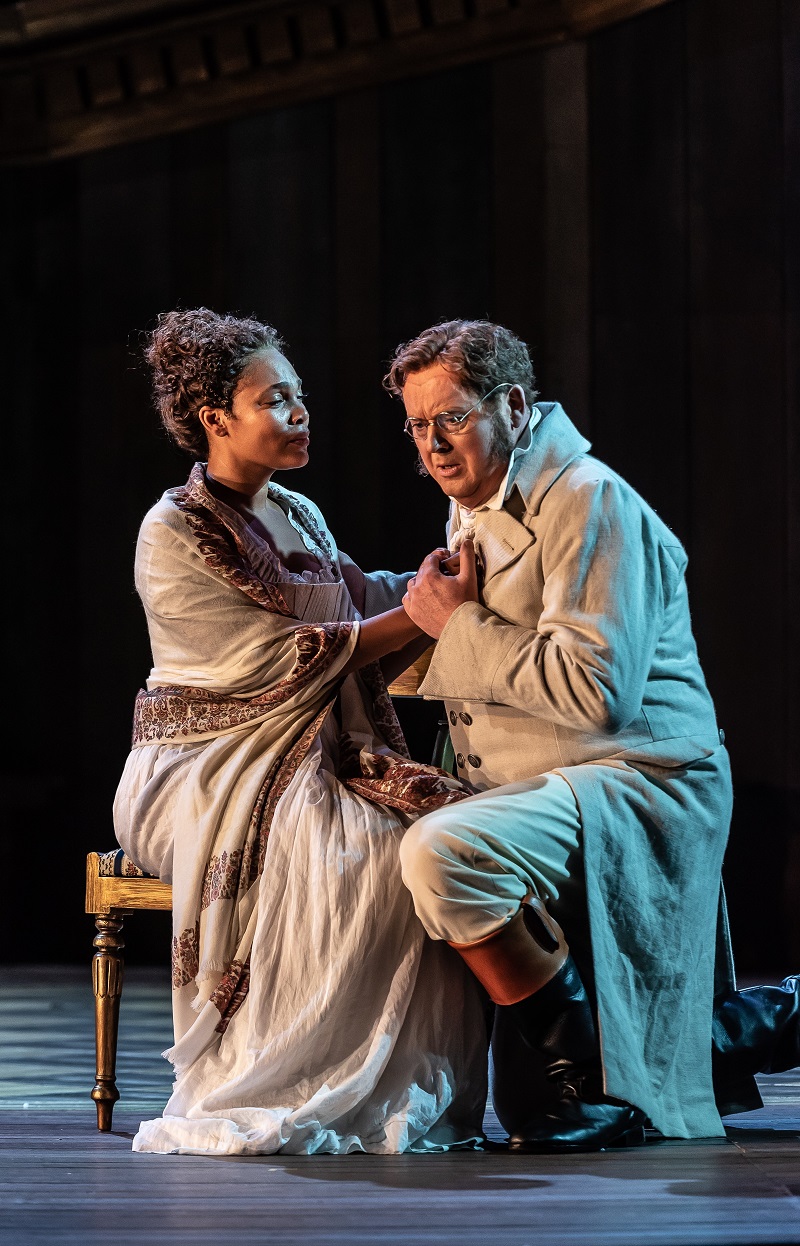 Yet both scenes were later fruits of Prokofiev's ever-teeming imagination. The minus side was what the Committee for Artistic Affairs said had to go, and how much Les Mis-style one-dimensionsal bolstering it demanded; Pountney cleverly incorporates a tacky if exciting chorus as an interlude rather than have it interrupt the "Burning of Moscow" sequence, though here that is shorn of the shattering climax at which Napoleon views a devastated Moscow with the remark "they're Scythians". The biggest revelations of the original are the rough-hewn partisans' exchanges and Kutuzov's bluff complicity with them at the more abrupt conclusion in the final scene; WNO has the best of both worlds by bringing back the stirring choral reprise of Kutuzov/Ivan's theme as an encore, sung by the entire company. The final scene itself doesn't work, though, in Pountney's rather slapdash approach to the handling of groups and a baffling ballet, one of several loose attempts to parallel 1812 with the Soviet 20th century.
There are some potentially first-rate performances here, and all are vocally secure. While Jonathan McGovern's Andrey has the right baritonal lustre, he doesn't seem to know how to stand or what to do with his hands; as a characterisation, this is a long way from Simon Keenlyside's living, breathing, tortured human being for Tim Albery at ENO. American soprano Lauren Michelle's Natasha - radiant and incisive despite some odd vowel sounds, as if a Russian were singing English - and Mark Le Brocq's Pierre, clarion in middle range and the short top mostly well concealed, are physically exactly right. If only Pountney hadn't botched their crucial meeting in the aftermath of Natasha's failed elopement with feckless Anatol Kuragin, one of Prokofiev's greatest scenes (pictured above), definitely up there with the best of Janáček. The timing of the intimacy, the gestures, are all wrong here; and why, as WNO strings plummet the depths of Natasha's anguish just before it, does she still look expectant at the start of that remarkable interlude?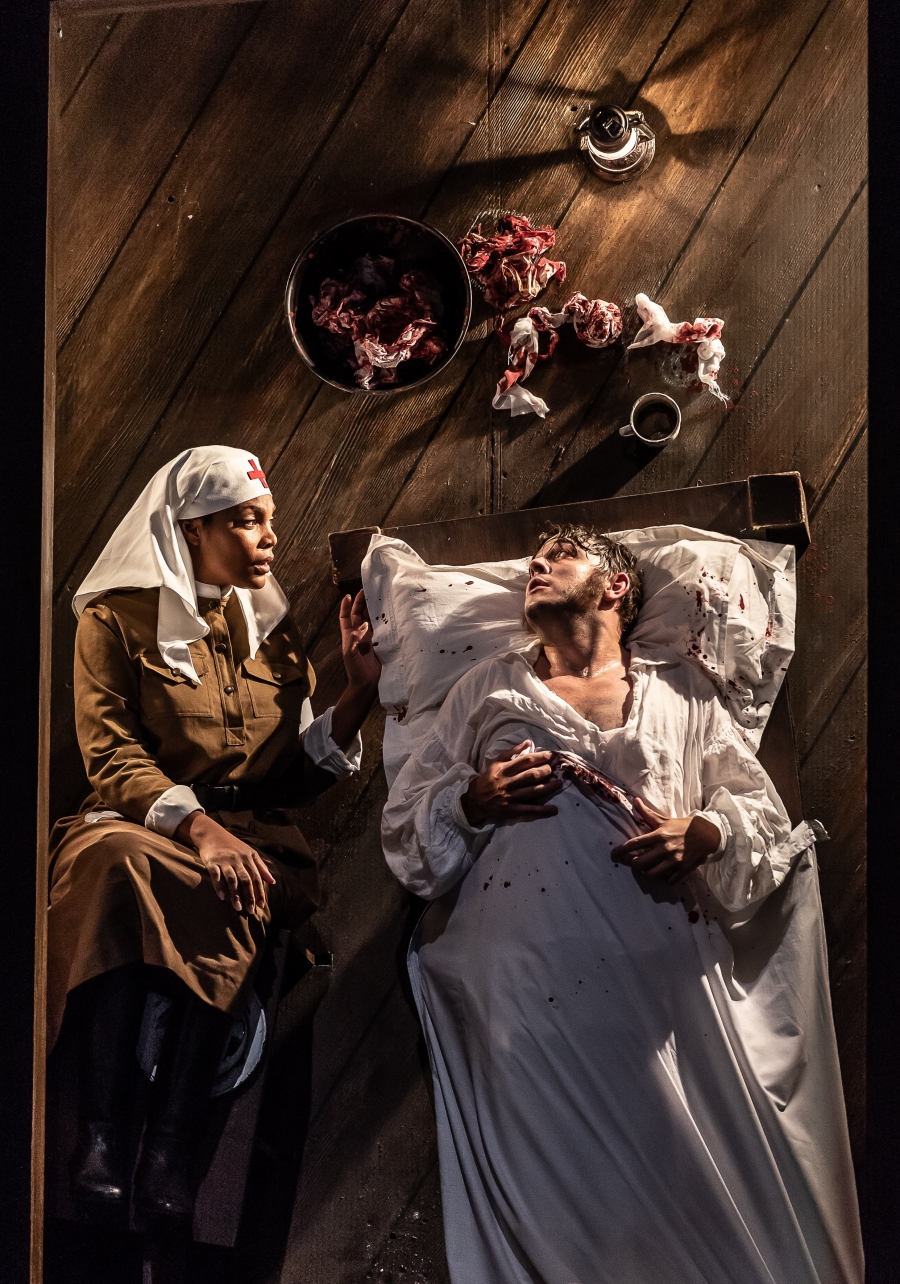 Natasha's reunion with the dying Andrey doesn't quite work, either; the from-above perspective is arresting until the patient is joined by his nurse - a jolt into the 20th century that doesn't quite work - and Michelle looks awkwardly placed (she and McGovern pictured right). To see how all this can work as electrifying music-theatre, you need to watch either of Graham Vick's utterly gripping productions for the Kirov/Mariinsky, stunningly cast - Yelena Prokina was his first Natasha, Aida Garifullina his second, both casting Anna Netrebko's Audrey Hepburn-alike for Konchalovsky in the shade.
All the around-the-battle scenes work better, thanks to some remarkable manipulation by David Haneke of footage from the Bondarchuk film with its 20,000 Red Army extras commandeered for Borodino: a conventional but brilliantly executed solution. Simon Bailey's Kutuzov sounds golden, but it's the wrong voice: youthful-baritonal when we need a well-weathered bass. Leah-Marian Jones does a fine double-act as Princess Marya and Natasha's guardian in Moscow Princess Akhrossimova, but David Stout's four roles are the combined stand-out of the evening: his seasoned-rake Dolokhov has much more character than buddy Anatol (Adrian Dwyer), though perhaps that's right; and while it's clear he also gets to impersonate the ultimately important Denisov, I wouldn't have recognised him as Napoleon in what would be the most flawless scene of the evening if it weren't for the caricatures of reporters from the field.
Pountney overdoes these, as well as the strutting of the Austrian officers, and the chorus have a tendency to do cheesy routines, from the first ball scene onwards; this isn't assistant director/choreographer Denni Sayers' best work. It's good to have quick changes within Robert Innes Hopkins' wooden semi-circle, oval screen behind to assist in the illusion of depth, but an open stage as at ENO would have been even better.
The centre holds thanks above all to Hanus's bold conducting. He likes to take his time with the romantic solos, and co-ordination with the stage isn't always perfect, but the playing of the WNO Orchestra is bright and clear throughout, with some memorable high-wire oboe solos. It's a stirring and engaging evening, but it could have been so much more moving if Pountney had managed to turn those Tolstoyan characters who can make our heart ache into real human beings.