Salome, Royal Opera review – lurid staging still packs a punch |

reviews, news & interviews
Salome, Royal Opera review – lurid staging still packs a punch
Salome, Royal Opera review – lurid staging still packs a punch
Compelling production returns, but with a patchy cast
Malin Byström - a burnished mezzo richness
David McVicar may seem too gentle a soul for the lurid drama of Strauss's Salome, but his production, here returning to Covent Garden for a third revival, packs a punch.
He gives us plenty of sex and violence – or at least nudity and blood – but finds the real drama in the personal interactions, the increasingly dysfunctional relationships that eventually doom all involved. That drama is well served by this revival cast, making for some engaging stagecraft. The musical standards are more mixed, however, with only one truly world-class performance, and from a character who loses his head far too early in the evening.
McVicar sets the action in a concrete basement beneath a banqueting hall (set designer Es Devlin, revival director Bárbara Lluch). Most of the men are in early 20th century military uniform, and most of the women in underwear of a similar vintage – shades then of Pasolini's Salò. A suitably charged atmosphere is evoked with bystanders lining the back of the stage, half-naked and intoxicated women, bored soldiers listlessly pointing their rifles at each of the characters as they sing. Things get off to a shaky musical start, with David Butt Philip struggling to be heard across the orchestra as Narraboth (a small but hugely demanding role) and his soldier companions also underpowered. As Salome, Malin Byström was more convincing, although it took her the first scene to get to grips with the role. The best of her voice is in the bottom range, which makes up a surprisingly large part of the role, where she brings a burnished mezzo richness. Her upper register is secure (bar a few flat notes early on) but sometimes shrill. But her tone is elegant, just a little too small for the part.
The entrance of Jokanaan is an impressive piece of stagecraft. He is imprisoned in a dungeon below the stage, accessed by a circular grate that opens on a huge chain. Michael Volle (pictured above) is perfect for the role, with the sheer size of his voice dwarfing the rest of the cast. But his interactions with Byström are effective too, both seemingly in different and irreconcilable worlds right from their first encounter.
The explosive force of the orchestral interlude between the first two scenes raises the musical temperature considerably, but also highlights how temperate and unengaging the accompaniment has been up until then. Conductor Henrik Nánási maintains a brisk, unyielding pace throughout, rarely digging into the dramatic potential of the orchestral writing: everything in this opera must sound dangerous, but Nánási plays it safe.
Herod and Heroditas are well played, by John Daszak and Michaela Schuster (pictured below). Daszak is suitably creepy and lecherous, while Schuster plays for dark comedy, the nearest thing to light relief here. And both sing well, although Daszak could do with more power in the top register. And, just as with Volle, Byström's interactions with Daszak are perfectly gauged, another utterly dysfunctional relationship playing out before us in all its gruesome detail.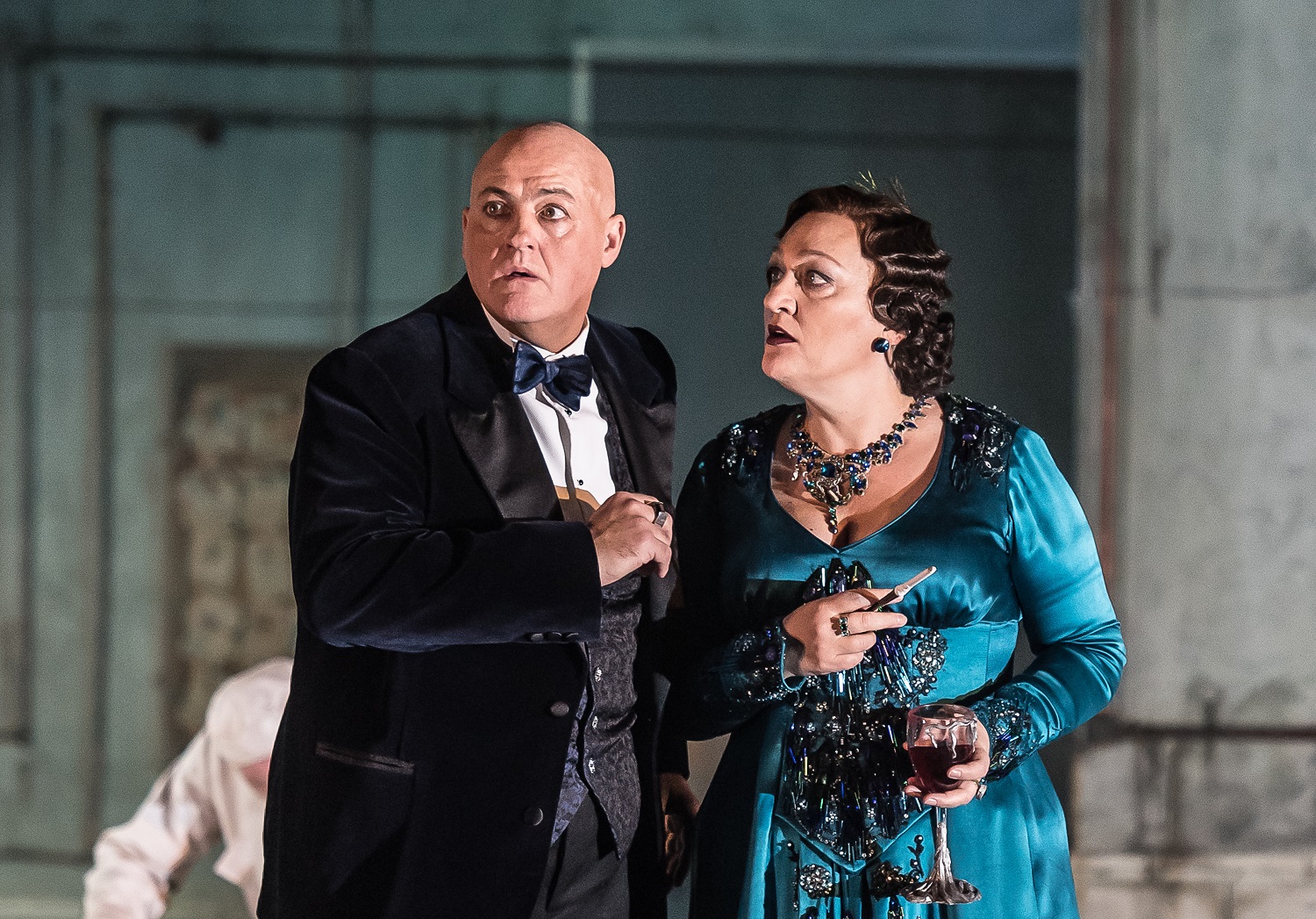 The Dance of the Seven Veils is presented as a kind of psychological dream sequence, with Salome and Herod passing through a series of doors (seven? I lost count) while associative images are projected behind – a bodice unzipping, a light bulb smashing. I didn't buy it, it was too conceptual and not sensual at all, but there was no doubt that this was the dramatic focal point of the opera.
Then comes the head. Byström gave it her all in the finale, basically a one-woman show, and Nánási too finally found some elemental power in the orchestra. It was certainly a passionate and unnerving conclusion, even if Byström's lack of vocal weight again deprived the music of its full dramatic potential.
Modest ticket sales suggest that this revival of the David McVicar production may be its last. Four stagings is a good run though, over the course of a decade. Reviews of earlier runs report mixed quality among the various assembled casts, and that remains the case here. Of the leads, only Volle and Schuster remain from the first run, and both elevated this performance. Byström's dramatic portrayal also deserves recognition, but the otherwise mixed cast, and the routine conducting, confirm the production's status as a dwindling light in the company's repertoire.
McVicar finds real drama in the personal interactions, the dysfunctional relationships that doom all involved
rating
Explore topics
Share this article