The Intelligence Park, Linbury Theatre review - baroque to the point of obscurity |

reviews, news & interviews
The Intelligence Park, Linbury Theatre review - baroque to the point of obscurity
The Intelligence Park, Linbury Theatre review - baroque to the point of obscurity
Nearly 30 years on from its premiere, this oddity shows its style, but still not much more
Thursday, 26 September 2019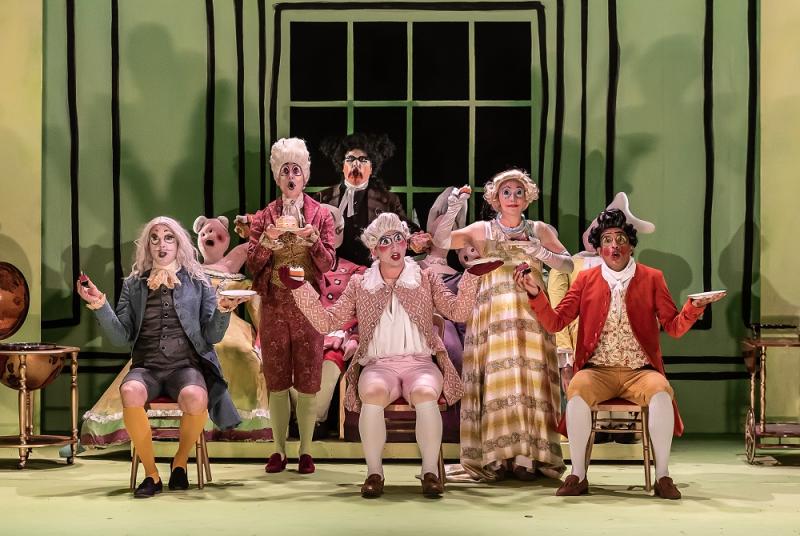 Gluttonous ensemble: Dublin tea-time in 'The Intelligence Park'
Could Gerald Barry's first opera really be as enervating in the Royal Opera House's Linbury Theatre as it seemed nearly 30 years ago at its Almeida Music Festival premiere?
Since then we've become accustomed to wonder at, even love, the Barry style with its shrills and jitters, at least in its wacky takes on known treasures like T
he Bitter Tears of Petra von Kant
,
The Importance of Being Earnest
- in operatic form, the funniest operatic comedy since Britten's
Albert Herring
- and
Alice's Adventures Under Ground
. Here, though, Vincent Deane's baffling fantasia on creativity and singing in mid-18th century Dublin prompts only, for the most part, the barest bones of a unique musical style, finally putting on a bit of weight in its short third act.
Despite the 18 scenes and "stations" with their endlessly taxing, tiring wordplay, the essence isn't so very complex: gentleman composer Robert Paradies is running dry of inspiration for his opera, and poised to marry for money, when he falls in love with the rich girl's music teacher, celebrated castrato Serafino. True to the real-life adventures of Giusto Ferdinando Tenducci, aka Il Senesino, the castrato elopes with the girl and is imprisoned on his return while she's immured by the ghastly relatives. Until Act Three, though, it's hard to work out what's going on. Director-designer Nigel Lowery returns with his trademark child's-picture-book sets, singers marionetting about within them in clown make-up, but seems half-hearted in trying to clarify the action.
To make this immensely demanding music-theatre work, there needs to be absolute precision and energy from both singers and players. It was unfortunate that last night Michel de Souza as Paradies (pictured above centre with Patrick Terry and Rhian Lois) had, gamely, to sing while sick - the deliberately all-over-the-place vocal writing, including relentless falsetto demands, can't have been good for him - and that of the other performers, only Rhian Lois as the coloratura pupil and tenor Adrian Dwyer as Paradies' urbane companion D'Esperaudieu have the ideal focus vocally and dramatically. Barry doesn't make it easy for Serafino to shine as star castrato, but Patrick Terry couldn't often be heard above the orchestra (his giant head as one of the lovers in Paradies' opera-within-an-opera didn't help). The extreme ranges seem especially tough on bass Stephen Richardson as the monstrous father and Stephanie Marshall as cipherish castrato's-mate Faranesi.

Collaborating with Music Theatre Wales, the London Sinfonietta in the pit is tireless in Barry's mostly wind-and-brass richochets, and there's fine expression from the strings when finally allowed to be lyric-elegiac in the last act. One imagines co-ordination with the stage will get tighter during the run, but I'd like to have seen a bit more punch in Jessica Cottis's diligent conducting. If you go, and you're feeling disenchanted by the interval, do stay, for after it the mania and an underlying memento-mori in various chorales finally reach vintage-Barry pitch. There's also a gluttonous enumeration of excess banquet fare to match D'Esperadieu's splendidly-set catalogue of what Paradies is set to inherit if he marries twittering Jerusha. Otherwise, this doesn't begin to repeat the success of The Importance of Being Earnest in the (then unreconstructed) Linbury. Roll on Alice in the spring.