The Gondoliers, Scottish Opera, Hackney Empire review - G&S con amore |

reviews, news & interviews
The Gondoliers, Scottish Opera, Hackney Empire review - G&S con amore
The Gondoliers, Scottish Opera, Hackney Empire review - G&S con amore
Sunniest of the Savoy masterpieces enjoys full measure from a stylish ensemble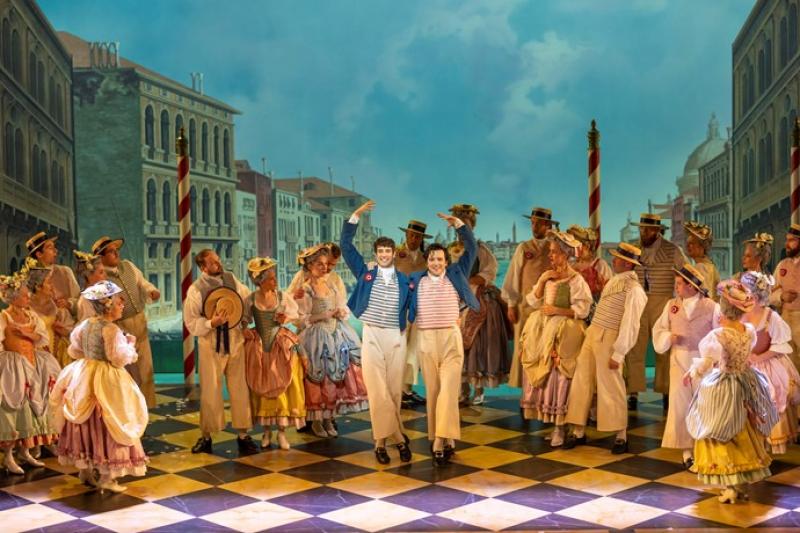 The Palmieri brothers (Mark Nathan and William Morgan) acclaimed in Act One of 'The Gondoliers'
Having sung the Gondoliers' Duet with an Iranian tenor who'd been a big pop star in his native land, I know that internationalism hit performances of the Savoy operas some time ago (this superb but all-white ensemble admittedly doesn't follow the general phenomenon). The master composer and the verbal wit may not have travelled the world musically speaking, apart from a famous little excursion into Japonisme, but we can safely acclaim them as lifelong Europeans.
In the earlier gems of his partnership with Gilbert, Sullivan gives us loving, memorable spoofs of Italian and German opera from Donizetti to Wagner; by the time of The Gondoliers, where Act One's Venetian location gives way to the Spanish kingdom of Barataria once granted to Cervantes' Sancho Panza (scene from Act Two pictured below), there's a genuine love of italianità which outshines the usual topsy-turvy comedy.
Respect but not reverence reflects that in Stuart Maunder's nimble direction, Dick Bird's backdrops as well as his adaptable and prettily plainted flats and Derek Clark's keep-it-on-the-move conducting of a lucid and bright Scottish Opera Orchestra. The choreographer plays a major role, too, using no extra dancers but getting the fine principals and Scottish Opera Chorus to execute some fairly tricky steps; I thought I was watching the non-stop inventiveness of G&S stalwart Lizzie Gee until I checked the programme; it turns out to be the work of Isabel Baquero. Her precision keeps at bay the kind of mugging and overkill that made the same company's The Pirates of Penzance so unfunny.
Not that The Gondoliers is a laugh a minute like Pirates, Pinafore, Mikado or Iolanthe. It's only in Act Two that the usual topsy-turviness, previously glimpsed only in a baby mix-up that leaves (or so it seems) one of two gondoliers a king of a distant island, really kicks in. The paradox of a Venetian plebeian republican monarchy is deliciously expressed in gags with a double Napoleon portrait, our Palmieri brothers poking their heads through, and a real patter-ish highlight, baritone Mark Nathan peerlessly stylish in Giuseppe's long solo of singular royal life, "Rising early in the morning". And the opportunism of the hard-up Duke and Duchess of Plaza Toro as a limited company selling honours cues Richard Suart's characteristic "little list" amendments as he channels our joke of a Prime Minister in "Small titles and orders". Yvonne Howard's Duchess (pictured below second from right with Dan Shelvey's Luiz, Catriona Hewitson's Casilda – channelling Eboli with the eyepatch? – and Suart) is quieter but manipulates her scene-stealing (and never tiresome) farthingale with aplomb.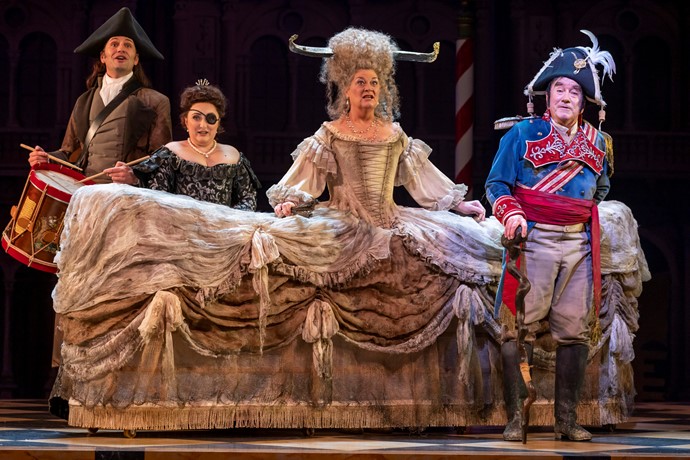 In place of belly-laughs in Act One comes musical sunshine, Sullivan's ever more deft and chameleonic orchestration matching some of Gilbert's sweetest lyrics in the opening through-composed 20 minutes – a first for the duo – and a chain of delicious quartets and quintets. This is the direction the Savoy operas were heading in through the second acts of Princess Ida and The Yeoman of the Guard, and throughout The Mikado; The Gondoliers really is G&S's Così fan tutte, with three pairs of lovers, low-born and high,
Of the six, we might have enjoyed a slightly more sensuous tone from Sioned Gwen Davies in Contadina Tessa's "When a merry maiden marries" and pure lyric-tenor beauty from William Morgan in "Take a pair of sparkling eyes", though the second verse is sung with poetic softness. But Nathan and the Gianetta for the Hackney stint of the run, Charlie Drummond, work charismatic magic, and the often slightly dull Casilda-Luiz duet impresses in the exchanges of Catriona Hewitson and Dan Shelvey (with more than a little help from Clark).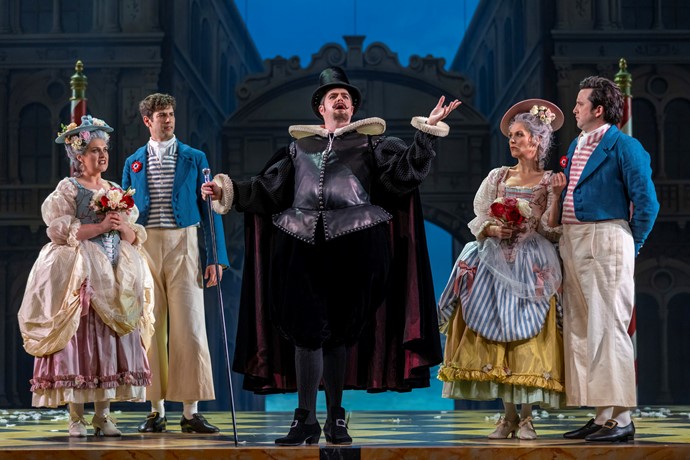 Ben McAteer, having given us a very funny Earl Mountararat in ENO's Iolanthe, relishes the focused camp of Don Alhambra del Bolero, Grand Inquisitor (pictured above centre) – and for once the torture with which he threatens the putative king's foster-mother Inez is enacted with that last-minute revelation, albeit with Pythonesque humour keeping offensiveness at bay (and cruelly stretched arms), in the redoubtable personage of Cheryl Forbes, who is literally a real scream.
As coda, I'd better admit shame-facedly that I only caught the final performance in the run, and would love to have seen the same company, partnered in all this by the D'Oyly Carte Opera Trust, in a concert staging of the penultimate opera, Utopia Limited, the previous evening. But I did catch the "old" D'Oyly Carte stage that back in the 1970s, and though this performance sounds like it lit up the house with its satirical brio, courtesy of Gilbert still on good form, I know the music's not so strong. The Gondoliers, though, is the equal of the best, but in its own, more gentle fashion. A proper Princess Ida next, please; Ken Russell killed the only chance it's had in recent decades, and a Finborough staging cut and messed it about. A tricky one with its mockery of women's education, but Maunder, Clark and Co could probably carry it off.
With its chain of delicious quartets and quintets, 'The Gondoliers' really is G&S's 'Così fan tutte'
rating
Share this article