The Red Shoes, Sadler's Wells review - the ultimate stage movie |

reviews, news & interviews
The Red Shoes, Sadler's Wells review - the ultimate stage movie
The Red Shoes, Sadler's Wells review - the ultimate stage movie
Matthew Bourne's love letter to the cinema returns, in even sharper focus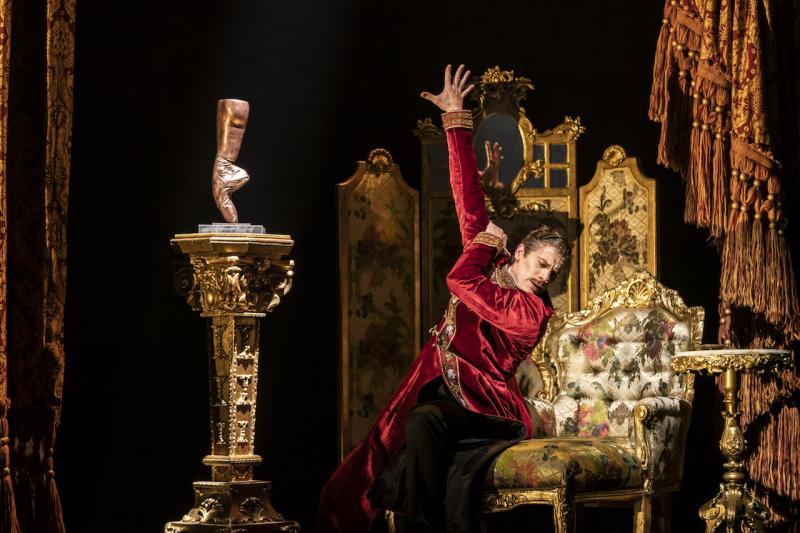 Foot fetish: Adam Cooper as the impresario Boris Lermontov in 'The Red Shoes'
Matthew Bourne's tally of hits is such that many of his dance-drama interpretations of old ballets and films were labelled "classic" as soon as they appeared. Yet The Red Shoes, Bourne's 2016 tribute to the 1948 film, is arguably the one that most rewards repeat viewings. Thickly layered with entertaining detail, you can see it again and again and still find new things to love.
It's also unique in adding more dance than the original contained. Michael Powell and Emeric Pressburger's film follows the rise of a talented young British dancer, Vicky Page, as she joins a foreign ballet troupe (loosely based on the Ballets Russes de Monte Carlo which operated in the 1930s and '40s) then finds herself torn between love and art, with tragic results. For a movie about dance, there is an awful lot of talking. Bourne forgoes dialogue, channeling the narrative into dazzlingly fluent movement. And if there were some small areas of fuzziness in the storytelling first time round, these have been dealt with. This is a masterclass in showing, not telling.
Lez Brotherston's hyper-mobile set design is key, ushering us from backstage to front-of-stage, from Cote d'Azur to East End music hall. By means of an ingenious swivelling proscenium arch, a single scene can flip between seedy digs in post-war London and a gilded suite in Monte Carlo, or switch the audience's point of view. One second we're watching the dancers in a show-within-the-show, the next the proscenium has swung through 180 degrees and we're seeing the dancers' backs and the rapt faces of a fictional front row they're playing to. The notion of watching performers watch performers becomes a fascinating sub-theme.
The other potent narrative force is musical – Terry Davies's orchestrations of early movie scores by Bernard Herrmann, played live from the pit. The selections are obscure, pre-Vertigo, pre-Hitchcock even, but the harmonic tug of the familiar later film music is there. And Bourne puts Herrmann's work to some surprising uses – a bored pavan for posh patrons at a Covent Garden fundraiser and pastiches of ballets known to have toured Europe in the 1940s, not to mention the central Red Shoes ballet (pictured above), closely based on the Hans Christian Andersen story about a girl whose devilish dancing slippers lead to her self-destruction.
Using largely non-classical dancers in a story about classical ballet might seem counter-productive, but it's dramatic clout that countsA hallmark of Bourne's best work is its equal appeal to theatre newcomers and cognoscenti who, if unable to identify every one of his arcane historical references as they appear, can later amuse themselves on YouTube tracking them down. Sure enough, at the seedy London music hall where Vicky finds work as a dancer, the wacky comedy double-act turns out to be the once-famous "Sand Dance" of 1934, in which two skinny Englishmen dressed as comedy arabs do a silly dance against a backdrop of the pyramids. It's horribly funny if certainly racist, though you could argue that it's the puny Brits who come off worst. Another of Bourne's traits is that he's not afraid to sail close to the wind. In his comic pastiches of old ballets his mockery of antiquated performance manners, while raising a laugh, can sometimes seem like biting the hand that feeds.
As always, the performances are impeccable. Though Bourne's decision to use largely non-classical dancers in a story about classical ballet might seem counter-productive, it's dramatic clout that counts here. A major new asset to this revival is Adam Cooper in the role of the Svengali-like impresario Boris Lermontov (pictured, top). Stern and chilly, this patrician character is given little to dance, but the economy and focus of Cooper's acting dominates the stage and his single outburst is explosive. The indefatiguable Ashley Shaw – more Debbie Reynolds than Moira Shearer – resumes the role of Vicky Page with cheery aplomb. But the most memorable turn on opening night came from Dominic North as her love interest, composer Julian Kraster.
Essentially he's tweedy and shy, but in one fabulously virtuosic solo he reveals his inner fire. Anyone but Bourne would have been content to present Kraster as a Clark Kent-into-Superman type. But Bourne goes further and attempts to get to the nub of the creative process too. In the space of a few minutes he shows us the inner workings of a composer in full flow: the igniting of the spark, the building of musical ideas, the frustrations and the thrill of it as the symphonic textures come together. As a piece of theatrical daring this scene alone merits the ticket.
In the movie, there was an awful lot of talking. Bourne channels that dialogue into dazzlingly fluent movement
rating
Explore topics
Share this article