Goodyear, Chineke! Orchestra, Marshall, Symphony Hall, Birmingham Review - engaging and uplifting |

reviews, news & interviews
Goodyear, Chineke! Orchestra, Marshall, Symphony Hall, Birmingham Review - engaging and uplifting
Goodyear, Chineke! Orchestra, Marshall, Symphony Hall, Birmingham Review - engaging and uplifting
Joy and sparkle from this youthful band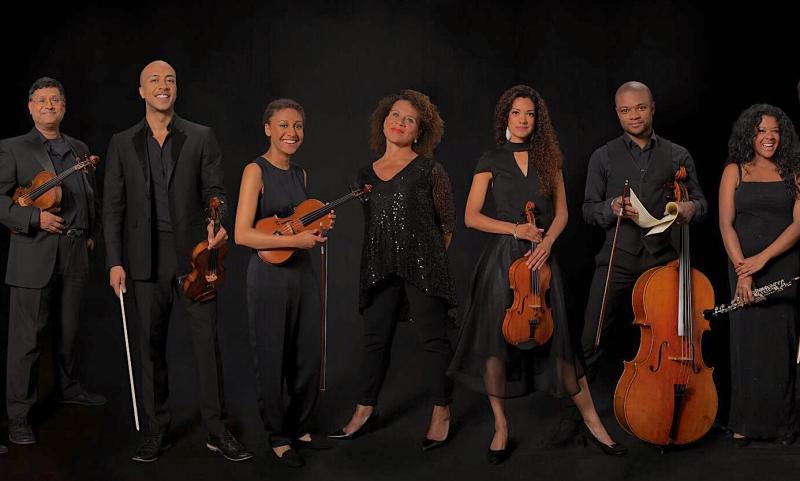 Members of Chineke! with Chi-Chi Nwanoku centre
Having played their first concert just four years ago, the Chineke! Orchestra gave a rousing, exuberant performance for an ensemble still in its infancy. It's a young orchestra, not just in the sense of only being founded a few years ago, but one that comprises many young players too. Though its youthful passion and energy was very much to the fore, there were some points in Edvard Grieg's Peer Gynt Suite No 1 when a lack of experience let them down.
The violins' tone in the opening of the third movement,
"Anitra's Dance",
was a little coarse, and a distinct disconnect between the bassoons and lower strings was felt in the opening bars of
""In the Hall of the Mountain King"
.
Stewart Goodyear's Callaloo – A Caribbean Suite for Piano and Orchestra had all the joy and colour of a Caribbean carnival, with the composer himself at the keyboard. Named after a Caribbean dish that blends flavours and spices, the piece mixes musical influences, from calypso to jazz, Afro-Cuban and Jamican folk, as well as classical. The first movement, "Panorama", is inspired by steel pan groups playing medleys of calypso songs, and seemed to exude sunshine in this high-spirited performance. The second, "Mento", is an homage to the Jamican musical style of the same name and features driven rhythms from strings and horn.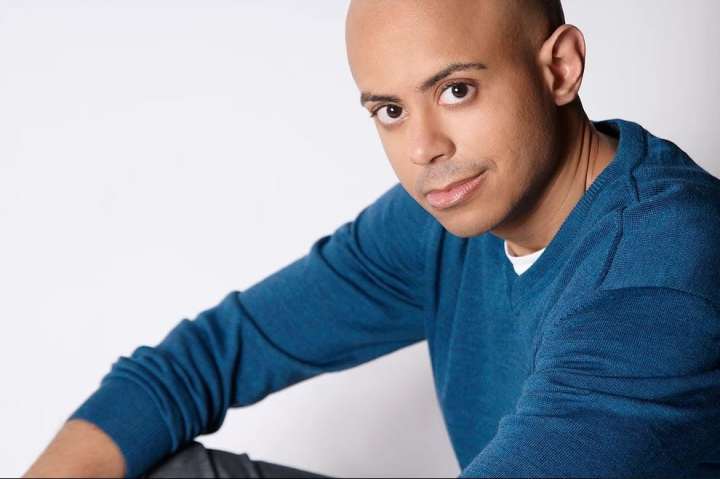 Goodyear's playing (the pianist/composer pictured above by Anita Svonar) switched from punchy and flamboyant to tender and lyrical for the third movement, "Ballad", before giving bright splashes of colour to his cadenza. Moving straight into the final movement, "Soca", which takes its name from the Carnival's grand finale, the orchestra played with an infectious energy, with brilliant trumpets and zesty percussion. Conductor Wayne Marshall seemed almost to be dancing on the podium as he brought the exhilarating final movement to an end.
The audience was a particularly enthusiastic one, giving rapturous applause at the end of every movement of every piece. Even the stage manager was heartily clapped as he came on to lift the piano lid ahead of Goodyear's performance. Though clapping in between movements is, in today's classical music circles, strictly Not. The. Done. Thing., the fact that this orchestra brought in a new audience, unused to the unwritten conventions of a concert hall, can only be a positive, and perhaps other groups could take note.
To end the programme, the orchestra captured the dark, brooding atmosphere of Dvořák's Seventh Symphony. Though it wasn't without its wobbles, the problems of the earlier Grieg had all but vanished, and the orchestra played with a much more mature sound than in the earlier works. Marshall took measured control over the music's ebb and flow, not letting its energies bubble over. The lilting of the Scherzo lent the music a joyous feel despite its minor key, and the finale was played with a strong, exacting sound.
The orchestra played with an infectious energy, with brilliant trumpets and zesty percussion
rating
Explore topics
Share this article