Vox Motus: Flight, Brighton Festival 2019 review - a novel and moving experience |

reviews, news & interviews
Vox Motus: Flight, Brighton Festival 2019 review - a novel and moving experience
Vox Motus: Flight, Brighton Festival 2019 review - a novel and moving experience
Astounding combination of theatre and installation tells the wrenching story of two Afghan child refugees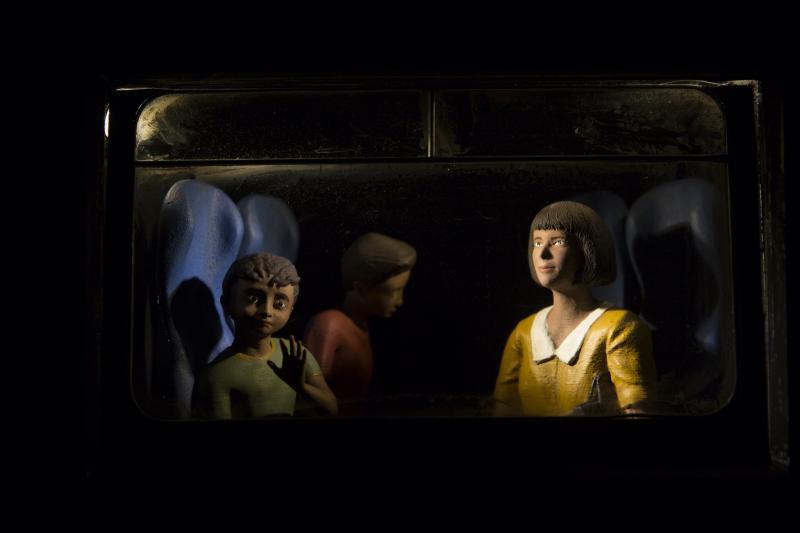 Kabir looks from a train window on his long, long journey
Flight is a show by experimental Scottish theatre company Vox Motus, adapted from the novel Hinterland by Caroline Brothers. It's about two Afghan child refugees making their way across Europe to the fabled land of "London" and is based very directly on her own interviews with asylum seekers as a journalist.
So far, so narrartively straightforward but
Flight
is unlike anything most people will have seen. It is as much art installation as it is theatre, perhaps more so, yet it's a tale beautifully, economically told and is profoundly moving.
In a recent artsdesk interview Candice Edmunds, one of Flight's creators, described the experience thus: "You arrive and are led individually to a booth where you're seated with a set of headphones on your head. You're sitting in front of a large carousal and set into it are 200 diorama, 3D model boxes. As the story unfolds through the headphones the carousel revolves and lights up to tell the story, so it's almost like looking at a 3D graphic novel. It lasts 45-50 minutes and you are one of 25 people sat around the carousel. As your story comes to an end you are taken out of your booth and someone else is sat in there so the story can start for them. It's a revolving experience of time slots across the day as each audience is gradually taken out, and it never stops. The story goes round and round; there's something a bit Victorian peep show about the whole thing."
Edmunds perfectly describes the logistics but I'd add that there's sense of mystery as one queues, initially in the rather bland leisure centre foyer and then, in small groups, in a silent, dark, black-curtained and atmospheric waiting area. It is as if we are about to be inducted into a strange masonic ritual where some inner sanctum will shortly be revealed.
Once sat in the booth the story begins and what strikes immediately is how very many little tableaux there are, pinging to life one after another, introducing us to the two young refugees Kabir and Aryan. It is an odd situation, a novel way to be told a story but, very quickly, I am fully immersed, as the story rolls by. Sound designer Mark Melville as done a stunning job matching the action, hammering home the narrative.
Soon these little scenes begin to add up and take an emotional toll on the viewer. The story is a simple one but it feels horribly real. The brevity of the piece means that it feels churlish to give away much of the plot, but it is interlayered with the motif of birds, especially seagulls, initially representing freedom but slowly becoming entangled with the terrors of the pair's experiences, until shrill gull squawking becomes a metaphor for powerlessness in the face of authority and unknown languages.
Occasionally a scene lights up that is so cleverly crafted the viewer is more than usually astonished, notably a view down a long highway at night, but in the end it's the story's overall impact that hits home. It's a heart-wrenching piece, so much so that when staff pull the chair out so the next person can come in, it's jarring, a rude awakening, and I left discombobulated and slightly upset, which is perhaps just as it should be at a time when 170,000 unaccompanied child refugees wander Europe searching for hope.
The story is a simple one but it feels horribly real
rating
Explore topics
Share this article