Hall & Oates, Wembley SSE Arena review - bestselling duo still have the power |

reviews, news & interviews
Hall & Oates, Wembley SSE Arena review - bestselling duo still have the power
Hall & Oates, Wembley SSE Arena review - bestselling duo still have the power
Rock and soul highlights from a 50-year career
Daryl Hall, John Oates and band
Never quite the household names in Britain that they were in their native USA, Daryl Hall and John Oates can nonetheless claim to be the best-selling duo in the history of popular music. With 40 million records sold, six US chart-topping singles and a heap of gold and platinum albums, they come out ahead even of such luminaries as Simon & Garfunkel or the Everly Brothers.
The days of selling shed-loads of discs may have passed, but Hall & Oates are musicians to the core, and playing live is in their blood. This Wembley gig was prefaced by big-screen clips from Hall's TV show Live from Daryl's House, where he gets assorted big-name artists round to his home to cook food and play music. Nobody here was serving up ribs or spaghetti between songs, but the feeling of the show was relaxed yet purposeful, as they worked through a set comprising their headline hits alongside a few lesser-known specimens, what Oates referred to as "deep cuts" from their catalogue.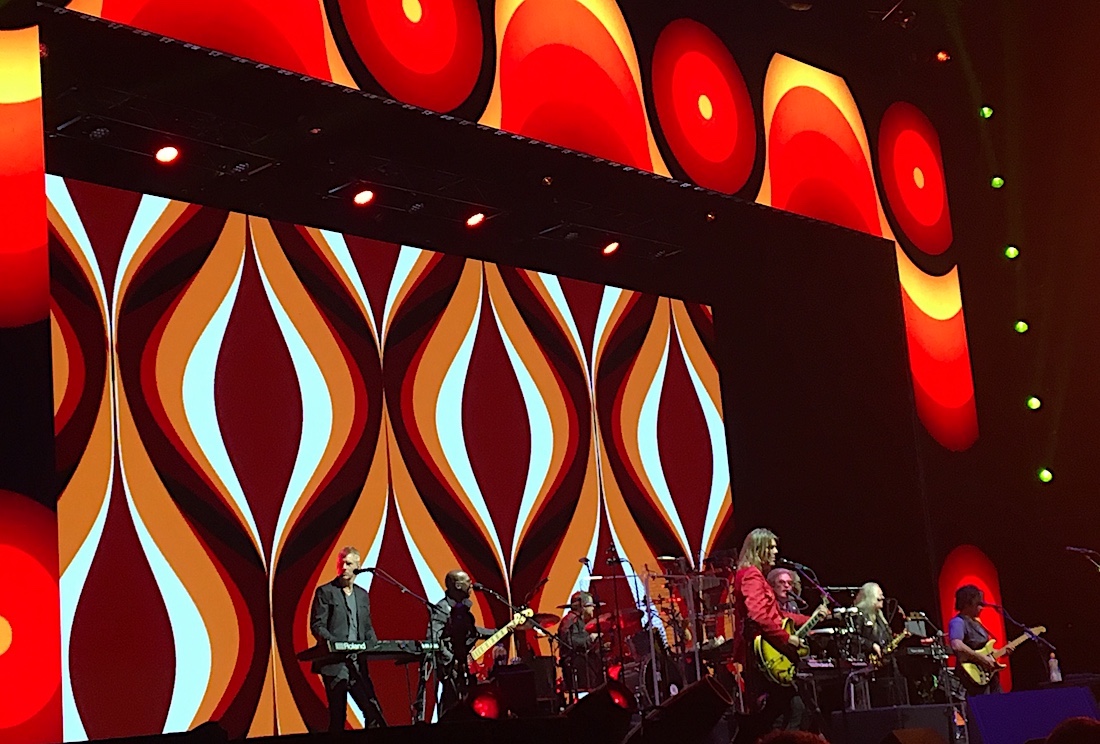 Hall, tall, blond and currently bearded, tackled frontman duties with an air of effortless command, as if being onstage in front of a few thousand baying fans was, if anything, more relaxing than taking the dog for a walk. They launched straight into "Maneater", which gave exceedingly hairy saxophonist Charles DeChant the first of many solos, while in "Family Man" Shane Theriot cut loose on one of the numerous guitars his technician ferried back and forth to the stage. Though often deployed to unleash fretboard-scorching blues-rock squitter, Theriot found space in "Say It Isn't So" to peel off a slithery jazz solo of impeccable pedigree.
From where I was sitting at least, some of the songs lost definition under the barn-like arena roof (playing here is a bit like doing a gig in a Costco warehouse), with "Out of Touch" or "Method of Modern Love" seeming to meander shapelessly. Far more distinctive, thankfully, was the duo's rendition of "You've Lost That Lovin' Feeling", where their contrasting voices wrung maximum doom and drama from the song, or "She's Gone", where they showed off their Philly-soul roots to powerful effect. The driving groove of "I Can't Go For That", with Hall adding funky keyboard stabs and everybody yelling the "Hell no!" bits, was a show-stopper (John Oates, pictured below).
With Hall as lead vocalist and master of ceremonies, it's intriguing to ponder the role of Oates, standing a few yards away to Hall's left. Much of the time he stands stone-faced at his microphone or studiously playing some intricate-looking guitar parts – he's also a fine soloist, but keeps his contributions carefully measured – yet somehow he adds the necessary yang to Hall's yin. He rarely speaks, except perhaps to introduce a song like the little-known "It's a Laugh", but he's like a kind of eagle-eyed enforcer who keeps this double act ticking.
They sent us packing with "Rich Girl", "Kiss on My List" and an exuberant "You Make My Dreams", wrapping up a performance which ticked all the right boxes without ever quite igniting into rock'n'roll delirium. You'd need a friendly, more intimate setting for that. All round to yours then, Daryl.
Oates somehow adds the necessary yang to Hall's yin
rating
Explore topics
Share this article