La Damnation de Faust, Hallé, Elder, Bridgewater Hall, Manchester review - 'concert opera' indeed |

reviews, news & interviews
La Damnation de Faust, Hallé, Elder, Bridgewater Hall, Manchester review - 'concert opera' indeed
La Damnation de Faust, Hallé, Elder, Bridgewater Hall, Manchester review - 'concert opera' indeed
Vivid choral and orchestral sounds in a thrilling account of Berlioz masterpiece
Sir Mark Elder and the Halle performing
Berlioz called it a "concert opera". His telling of the Faust story is in scenes and highly theatrical, but a bit of a challenge to put on in the theatre, with its marching armies, floating sylphs, dancing will-o'-the-wisps and galloping horses. It seems he expected it to be a kind of giant cantata, and that's the way the Hallé and Sir Mark Elder perform it.
But it's still
operatic
in concept, and that very theatricality demands much of its chorus as well as its soloists – the assembled choir has to represent "peasants, penitents, drinkers, gnomes, sylphs, soldiers, students, will-o'-the-wisps, neighbours, demons and angels" (to quote the printed programme).
The fact that they did that so vividly was one of the great virtues of Sunday's performance. Elder had not just the Hallé Choir but the Hallé Children's Choir, trebles of the Hallé Youth Training Choir, and (making an unusually male-dominated sonic balance) additional tenors and basses from the Leeds Philharmonic Chorus and the London Philharmonic Choir. There were many points where that richly masculine sound made for thrilling effects.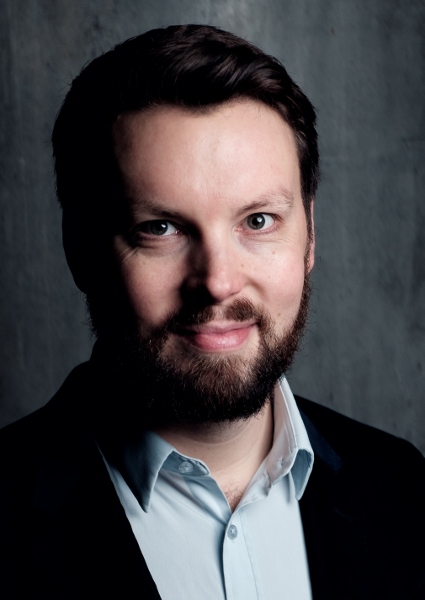 The ladies of the chorus in particular transformed themselves to near-raucous peasants for the opening and the last section, while the Easter hymn revealed a warm and sonorous ecclesial choir, with a big surge of heartfelt tone when needed. The men enjoyed their drinking songs, swaying along to the music and braying their way through their irreverent fugue. And the orchestra itself seemed changed for this music. Gone was the English dolce, of which they are such masters, and in place of it a cool, clear French sound in the quietest music, and a splendid ear-shattering impact, with rasping, resplendent brass, in the loudest. The textures proved sheer magic in the closing moments of Part Two, as Faust is lulled to sleep by strings and winds fluttering around the voices and the Danse des Sylphes itself was almost ethereal.
The soloists were equally well chosen for their characterisation abilities besides their voices. David Butt Philip (pictured above by Andrew Staples) has the tone to dominate even that full orchestral roar, so his Faust was a man of passion and energy, and a sweet lover, too, for later on.
Laurent Naouri is an experienced Mephistophélès and was acting his role even before he opened his mouth – and as seductive a tempter as flesh and blood might meet. He could scare anyone with his stentorian demands and lead a saint astray with his winsomeness – and was finally a total cynic as he obtained Faust's signature of self-surrender.
David Soar, too, got in character as Brander for the student drinking scene – hands in pockets, nonchalant and assertive – we've all met one like that. A complete contrast came from mezzo Rachel Kelly as Marguerite (pictured right by Gerard Collet), taking the place of an indisposed Rinat Shaham, There's humanity and warmth in her voice and an artful way of story-telling in her "King of Thule" ballad, with rich expression in her "D'amour l'ardente flamme" aria in the final part.
Through it all Elder was not just a guiding hand but a promoter of the drama, whipping up the pace for the demonically conjured scenes and bringing intense tenderness to the love music and extra frisson to Marguerite's gorgeous song of longing. This work is part of the Hallé's heritage and appropriately was brought back in their founder's 200th anniversary year (as well as the 150th of Berlioz' death). Hallé did much to popularize The Damnation of Faust after producing his own edition (in English translation by his daughter, Marie) and performing it in Manchester, and London 10 times over, in 1880 and 1881. We heard it in the original French, with a surtitle box suspended over the platform, which is the way of things today, but the billing used its English title, which says much for his impact after all these years.
A cool, clear French sound in the quietest music, and a splendid ear-shattering impact in the loudest
rating
Share this article