The Queen of Spades, Royal Opera review - uneven cast prey to overthought concept |

reviews, news & interviews
The Queen of Spades, Royal Opera review - uneven cast prey to overthought concept
The Queen of Spades, Royal Opera review - uneven cast prey to overthought concept
Two stories painstakingly interwoven, but the dark heart of Tchaikovsky/Pushkin falters
Aleksanders Antonenko as antihero Herman stalked by multiple Tchaikovskys
Prince Yeletsky, one of the shortest roles for a principal baritone in opera but with the loveliest of arias, looms large in Stefan Herheim's concept of The Queen of Spades.
Not so much as a name in Pushkin's perfect short story of 1834, a mere lyric foil in
Tchaikovsky
's music-drama, Yeletsky here becomes the composer himself, onstage for nearly all the action - the homosexual who married to stifle rumours, the artist acclaimed by all Russia who may or may not have deliberately diced with cholera to occasion his untimely death: the King of Tragedy. So what about the Queen of Spades? Her embodiment In the form of an ancient Countess becomes marginal; so too does outsider Herman's obsession to learn from her the secret of gambling success, with manuscript paper taking the place of cards.
The real story remains untold, or at best unclear. Herheim is at least consistent with his own interweaving and helps to bind the lavish trimmings Tchaikovsky was compelled to provide for imperial taste at the Mariinsky Theatre - how well he characterised every bar - to what are usually the bare bones of the spooky tale; the crowd and party scenes, with their multiple Tchaikovskys and ritual humiliation of a composer seized with fits of inspiration, have rarely worked so well (and at least they're all here; Robert Carsen cut many of them in his gambling-den setting for Zurich Opera).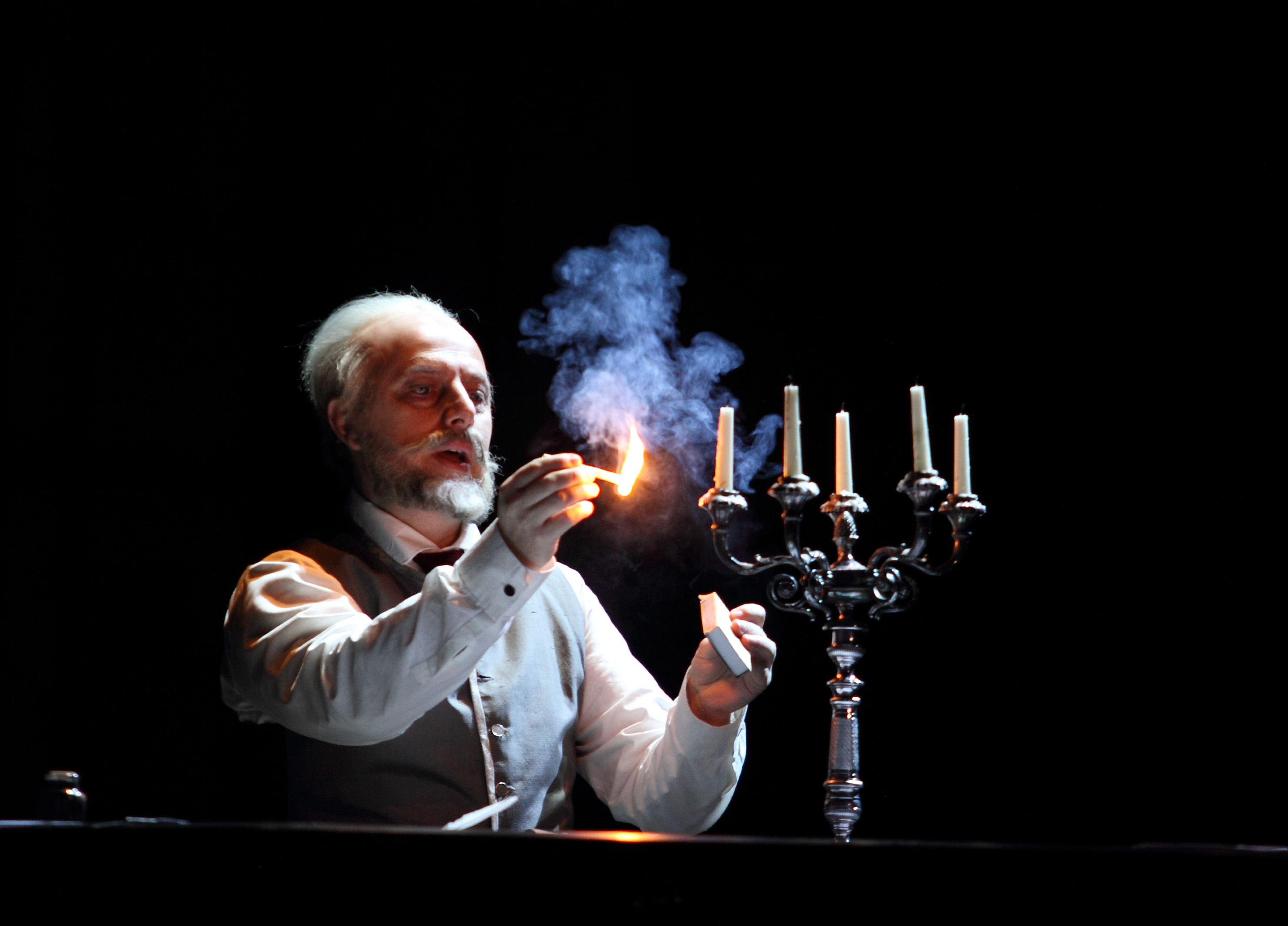 In its Dutch National Opera premiere of 2016, available on DVD, Herheim's production had a uniformly strong cast to maintain tension more persuasively. Ironically Vladimir Stoyanov as the central Yeletsky-as-Tchaikovsky figure (pictured above) does provide the classiest singing of the evening here - in Amsterdam he was among equals - with long-breathed lines and warmth in the confession of hopeless love; it's hardly his fault if by the second half we get a bit fed up with his wild conducting and piano-playing as the score gets written in "real time" (that point is made sufficiently clearly early on). There are lustrous sounds and reasonable characterisations, too, from Anna Goryachova as the heroine's friend, another short role needing a first-rate voice, this time a Slavic mezzo-contralto, and from John Lundgren, unrecognisable having transitioned from Wotan/Wanderer to cocky bully Count Tomsky.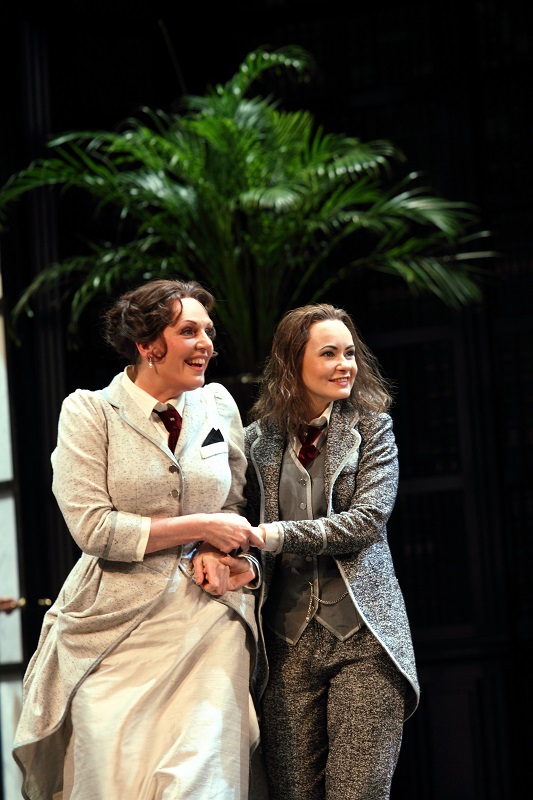 The central problem is the casting of Aleksanders Antonenko as what must have seemed at the time like a plausible heroic-tenor Herman. Between his fine Otello for the Royal Opera and the last couple of years – and remember that opera houses and agents cast so far in advance – he's lost the top, barks what he doesn't hit, sings loud and doesn't ingratiate in the middle range either. I'm genuinely sorry for that. He's no actor, either, so the awkwardness of Herman becoming mere demonic provoker instead of a man increasingly demented by an obsession is merely accentuated.
Eva-Maria Westbroek (pictured left with Goryachova) hit nearly all her top notes full-on as the unfortunate Lisa – whom Tchaikovsky's Herman, unlike Pushkin's, seems to love, until he loves gambling more – but years of singing heavy roles have taken their toll; there was some uncomfortable under-the-note singing in the messily-staged final confrontation with her crazed lover. Still, Westbroek always cuts an energised and sympathetic figure on stage.
Biggest casualty of Herheim's approach is magnificent septuagenarian Felicity Palmer (pictured below), reprising the Countess she characterised so mesmerisingly for Graham Vick at Glyndebourne nearly two decades ago. The voice is still in remarkable form, with only a slight awkwardness in the break above the chest register, and she can still sing the ghostly treatment of the Grétry aria in her bedchamber ppp, albeit with Tchaikovsky/Yeletsky fussing around her. But who is this old woman supposed to be: Madame von Meck, Tchaikovsky's patron, or another incarnation of the composer himself? Don't know, don't care (and don't expect to have to read the dramaturg's article in the programme for elucidation; if it's not clear on stage, it hasn't worked). And where's the haunting match for the music, when instead of creepy, intimate scenes for one and then two, we get two and then three? The unwanted "third man" is a bloody nuisance. It's as if von Rotbart were weaving in and out of the great Pas d'action for Odette and Siegfried in Act Two of Swan Lake. None of the usual goosebumps here, nor in the substitution of the ghost Countess's appearance in the following scene with the weirdest take on the Tchaikovsky doubles from three of the movement group.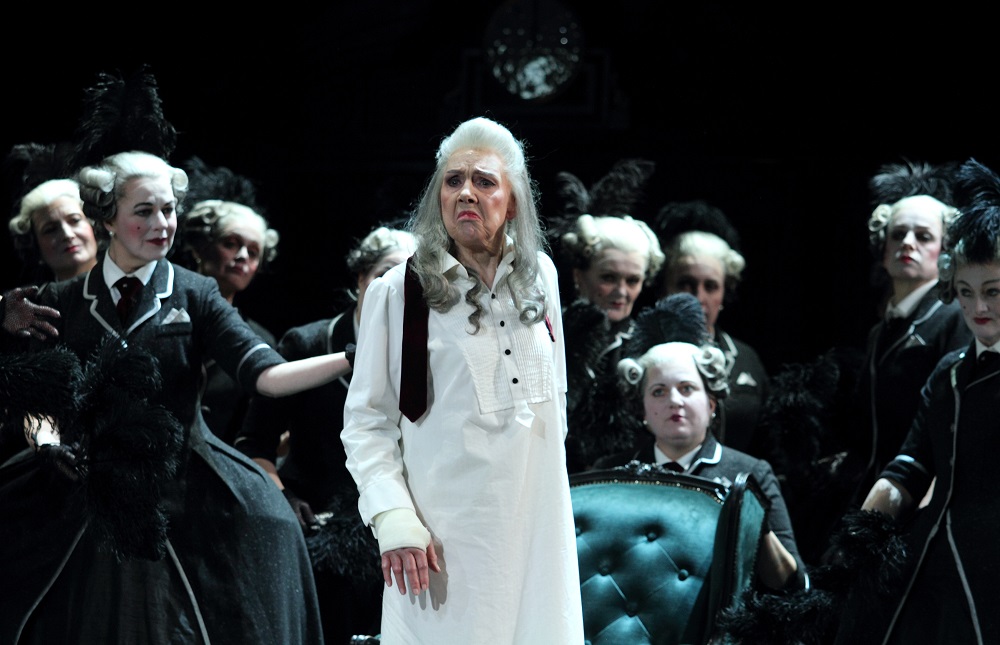 And that in spite of malleable sets by Philipp Fürhofer - although Tchaikovsky's home at Klin was never as oppressive as this - atmospheric lighting by Bernd Pukrabek and Antonio Pappano's chameleonic sensitivity to every mood in this comprehensive score. Idiomatic in Tchaikovsky, as his splendid symphonic recordings with the Accademia di Santa Cecilia Orchestra attest, Pappano finds the weight and ache which aren't always a given for him (least of all in Shostakovich). He urges crackling brio in the livelier chorus numbers - very well sung indeed - encourages the woodwind to love their spectral recitative accompaniments and spruces up the rococo pastiche of a divertissement which doesn't outstay its welcome, thanks also to Herheim's clever bird-people connection to the music box that plays Papageno's "Ein Mädchen oder Weibchen" by Tchaikovsky's greatest consolation, the divine Mozart.
We actually hear the mechanical original, and surmise the end of a blow-job, before the first bar of Tchaikovsky is played. Herheim perceives so much like this, as an astute musician; but it's too much, by the two-thirds mark. For all the consistent hard work, the horrifying essence of the story which attracted the composer to setting it in the first place is lost.
Where's the haunting match for the music, when instead of creepy, intimate scenes for one and then two, we get two and then three?
rating
Share this article