Madama Butterfly, Glyndebourne review - perverse staging, outstanding cast |

reviews, news & interviews
Madama Butterfly, Glyndebourne review - perverse staging, outstanding cast
Madama Butterfly, Glyndebourne review - perverse staging, outstanding cast
Puccinian pathos takes on tragic colouring thanks to a gifted soprano from Moldova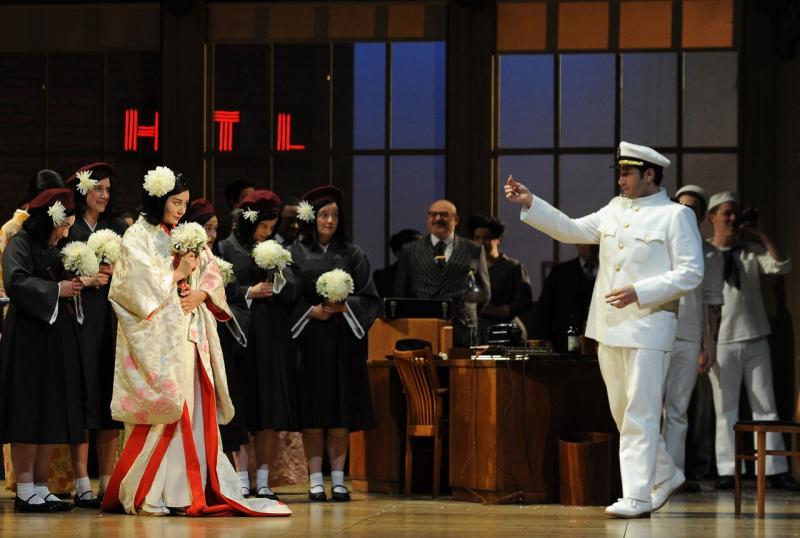 Butterfly (Busuioc) and Pinkerton (Guerrero) at the geisha agency: love not war
Puccini's heroines and the rough treatment he hands out to them have come in for plenty of opprobrium over the years.
But just occasionally they fight back on his behalf in the person of an outstanding singing actress; and this is exactly the case with
Glyndebourne
's initial offering of their new season, a revival of Annilese Miskimmon's
Madama Butterfly
, first seen as part of the company's tour in 2016, and given a somewhat dusty reception on The Arts Desk.
The production itself, in Nicky Shaw's designs, seems not to have changed much. There remains the modish and apparently pointless update to the 1950s (in Nagasaki, for heaven's sake!). There remains the self-defeating relocation of the first act to the agent Goro's office, which makes nonsense of so many details in the scenario that one hardly knows where to begin listing them. There remain all kinds of lapel-clutching double underlinings of the otherwise (not so) easily missed anti-American subtext of the libretto, which both insult the audience's intelligence and successfully undermine the real magic of Pinkerton's (admittedly very temporary) passion for his little Japanese geisha (Olga Busoloc and Joshua Guerrero pictured below in the Act One duet).
But this is where the superb Moldovan soprano Olga Busuioc comes in and, with the help of an excellent if not very assertive young American tenor, Joshua Guerrero, suddenly brings direction and shape to the Miskimmon "concept". My wife asked, rhetorically: is Cio-Cio San a tragic figure? And too often the answer is: no, she's just a passive #MeToo victim. But Busuioc shows, in a performance of sustained dramatic intensity and vocal brilliance, that "povera Butterfly" is a figure who can grow in stature as she sheds her oriental passivity, is abandoned by friends and family and ridiculed by the Japanese agent (pimp?) whose sole aim was to sell her to the highest bidder.
Here the fifties revamp of her little casetta in the second act does begin to make some kind of sense. The absurd sub-American G-plan drawing room and the poor girl's smart western suit are a cruel - perhaps crude - image of her escape from - well, from what exactly in post-war Nagasaki, but let's not quibble too much. And when Busuioc delivers her "Un bel di," so to speak, to the audience rather than to her maid, Suzuki, she truly seems to be looking out and beyond, to something longed for but alas misunderstood and that will, in the end, destroy her. Not a bad definition of tragedy, perhaps.
Busuioc (pictured above) is also equal to the draining and drawn-out pathos of the final scene, which few sopranos can make even bearable, let alone plausible. She is marvellously supported, it must be said. Elizabeth DeShong, a mezzo who has sung Cenerentola, is sheer luxury as Suzuki, and Michael Sumuel is a fine, dark-voiced Sharpless who brings just the right blend of humanity and bewilderment to a role that specifically limits the blanket racial stereotypes built into this scenario. Carlo Bosi is a suitably slimy Goro singing, nevertheless, a strong, clear tenor, and there is a string of crisp vignettes from Simon Mechlinski (Yamadori), Oleg Budaratskiy (Bonze), and others too numerous to list, as well as from the excellent Glyndebourne Chorus as a whole
Whatever you think of Puccini as a tragedian, his mastery of his craft is beyond question. You can listen to the orchestration of Madama Butterfly and marvel at its precision and delicacy. Omer Meir Wellber draws consistently refined, energetic playing from the London Philharmonic Orchestra, needing only, perhaps, to attend a shade more, now and then, to his singers. Which brings me back to the staging: annoying and perverse in many respects, but with something at its core that an exceptional cast proves able to bring out.
Further performances of Madama Butterfly until 18 July