American Made review - Tom Cruise flies again |

reviews, news & interviews
American Made review - Tom Cruise flies again
American Made review - Tom Cruise flies again
Doug Liman's bouncy action caper revisits the slimy underbelly of Eighties American realpolitik
Top bum: Tom Cruise in 'American Made'
How funny are gun-running, drug-smuggling and money-laundering? It depends who's doing them. In American Made none other than Tom Cruise gets behind the controls of a twin-engine plane and flies back to the 1980s, a sepia-tinted yesteryear when all America had to worry about was commies and cocaine.
He plays a colourful chancer from the period called Barry Seal. His story was previously told in
Doublecrossed
, a 1991 docudrama starring Dennis Hopper. It has now been shamelessly hijacked by director Doug Liman and scriptwriter Gary Spinelli in a bouncy action caper that prospects for laughs in the crazy world of Reagan-era realpolitik.
The actual Barry Seal was, like the one played by Cruise, a TWA pilot. In this Hollywood retelling, he's so bored on the job he fakes turbulence to wake himself and his passengers up. When he's approached by a ginger-bearded whippet-thin creep called Schafer (Domhnall Gleeson), this frustrated thrill-seeker needs no encouragement to embark on low-level photographic reconnaissance missions over Central America. The bullets fly but he's somehow invulnerable, and sex with his wife Lucy (Sarah Wright) back in Baton Rouge gets a lot more adventurous too.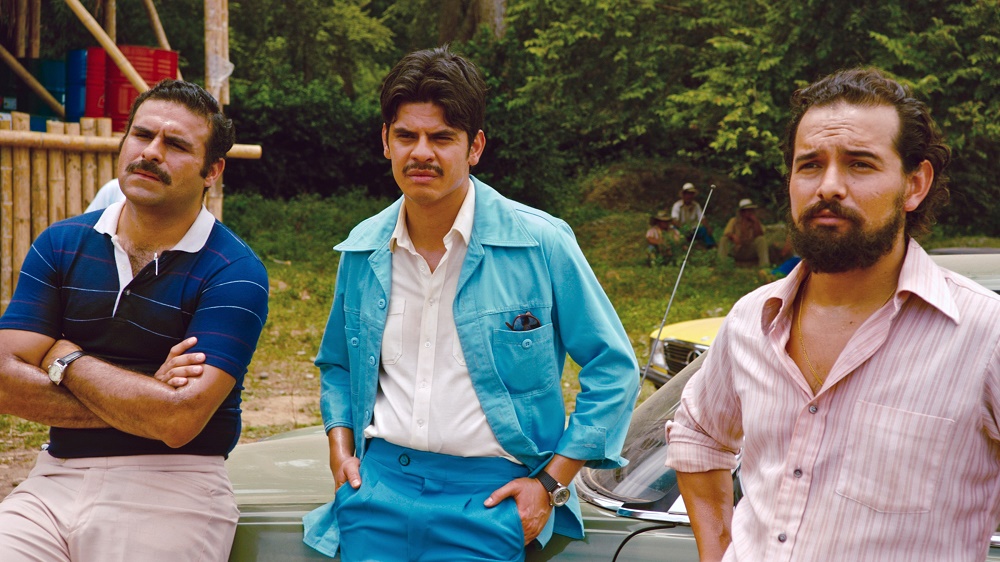 His odyssey takes a left turn when he lands to refuel and is abducted by the nascent Medellín cartel led by Jorge Ochoa (Alejandro Edda, pictured above right), who issues an offer he can't refuse: to supplement his low pay by running Colombian cocaine up to America. There's a hair-raising scene in which Seal's plane, weighed down with merchandise, barely clears the short mudtrack runway and clatters through the forest roof before flying free. Pretty soon he's busted, losing a tooth in a Colombian jail, and Schafer arrives to fish him out. The quid pro quo is Seal has to run guns down to Nicaragua to arms the Contras in their fight against the Sandinistas. And to avoid the Feds, he and the family have to up sticks in a hurry to the back and beyond of Arkansas.
He's soon back in cahoots with the Medellín cartel. He takes on a quartet of flying buddies to maximise capacity, and the money starts piling up. There's so much of it it tumbles out of cupboards, has to be buried in the yard, while banks sprout along the solitary street of two-bit Mena, Arkansas.
As Seal starts flying Contras up for training, who run away as fast as he can deliver them, American Made becomes an absurdist comedy about American exceptionalism: how much bad stuff will the self-appointed good guys attempt in support of democracy and freedom? And will the forces of law eventually catch up with Seal? In one witty plane chase, Seal and his cohorts are ordered to land. Instead they simply slow down and coast until the DEA's high-speed jet runs out of fuel and heads home.
Cruise has more fun than he's had in years twitting his image as an ethical action hero. When his aviators are stolen by a mob of Contras it's as if he's specifically thumbing his nose at the hothead pilot he played in Top Gun. There's not much in the way of a character arc: his cocky, bum-flashing little guy getting the better of Uncle Sam doesn't call for much depth. But he gets much mileage out of that preppy grin and the tiggerish enthusiasm, while Wright (pictured above with Cruise) does a lovely turn as a trusting gangster's moll; it's to be hoped that she doesn't succumb like his other co-stars to the Curse of Cruise (see sidebar).
While Seal's video diary flashbacks present the story as a confessional memoir, he's the low-flying definition of an unreliable narrator. Only towards the end of the film do reality and fantasy briefly collide when Seal, protected from legal hounding by a shady state apparatus, is employed by the CIA to get the dope on his drug-trafficking chums.
Apart from Seal's appointment with his nemesis, the overall sense is that almost none of this happened. Spinelli's script varnishes and embellishes in pursuit of laughter. "That sounds fucken made up, Barry!" hollers Lucy when he says he's working for an outfit called IAC (Independent Aviation Consultants). That's about the size of it. And if it's not made up, it's jumbled up. Though its cheeky grin loses its appeal with about 15 minutes still to run, American Made is a smartly edited gung-ho hoot with amusing cameos for Dubya, Noriega, Clinton and the villain of the piece Oliver North, whose idea it (allegedly) was to get arms to the Contras via America's arch enemies in Iran. Which you really couldn't make up.