Grandad, Dementia and Me, BBC One review - no easy solutions to terrifying mental condition |

reviews, news & interviews
Grandad, Dementia and Me, BBC One review - no easy solutions to terrifying mental condition
Grandad, Dementia and Me, BBC One review - no easy solutions to terrifying mental condition
Sensitive account of one man's personality-changing decline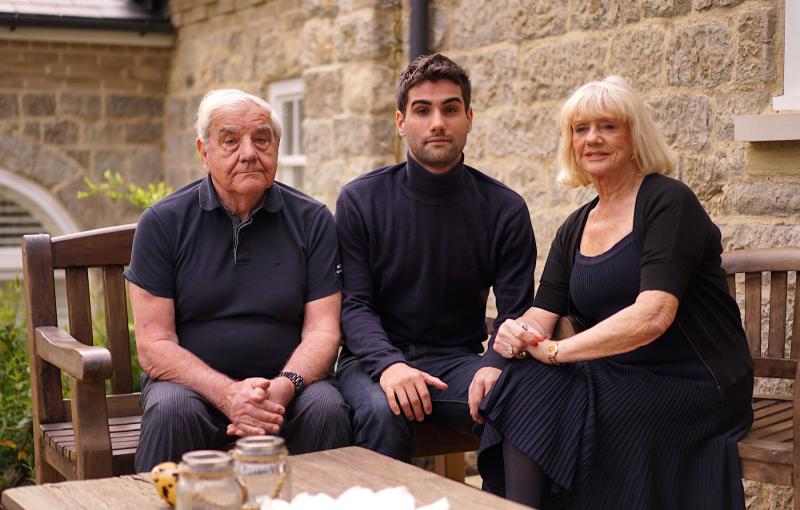 From left: Tom Sivyer, his film-making grandson Dominic and wife Pam
The title gave us the true-life plot: this was a grandson's filmed narrative of something that will touch us all, through acquaintance, friend, family and perhaps ourselves falling victim to some form of dementia. It's a word that covers a myriad of conditions, all of them affecting the mind.
This was not a factual documentary examining the disease, but a specific family story which is not really typical nor stereotyped. The grandson, Dominic Sivyer, showed us affecting family films of himself as a young boy of seven or eight, and how his grandfather Tom had become the most important man in his life. After his parents' separation when he was young, his biological father more or less disappeared. His grandfather and his wife Pam provided nurture and holidays, particularly at their second home in Cyprus, taking the pressure off Dominic's working mother, who was one of their two daughters.
Through photographs and family mementos, we saw how Tom (above) started out as a lorry driver and became the owner of a successful haulage firm; as Dominic told us, when he was a child his grandad Tom was the wealthiest person he knew. After Tom's retirement it became evident that he had problems, but his devoted and much loved wife Pam could not get a diagnosis. Looking at old photographs he charmingly recounted (his long term memory intact) his coup de foudre when they first met, and how it was her gorgeous legs that got him.
Eventually it emerged that he was suffering from cardiovascular dementia, evidenced in a profound loss of short-term memory, even for events from five minutes before, and mood swings which meant that the charming Tom could suddenly become aggressive, shouty and just plain frightening, particularly to his octogenarian wife. Cue a family holiday in Cyprus gone disastrously wrong. Tom was brought home, separated from his adored wife whom he had terrified, and sectioned by two psychiatrists. The hospital seemed to have single rooms of quite a fine standard. Nevertheless Tom was beside himself with rage at his predicament which he could not acknowledge, in despair because he could no longer drive, and on lots of medication.
From there he went to a nursing home, but couldn't bear the surroundings, and the oldies staring into space all around him. Home again, and then off to his daughter Becky who agreed to take him temporarily, converting a studio in her garden to a small flat. Tom was unable to respond to her having to tell him what to do and how to behave; he was sectioned again.
Housed in a hospital 35 miles from his home, Tom thought that he was on holiday in a hotel; and so pained by his separation from his wife that he telephoned her 40 times a day. There seemed to be plenty of money to pay for care, if only appropriate care could be found. His loving wife was racked with guilt at what she perceived as her inability to care for her husband, of whom she was now frightened (below, Tom and Dominic).
What was fascinating was understanding, even with the family's financial advantages, the difficulties of the choices. Tom was certainly aware enough to hate and resent the institutions in which he was placed, and his wife was uncomfortable with not taking care of him at home. His grandson explained to him frequently that his behaviour was symptomatic of his cardiovascular dementia, which Tom refused to acknowledge. His self-awareness was like a flickering lamp. We witnessed in countless moments of conversation and body language the frustration and distress on the part of the family as the man they knew – capable, confident, kind, charming – slipped away, changed into an argumentative, aggressive person, lashing out like an animal in a trap.
Nan decided to sell their family home of 40 years and move to a retirement village. In a "eureka" moment, she decided that in that environment she could have her husband home. It was a new beginning: we saw the pair of them at exercise classes, in the pool and in the retirement cottage, with Tom's symptoms dramatically alleviated. We didn't know what had chnaged, though heard that his medication had been changed and minimised.
With dementia seemingly in remission, this was a miraculous and inexplicable ending for this loving narrative, filmed over the past two years or so. But beyond this the overall message was loud and clear. The disease is baffling, and the choices hardly clear cut. These are dilemmas that will face us all.