Crystal Pite, Flight Pattern, Royal Ballet |

reviews, news & interviews
Crystal Pite, Flight Pattern, Royal Ballet
Crystal Pite, Flight Pattern, Royal Ballet
Extraordinary première by Canadian choreographer explores refugee experience through dance, plus Christopher Wheeldon and David Dawson
The flight of the refugees: Crystal Pite treats migration and displacement in her new work for the Royal Ballet.
Can thirty minutes of contemporary ballet say something meaningful about the modern refugee crisis? It has been the surprise of the season to find myself asking this question not once, but twice, at the Royal Ballet.
In
Wayne McGregor
's
Multiverse
, premiered in November, images of refugees on boats suggested a critical agenda but the dancing stayed abstract and impersonal. Could Crystal Pite's new
Flight Pattern
, which opened last night at the Royal Opera House, do a better job of responding to the human tragedy of displacement, or are there some things dance just can't say?
Even without its ambitious theme, Flight Pattern would have opened under a heavy weight of expectation. Hopes were high both inside and outside the Opera House that collaborating with Pite, one of the most respected contemporary choreographers in the world, would give the Royal Ballet a serious hit to make up for a string of lacklustre premières over the last few years. The opening moments of Flight Pattern certainly make an impression, with a group of 36 dancers moving as one pulsing, rippling organism - a Pite trademark we first met in her Polaris for Sadler's Wells in 2014, and one which works beautifully here to introduce the refugees as a group ever striving to move, but caught by forces beyond their control. Later, in another strikingly beautiful passage they ripple their arms in the flight pattern of the title and appear for a moment, bathed in golden light, as free and purposeful as wild geese on the wing. Finally some of them disappear into a bright snowstorm that may or may not signify the reaching of a goal.
As we know, there is little enough elation in the dreary process of searching for a safe haven in a hostile world, and Pite is far too intelligent to offer a tritely happy ending, nor does she shy away from portraying misery. There is a deep sadness in the passage where the dancers remove coats and jumpers and roll them up to sleep on the floor, and even more when the coats are transformed into visual synecdoche for the people who have been lost along the way. As a pile of coats is placed in Kristen McNally's arms she bears them towards the light, visually echoing the pietá who sings to her son, the dying Jesus, in the soprano solo from Górecki's Symphony No.3. It's a powerful moment, and the angular McNally - funereally pale - works again and again to bring our attention back to the raw pain involved in displacement. In the ballet's final moments, she sits dejected, with her back to us, offering a grave counterpoint to the frantic rage with which Marcelino Sambé (pictured above right) flings himself around, panting with frustration. The curtain falls on a simple and immensely moving tableau, as Sambé ceases his hurtling and lays one gentle hand on McNally's shoulder.
The other two pieces on the programme offer a marked contrast to Flight Pattern, as if the bill had been designed to oppose Pite as vividly as possible with the Royal Ballet's conventional contemporary work. Christopher Wheeldon's After the Rain is a slick, soupy, sentimental piece, well-executed in the Wheeldon style that seems to have one eye always on a camera (there is an atmospheric YouTube video of Yuan Yuan Tan and Damian Smith doing part of this piece on a seaside stage at sunset). After the Rain was made to commemorate the partnership of Wendy Whelan and Jock Soto at NYCB on the occasion of Soto's retirement and the tender, elegiac quality of its main pas de deux (set to Arvo Pärt's Spiegel im Spiegel) was heightened on the ROH stage last night by what felt - to me at least - like the unbearably poignant pairing of Marianela Nuñez with her now ex-husband, Thiago Soares (pictured above left). Impossible to guess what was going through their minds, but the tender caresses of the choreography were charged with a tension that had the audience glued to their seats.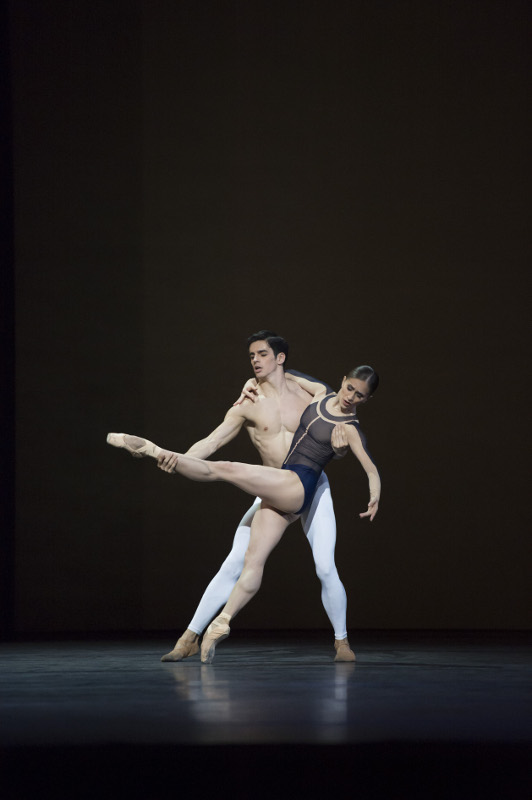 The less said about David Dawson's The Human Seasons, the better. In fact, I'd recommend missing it entirely. Everything that is vapid and dreadful about contemporary ballet is present and correct: repetitive score based on arpeggios and ground bass; greige set with abstract light projections; complicated but banal "neo-classical" choreography that even Royal Ballet principals struggle to display to advantage; and startling and tasteless gymnastic feats. It may be testimony to Sarah Lamb's beauty and strength that she manages to make being swung around by one knee look elegant, but she shouldn't have to endure such indignity; even less should any ballerina, let alone lovely Claire Calvert, be dragged along the floor on her belly or manhandled like a sack of flour by six male dancers. It was clearly just rotten luck, but by the time Marianela Nuñez suffered an undignififed costume malfunction during her pas de deux with Federico Bonelli (pictured above right), it felt like adding insult to injury. The dancers make a game stab at it, like the top-class professionals they are, but only explosive Marcelino Sambé and pantherine Calvin Richardson manage to strike sparks from this wet material; the princely Bonelli and even more princely Vadim Muntagirov do no more than politely going through the motions, and who can blame them? Let's see no more of this, please.
Of Pite, on the other hand, we can stand to see a great deal more. Flight Pattern is good - vintage Pite, in fact, with all her characteristic seriousness of purpose and integrity of expression. It's not the best piece of hers I've ever seen - marred in particular by quite dark lighting, and the vastness of the ROH stage, both of which obscure the detail of her choreography in its crisp and kinetic passages - but miles better than other recent contemporary premières, and a remarkable response to one of the defining humanitarian issues of modern times.
The Royal Ballet perform Flight Pattern with After the Rain and The Human Seasons at the Royal Opera House until 24 March.
The dancers ripple their arms, as free and purposeful as wild geese on the wing
rating
Share this article