Divorce, Sky Atlantic |

reviews, news & interviews
Divorce, Sky Atlantic
Divorce, Sky Atlantic
Sarah Jessica Parker and Sharon Horgan are a marriage made in heaven
Wednesday, 12 October 2016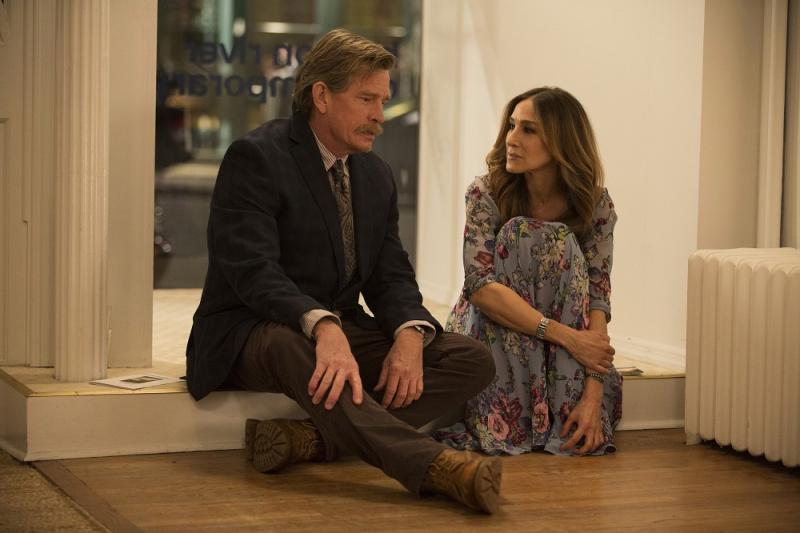 The great American break-off: Thomas Haden Church and Sarah Jessica Parker in 'Divorce'
Divorce opened on Sarah Jessica Parker inspecting the work of time in the mirror. Goodbye Carrie, hello Frances, upstate New Yorker, mother of two and wife to a man who demands equal time in the bathroom. "I was forced to take a shit in this coffee can in the garage," hollered Robert through the door before barging in to reveal an abysmal moustache.
In Divorce, ubiquitous relationship analyst Sharon Horgan continues her long uninterrupted series of home runs. Like Pulling and Motherland and even Catastrophe, it announces its zone of interest in a one-word title. The difference is that this time she has exported her interest in marital trauma, bedroom dysfunction and potty-mouthed dialogue Stateside. But it still has her paw prints all over it. When Frances opens her mouth she sounds uncannily like Horgan's creature. "When did it start to go off track?" asks Robert as he grapples with the truth that his marriage may be over. "When you grew the moustache?" offers Frances.
'Divorce' gives all the empathetic lines to the female characters
The bigger HBO budget available to Horgan means there are more expensive interiors, glossier actors and breathing room for the story in the shape of 10 episodes. Horgan has also taken advantage of America's slacker gun laws to catalyse the plot with a pistol shot. Robert and Frances attended a 50th for her friend Diane, whose husband toasted her in a speech of withering hostility ("Diane has never looked her age… till now.") She revenge-bopped with a hottie, and a gun ended up being pulled out of drawer. Frances, observing the whole train wreck, promptly determined to take a flying leap out of her own marriage. "I want to save my life while I still care about it," she explained to Robert. By the end of a richly entertaining first episode, he had vowed to "make you miserable and your children hate you".
Cooked up by a dream sister act of Horgan and Parker, Divorce gives all the empathetic lines to the female characters. It's not necessarily a shortcoming, but the dynamic is very different from the sense of moral equilibrium Horgan conjured up with Rob Delaney in Catastophe. There's absolutely nothing about Frances's intensely boring husband that makes you want to stay her hand. In a clumsy stab at sexual rapprochement, Robert woodenly announced a plan "to lick your vagina and tongue-dart your anus" and it sounded like the very worst idea in the history of the world. Even Julian, the New York boyfriend she's been seeing for a year is a bit of a jerk with his architectured stubble and homemade granola and above all his commitment phobia. "I thought that was role-playing sexy talk," he said when he's reminded that shacking up together had been discussed. He's played by of Flight of the Conchords' Jemaine Clement.
Parker, whose off-screen persona is all about control and empowerment (she's executive producer here), is impressively vulnerable as Frances, while Thomas Haden Church meticulously captures the essence of Robert, a low-pressure zone emanating self-pity and petulance. A hoot and a treat.
There's absolutely nothing about Frances's intensely boring husband that makes you want to stay her hand
rating
Explore topics
Share this article