Brighton Festival: Brighton – Symphony of a City, Brighton Dome |

reviews, news & interviews
Brighton Festival: Brighton – Symphony of a City, Brighton Dome
Brighton Festival: Brighton – Symphony of a City, Brighton Dome
A cinematic cross-section of life in London-by-Sea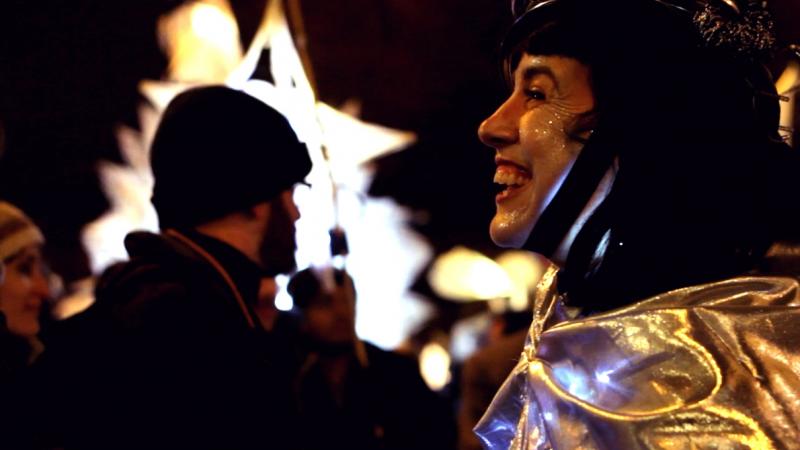 Fire and water: Brighton by night
Brighton's barely a city. It was awarded the title in 2004 without having to build a cathedral, or become bigger than a greatly swollen version of Brighthelmstone, the fishing village it once was, hemmed in from further growth by the South Downs and the sea. For all the relentless tide of London incomers and tourists, and the bustle of the bohemian North Laine, most of Brighton is quiet and peaceful, hardly urban compared to the capital.
Fitting it into the venerable "city symphony" film genre, defined by the magically evocative
Berlin: Die Sinfonie der Großstadt
(1927), is a challenge partially met by this Brighton Festival commission.
Ed Hughes's score in seven movements, played live by the Orchestra of Light and Sound (tonight combining professional players with Sussex students), matches Lizzie Thynne's otherwise silent film as it moves from dawn to night. Jagged strings and percussion soundtrack fast-cut scenes of the morning rush hour around Brighton station, bakers and coffee shops. Later, strings and woodwind are more pastorally restful during the annual Gay Pride parade, a moving contrast to its riotous sonic reality which suggests the distinctiveness city status does demand: Brighton as a libertarian, sexually diverse stronghold. More than most English places, there's licence here to do as you like.
Thynne intercuts brief vintage footage, contrasting today's struggling but wonderful Open Market with its Sixties ancestor. Brighton's wide radical streak is shown in a 1938 march including banners from the local Co-op and the Communist Party of Eastbourne, their embattled hope about to be swept away: "21 Years of Peace"; "Act and It Can Be Done"; "No Unemployment in Russia"; "International Brigade – Welcome Home". Wreath-laying for recent Spanish Civil War dead cuts to the War Memorial today, then a "Remember Gaza" banner, and flower-petals scattered by protesters in the sea. Thynne rhymes like this elsewhere, cutting from a cemetery to lively kids at a skateboard park. She also borrows from previous city symphonies with fictive moments, as when two women lock gazes in a bookshop window, and leave together.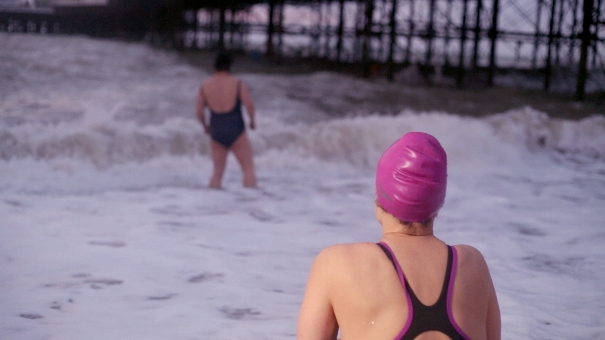 Seeing familiar sights from a different, big-screen angle is fun for locals. The constant, poignant revelation in seeing 1927 Berlin won't come yet, though. Maybe Southern Rail trains and grainless digital footage, dull-looking now, will gain a nostalgic strangeness with time, as the sight of people walking in a lost era usually does. The University of Sussex students filmed tapping at laptops and absorbed by screens, in between the usual youthful adventures, may date most evocatively.
The programme's second half continued the silent film theme with a double-bill of Harold Lloyd's Never Weaken (1921) and Laurel and Hardy's Liberty (1929), with Neil Brand superbly at the piano (though Lloyd hated it as accompaniment). Lloyd's bright irreverence and excruciatingly drawn-out sequence of attempted suicide then attempted survival, scrabbling and falling across dizzyingly high building-site girders, was urban, silent genius, crossing almost a century to fill a hall with howls of laughter.
Maybe Southern Rail trains and grainless digital footage, dull-looking now, will gain a nostalgic strangeness with time
rating
Explore topics
Share this article