The Apprentice, Series 11, BBC One |

reviews, news & interviews
The Apprentice, Series 11, BBC One
The Apprentice, Series 11, BBC One
Return of the cracking reality show
Thursday, 15 October 2015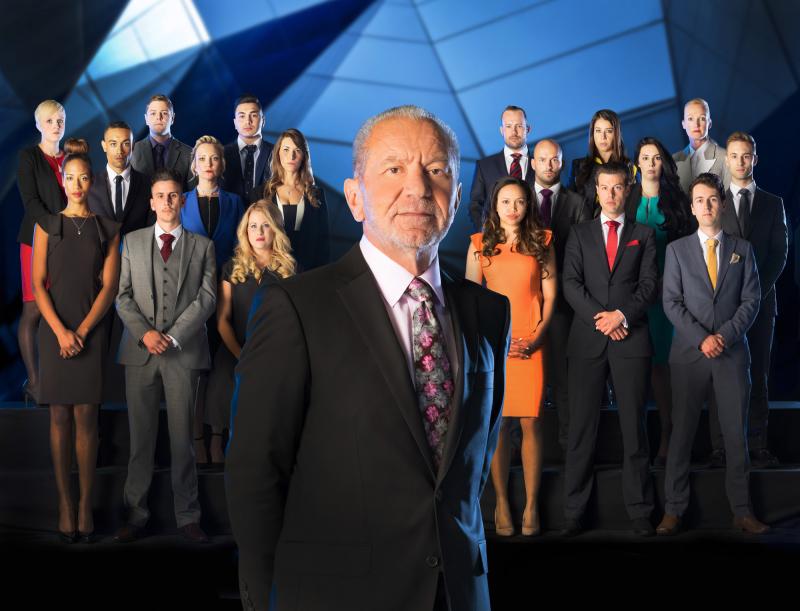 Lord Sugar and the 18 candidates vying to relieve him of £250,000. Dan Callaghan is extreme right on the front row
Where do they find them? The candidates for each new series of The Apprentice, that is. It's not as if they don't know the score by now - humiliation, first in the boardroom by Lord Sugar and his clunking putdowns, and then on nationwide television. But it makes good telly, so hoorah for series 11, with 18 more numpties vying for Sugar's £250,000 investment in their business plan.
After the last series ended, the inestimable Nick Hewer retired from being (alongside the newly ennobled Karren, now Dame Brady) Sugar's "eyes and ears", and the producers have surpassed themselves in bringing in Claude Littner - the scary lawyer who has appeared in the CV interview episode in previous series - to replace him. Littner (pictured below) may not have Hewer's range of moues and quizzical nods to cameras, but his gimlet look will do for now.
The first task was to go to London's Billingsgate Market before dawn to buy a load of fish and then turn it into tasty snacks by lunchtime, when the teams were to sell their wares to an unsuspecting public.
There was the usual "No after you", "No, really, after you" as Connexus members tried to push someone, anyone, to be project manager - so often the quickest route to the exit.
The very sweet Selina Waterman-Smith, the owner of an events agency, gamely took on the challenge ("I have food intolerances...") when nobody else would and proved to be a quietly effective team leader despite her underlings' best efforts to ignore her. They decided on low cost/high margins calamari and fish finger sandwiches.
Over on team Versatile, meanwhile, April Jackson, a former Miss Jamaica, was positively elbowing her way forward to be project manager because, she helpfully pointed out, she had a food blog. Brett Butler-Smythe took charge of food preparation in the kitchen and, being an ex-Navy man, wanted everything ship-shape and done strictly "according to specification" (the recipe, as I think you and I call it) as the team made salad niçoise and posh fishcakes.
Another Versatile member, Ruth Whiteley, tried to make helpful suggestions about what to buy and the important issue of costings, but was brusquely ignored by April. Ruth, by the way, was the best at sales on the team, using an idiosyncratic charm and sales pitch - "creepy", according to Brady - to sell the snacks.
Poor old Dan Callaghan, a fragrance retailer, however, didn't have a clue about how to deal with the public - and anybody he approached ran away in fright. And despite Ruth's efforts and their tasty-looking products, April's team had the lowest profit ever recorded on The Apprentice - £1.87, as they lost by a stonking margin – and she duly brought back Dan for his zero sales and Brett for his incompetent kitchen management.
Actually, Brett should have been brought into the boardroom just for keeping shtum about the fact that he used to be a sous chef in a fish restaurant in his teenage years, and his cunning plan to support April as team leader - and thereby possibly failing at a task for which he was eminently suitable - cast him in a very poor light.
Brady and Littner took an active role in the boardroom, which can only be a good thing for this series, particularly as Brady put Brett firmly in his place. "You can't bullshit here," she warned him as he tried to weasel out of his responsibility for the under-supply of fishcakes (the team made 89 of a planned 300). I suspect, however, that we're going to notice the pungent whiff of eau de merde every week from here on in.
Immediately after Dan was shown the door, over on BBC Two Jack Dee was the new boy in the host's chair for You're Fired!, taking over from the quick-witted Dara Ó Bríain, who in turn succeeded the grumpily good-natured Adrian Chiles. They're both a tough act to follow, and Dee, who really needs to be more jovial and warm for this role, didn't quite pull it off. He has an unnecessary sidekick in fellow comic Romesh Ranganathan, who supplied a lame comedy segment and some misjudged sarcasm aimed at the amiable Dan.
Dan didn't have a clue about how to deal with the public
rating
Explore topics
Share this article