Loose Tubes, Ronnie Scott's |

reviews, news & interviews
Loose Tubes, Ronnie Scott's
Loose Tubes, Ronnie Scott's
A year on from their comeback, the eccentric British big band are on top form
Saturday, 26 September 2015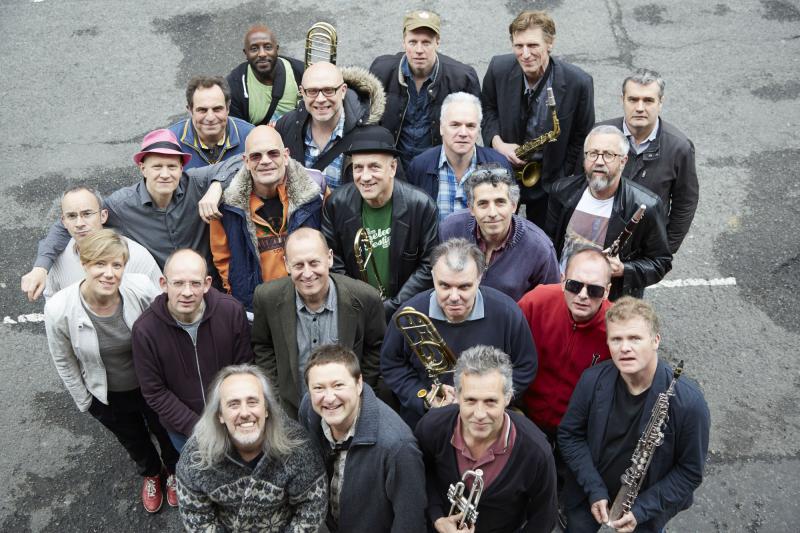 Loose Tubes re-forming on Frith Street: serious despite appearances
Loose Tubes go hand in hand with Ronnie Scott's. This was the setting for their fabled residencies back in the Eighties, the scene of their farewell gig in 1990 and of their comeback last year (both of which feature on new live album Arriving).
The venue's location gets a name check on 2010 release
Dancing on Frith Street
(featuring more live material from that 1990 gig) and it got another mention on Thursday night, with Tubes trombonist and irreverent MC Ashley Slater declaring it the band's "spiritual home".
I saw them play the 1600-seat Hall One at Gateshead International Jazz Festival back in April and, whilst it was enjoyable, it didn't feel quite right. With a huge space to fill and the band strung out across the stage, a lot of the energy and the immediacy was lost. At Ronnie's they're just feet away, crammed in shoulder to shoulder and spilling into the walkways, and their music sounds all the better for it.
Indeed, they seemed in their element as they piled on in typical Tubes style, noodling and clowning around. A drum roll emerged from the chaos and then they were away, sweeping into the richly voiced opening of "Säd Afrika" and transporting us to a brightly lit musical savannah of grooving tuba, bustling percussion and tinkling township guitar, with Steve Buckley's penny whistle glinting like sunlight on corrugated iron.
On "Children's Game" Iain Ballamy's synthy soprano, and a guitar groove uncannily like that of the Brand New Heavies' "Got To Give", steered us into acid jazz territory, while "Sunny" took us on a helter-skelter European tour, complete with fiery Iberian hooks, melodramatic Gallic accordion and Italianate touches that could have been quotes from a Fellini soundtrack.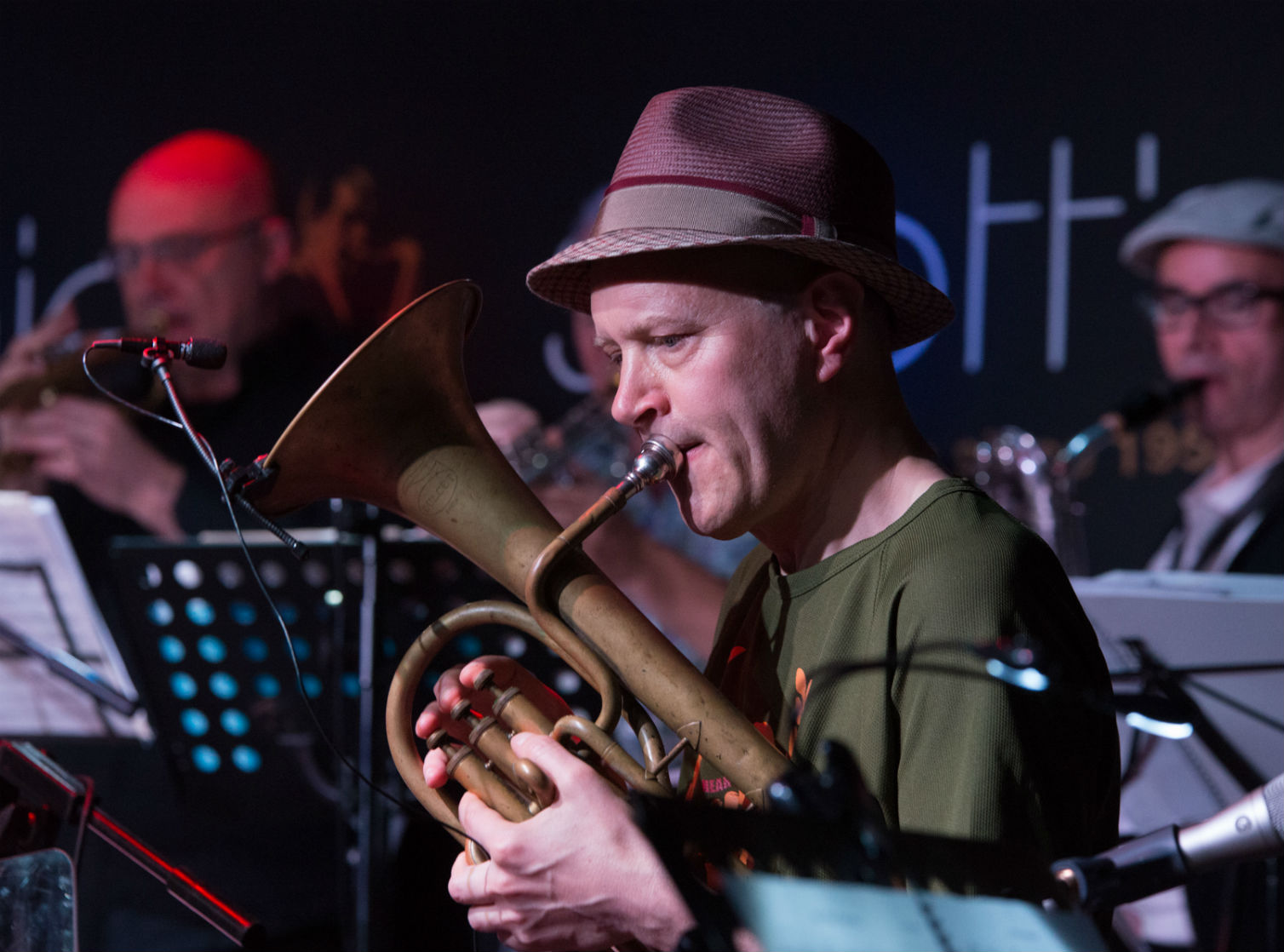 Slater's potty-mouthed wise-cracking (I'm told #piggate provided a rich seam of material on Wednesday night) and the band's air of silliness and slapdash indifference makes it easy to underestimate just what a serious undertaking their repertoire is. It requires phenomenal attention to detail but they sounded tight and well drilled.
"A", a smokey trumpet feature for Chris Batchelor and the frantic "Nights At The Circus" (both dedications to pianist John Taylor, who passed away in August) flaunted the band's eclecticism and stylistic range. As did "Would I Were", with its folky opening evocative of mist-shrouded moorland, and storming groove lifted by vivid colours from the horns and a blistering solo from young guitarist Rob Luft, standing in for John Parricelli.
Recent BBC Radio 3 commissions "Creeper" and "Bright Smoke, Cold Fire" slotted in seamlessly with the classics. They're darker and grittier than much of the old Tubes material but they're as wonderfully scatterbrained and sadistically difficult to play as anything from the Eighties.
Jubilant gospel number "Arriving" closed the show and saw the band process through the audience to whistles and cheers. What the future holds for Loose Tubes is anyone's guess, but if their residency at Ronnie Scott's became an annual fixture it would be a wonderful thing. It's here that they always sound their best.