Wayne Shorter Quartet with the BBC Concert Orchestra, Barbican |

reviews, news & interviews
Wayne Shorter Quartet with the BBC Concert Orchestra, Barbican
Wayne Shorter Quartet with the BBC Concert Orchestra, Barbican
Qualified rapture when the greatest jazz saxman and band take on the BBC Concert Orchestra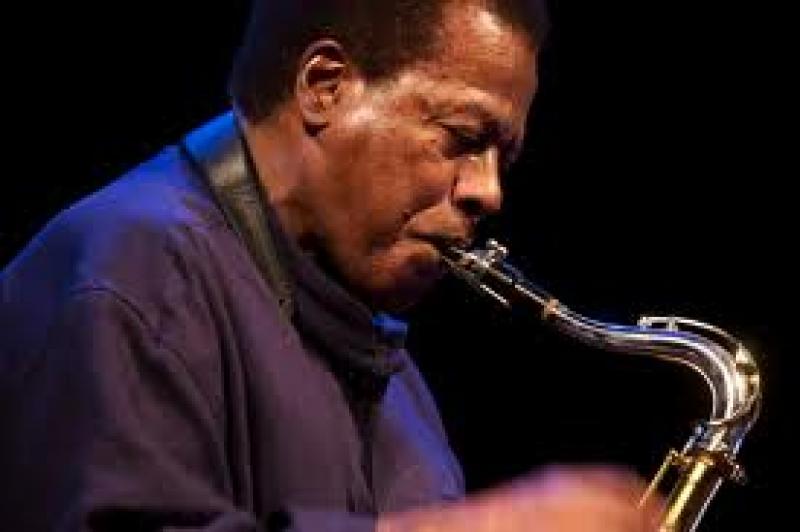 Shorter: Jazz Time Lord
Wayne Shorter's Quartet were introduced as "the greatest jazz band on the planet". It's an unexceptional thing, like the Rolling Stones being introduced as "the greatest rock'n'roll band in the world".
But unlike the Stones, who really haven't done anything new or vital since the 1970s, Wayne Shorter and his cohorts, pianist Damielo Perez, bassist John Patitucci and drummer Brian Blade,
who have been with him for a decade or so, have relentlessly magicked wonderful new music out of the air. Now 80, he doesn't seem to be running out of steam just yet.
This concert was the proverbial game of two halves – the first was in the "without a net" (the title of his last album) improvising idiom Shorter fans have grown to love. The band unusually don't go in for egoistic soloing and are consummate team players. Patitucci and Perez are a little more searching, at times seemingly unsure of the direction of travel, Shorter and Blade absolute masters and playing with total authority. The mix of the two creates a fluid dynamic. Perez as pianist occupies a fertile place somewhere between Thelonious Monk and Debussy, impossible to define as jazz or classical. Perhaps that's why someone next to me called it "schizo-jazz."
Shorter has earned the right to do whatever the hell he wants, and hearing orchestral versions of his tunes must be exhilarating
There were two 20 minute-ish tunes in the first half, both slightly more tonal and accessible than the last time I saw the Shorter band at the Barbican two years ago. We had some almost-grooves on the bass and nice chunky chords on the piano, with Shorter's characteristically minimal melodies leading into some exquisite sax runs. Blade always works around the pulse, often very delicately, providing all the greater contrast for when he did start beating hell out of his kit.
The second piece in particular was glorious, with melodies thrown around, refracted as through through water, with each of the musicians taking turns to lead. Echoes of standards like "It Could Happen to You" or colourful snatches of Shorter's older tunes from his Miles Davis or Art Blakey eras were kaleidoscopically subverted and turned into something fresh. It was all very impressive, and the band received a standing ovation from a sold-out Barbican at the end of the first half. Bearing in mind the group often really only gets into top gear after an hour or so, it was also frustrating that this section and its building momentum had come to an end.
The second half went off in a completely different direction and featured four long tunes accompanied by the amazingly versatile BBC Concert Orchestra, arranged by Shorter. Three were relatively recent, including "Pegasus" from his last album, with only "The Three Marias" from his 1985 album Atlantis as a blast from the past. What this emphasised is that Shorter is the most impressive jazz composer of the post-bebop era, making rivals like Wynton Marsalis seem relatively pedestrian.
As for the orchestrations though, some of his arrangements seemed a tad predictable. Other jazz-influenced composers from the last century, from Stravinsky to Gershwin, had a better measure of an orchestra, and nothing much here suggested anything later than the late 1950s.
The flow between quartet and orchestra was well managed, but as the band were reading music and had much less room for manoeuvre, they seemed boxed in. Shorter has earned the right to do whatever the hell he wants, and hearing orchestral versions of his tunes must be exhilarating. Compared to nearly every other jazz group on the planet, the whole evening was a brilliant one. But compared to other Shorter concerts, which were not merely astonishing technically but moving and even transcendent, by his own Olympian standard, this was a slight disappointment.