Storyville: Which Way Is the Frontline From Here?, BBC Four |

reviews, news & interviews
Storyville: Which Way Is the Frontline From Here?, BBC Four
Storyville: Which Way Is the Frontline From Here?, BBC Four
Profile of war photographer Tim Hetherington by his 'Restrepo' co-director Sebastian Junger
A pause in conflict: Tim Hetherington (right) with Sebastian Junger, making 'Restrepo' in Afghanistan
The title of Sebastian Junger's documentary comes from a casual remark made as a group of journalists set off towards conflict in the outskirts of the Libyan town of Misrata: it may sound like a standard question from a battle-hardened war correspondent, but the film that follows shows that Tim Hetherington, whose off-camera voice it is, was anything but that. It was April 11 2011, and that journey would prove fatal for the British photographer and filmmaker.
Only weeks earlier he had been in the very different setting of Los Angeles:
Restrepo
, the remarkable film in which Hetherington and Junger had followed the lives, over 14 months, of a company of American soldiers in Eastern Afghanistan, was nominated for an Oscar.
The noise of war rarely seems too close in Which Way…?, a reflective film about the role of the observer with a camera – Hetherington's legacy is equally still photography and videography. It's a tribute to the qualities of a quietly spoken humanitarian, with a questioning voice which never offers easy certainties. Indeed, the documentary's opening shots are a series of outtakes in which Hetherington tries to articulate what it all meant. He breaks up, the right words don't come, and talks variously about the importance of connection to people, how that there are "no neat solutions" to the extreme situations in which he has encountered people, about an underlying humanity to be found, about insights into human behaviour. It's punctuated by an infectious laugh, and a sense of a capacity for empathy, of an ability to immerse himself in the surrounding world, wherever he found himself.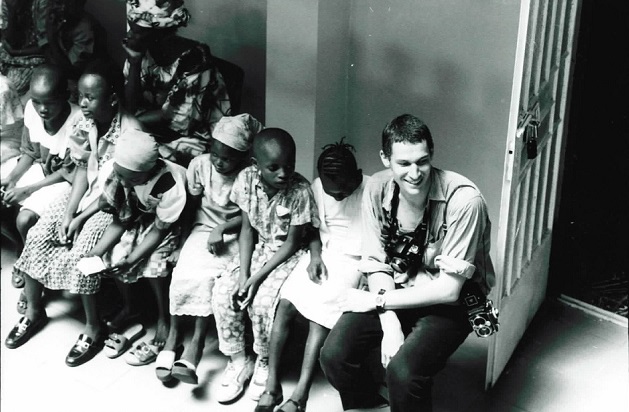 First came Africa, where he captured the lives of children blinded by war in Sierra Leone (Hetherington on that assignment, right). Liberia followed, after an initial assignment photographing a Liberian football team on tour in Britain. His baptism in conflict came there when, with producer James Brabazon (who's a strong presence in the film), he followed the progress of teenage fighters of the rebel LURD army as it moved on the capital, Monrovia (image, below left). Hetherington, as he recalls in the film, wasn't there to convey the moral outrage of the situation, or capture its gory images, but something subtler, how the dynamics of war was part of "the hard-wiring of the young men" who entered the range of his lens. Typically, he would stay on in Liberia for some years in a variety of roles, never tempted to hurry on to the next hot spot.
Restrepo too was more about the inner dynamics of the company of soldiers into which he and Junger immersed themselves, than the fierce conflict the men were facing from the Taliban in Eastern Afghanistan. It showed combat, in the film's words, as a form of bonding, and the depth of emotions that comes with that closeness. Hetherington had virtually decided to leave conflict reporting behind when he went to Libya: the motivation for the trip was again wider, an attempt to answer the question, "How do young men see themselves at war, and why?".
Which Way…? is a quietly moving film, its achievement being to put into tentative words Hetherington's attempts to get under the skins of the different human beings he witnessed going through a whole range of different experiences. Watching it back-to-back with Restrepo packs real punch. We can only speculate what Hetherington might have gone on to, but the legacy he left behind will stand the test of time.
An infectious laugh, and a sense of a capacity for empathy, of an ability to immerse himself in the surrounding world
rating
Explore topics
Share this article