DVD: The 39 Steps |

reviews, news & interviews
DVD: The 39 Steps
DVD: The 39 Steps
Hitchcock's classic thriller drew on screwball comedy and Britain's pre-war complacency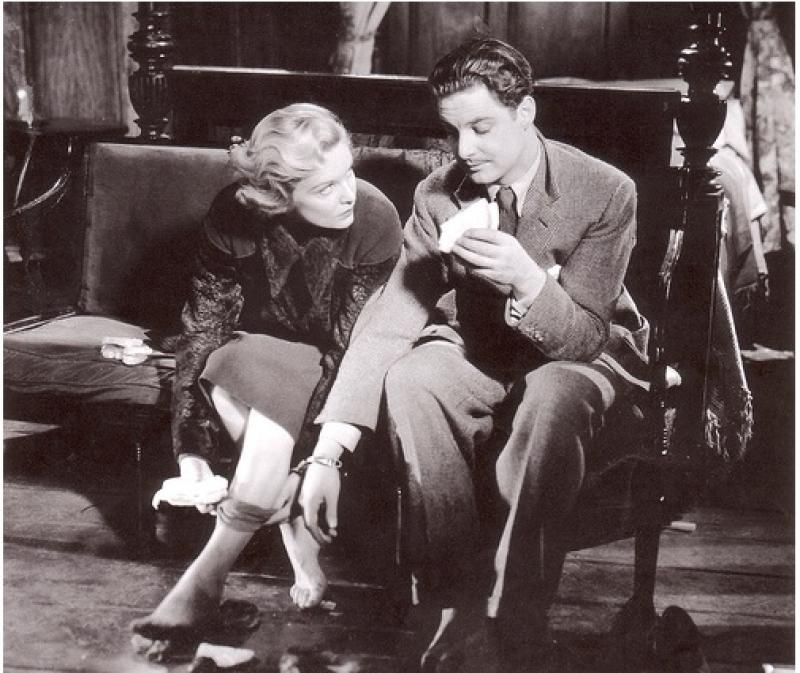 Hindered by handcuffs: Richard Hannay (Robert Donat) offers to help Pamela (Madeleine Carroll) remove her damp stockings.
Anyone familiar with the 1915 spy thriller The 39 Steps and Alfred Hitchcock's classic 1935 adaptation – fleet, déclassé, and oneiric – knows the movie is a superior piece of entertainment to John Buchan's coincidence-laden potboiler, which as a gentleman's adventure is smugly establishmentarian. In its depiction of a pre-war Britain mired in political complacency yet socially discontent, the film better caught the tenor of the times.
Passive everyman Richard Hannay (Robert Donat) is accosted by an exotic spy (Lucy Mannheim) as he pushes through a panicked mob in a London music hall and brings her home, waking the next day to find her dying. Pursued by the spies who killed her and the cops, he flees by train to Scotland, turns into a daring escape artist, and with delicious perversity is handcuffed to a prototypical Hitchcockian ice blonde (Madeleine Carroll) in a Highland town. Incident piles on incident, the influence of Robert Louis Stevenson's Kidnapped filtered through Buchan to Hitchcock. In terms of the murky atmosphere, the director was indebted to German Expressionists like F.W. Murnau, whom he had witnessed first-hand.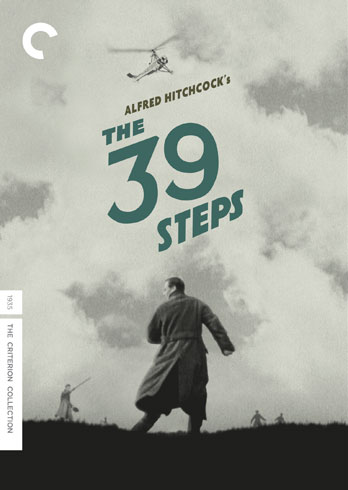 Following the success of Hollywood's It Happened One Night and The Thin Man the year before, Hitchcock and his screenwriters Charles Bennett and Ian Hay realized Hannay's attempt to clear himself while rescuing a British military secret (from the unnamed Nazis) could be turned into a sexy screwball romance; one of the movie's themes is its commentary on marriage as a state to be desired or not. In the case of the miserable Calvinistic crofter (John Laurie) and his unhappy wife (Peggy Ashcroft), who to her cost helps Hannay, it's a tragedy.
The supplements on Criterion's Region 1 disc include several from the 1999 edition – the commentary, production design drawings, the 1937 radio version starring Robert Montogomery and Ida Lupino. New gems include a thoughtful video analysis, pertinent audio from Hitchcock's conversation with François Truffaut, and a British featurette. There's also priceless footage from a 1966 TV interview with Hitchcock, who describes how, as an upstart art director working in 1923, he alienated a director by telling him where to place the camera. That was a mere baby step.
Watch excerpts from 'The 39 Steps'
In terms of the murky atmosphere, the director was indebted to German Expressionists
rating
Share this article