Betrayal, Comedy Theatre |

reviews, news & interviews
Betrayal, Comedy Theatre
Betrayal, Comedy Theatre
A masterful production of Pinter's exquisitely crafted play of deceit
Kristin Scott Thomas and Ben Miles play the married couple in a three-handed game of betrayal
This is a play that begins after the end of an affair, and threads its precise, forensic way back to the very beginning of it. As the lovers are awkwardly reunited after two years, the theme of deceit as a web of competing and ambiguous claims is firmly established. Jerry, a literary agent, has learned that Emma, the wife of his oldest and dearest friend, with whom he had an affair for seven years, may now be having an adulterous relationship with one of his writers.
Emma, played superbly by the mistress of sexy
sang-froid
Kristin Scott Thomas, casually but unconvincingly dismisses his suspicions.
Betrayal is Pinter's most psychologically nuanced play, and Thomas (main picture, with Ben Miles as Robert) brings a brittle vulnerability and, by turns, a steely self-possession to the role of Emma. She appears to lie easily and without conscience, yet it's her strained smile that betrays her fragility. Held a little too tightly and for just that fraction of a second too long, we see that it acts as a precarious piece of emotional scaffolding. In this regard, she resembles her husband Robert rather more than the softer, more seemingly straightforward and guileless Jerry, though Jerry, too, has concealed his adultery from his wife - far more successfully, it appears, than Emma has from Robert.
Robert, in turn, conceals his knowledge of the affair from Jerry. The friends continue to meet for their regular lunches, but we are privy to only one: the first lunch after Robert has learned of the affair while holidaying with Emma in Venice. At this point the sliding-walls set, which is effective as a sparse, unloved 1970s Kilburn love-nest, is more tacky local Tandoori than posh Venice pensione (with all the garish flock wallpaper and oriental arches, I had to remind myself exactly where we were meant to be).
Ben Miles, who is outstanding as the clever, astute Robert, plays the cuckolded husband as one whose barely repressed rage simmers beneath his measured verbal sparring. He talks frequently of wanting to arrange a game of squash, as if thrashing Jerry on the squash court is the only way he can think to assert his masculinity. When Emma says that she will accompany them to a game, Robert delivers a monologue on the male-only rituals surrounding the game. He is knowingly sending up the ritual, but nonetheless it's Emma, not Jerry, he seeks to exclude. Clearly, to confront Jerry with the truth would spell a devastation more painful to him than any damage to his marriage. The relationship hints at just the right amount of a very English kind of homo-social dependence.
Douglas Henshall's Jerry (pictured below) spends much of the time wearing a rather wet expression of wounded bafflement as he learns that he's been lied to not only by Emma but by Robert. And whereas a kind of public-school archness, with its edge of cruelty and contempt, characterises Miles's rather neurotic portrayal, Henshall's Jerry simply moves from an apparent guilelessness to gutlessness: his choked response to Emma when she tells him that she is pregnant by her husband is simply to say, "I am very happy for you."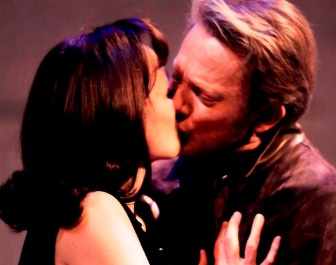 And so, when it comes, Jerry's heady, wordy, drunken declaration of love at the play's close, which is joyful and comedic and almost heart-bursting to watch, also contains a note of aching sadness: it's not just the characters who are held up to scrutiny but love itself, for it is the idealism of love that ultimately fails and betrays us. I have never seen a production of the play quite as liable to bring a lump to the throat.
The Comedy Theatre's relatively small stage suits the claustrophobic intensity of this three-hander very well. Ian Rickson's direction keeps the action tight and well paced, while the dialogue is deliciously snappy, particularly in the rhythmic banter between Robert and Jerry – rather like an aggressive but exhilarating game of squash, in fact. This is a production that serves Pinter's exquisitely crafted play very well indeed.
Ben Miles, who is outstanding as the clever, astute Robert, plays the cuckolded husband as one whose barely repressed rage simmers beneath his measured verbal sparring
Share this article