theartsdesk in Belfast: A Place of Titanic Efforts |

reviews, news & interviews
theartsdesk in Belfast: A Place of Titanic Efforts
theartsdesk in Belfast: A Place of Titanic Efforts
Two striking new venues launched in a momentous year
The MAC is full of sharp angles and odd-shaped spaces
For a small(ish) city, Belfast punches well above its weight where the arts are concerned. Northern Ireland's capital may have only 270,000 residents (with a further 500,000 in its catchment area), but it has a notable array of large venues serving several art forms in a vibrant cultural scene.
The city houses the Grand Opera House and the newly renovated Lyric Theatre, the Odyssey Arena, the Kings Hall, the Ulster Hall and the Waterfront Hall; and now another venue is about to open in the city centre - the MAC, or Metropolitan Arts Centre.
The MAC, in the newly created Saint Anne's Square beside the cathedral, has risen from the ashes of OMAC (Old Museum Arts Centre) on College Square North, beloved of many - including Meryl Streep, as it happens, who has been one of its keenest supporters since attending a performance there some years ago. OMAC opened in 1989 and its intimate theatre space quickly gained a reputation for edgy and quality new writing, while it also boasted an acclaimed white-box gallery that promoted local artists' work.
But the new MAC, built at a cost of more than £17 million, is a different beast altogether, a striking new building (architects Hackett & Hall) whose seemingly small exterior encloses, Tardis-like, 1,000 square metres of gallery space, two theatres (350 and 120 seats), workshops, a dance studio, offices and rehearsal spaces. And, of course, the all-important bar/café without which, it seems, no new arts venue is complete and which MAC's managers hope will attract customers who come in for an espresso and stay for a performance or have a gander at the art.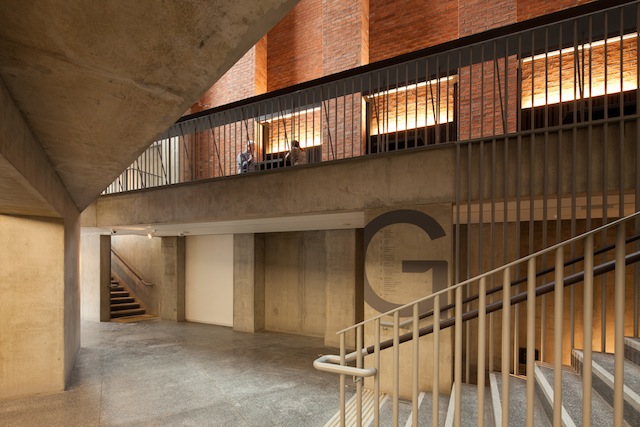 Anne McReynolds, who used to run the small but perfectly formed OMAC and has seen the big MAC (I'm not the first to make that joke and I suspect I won't be the last) through from idea stage to completion over the past decade, takes me on a tour of the building, which, despite its industrial look (pictured right, before it was fitted out), is full of sharp angles and odd-shaped spaces and, winningly for a new building, the occasional nook and cranny.
"Every square inch has a function," she says, and I can see that some of the quirkier spaces will quickly become favourite meeting places. There's a small balcony overlooking the main foyer that can be curtained off for interval drinks, quiet but light-filled areas on the upper floors, and a sun-trap ground-floor terrace that will surely be popular, even beyond "the two good days of weather we get a year". Rarely has a new building, before a paying customer has stepped inside, felt so welcoming.
But welcoming spaces don't pay the rent and MAC will stand or fall, not by the food in its café, but by its programming. The venue will be given financial support in its first few years by the Arts Council, the Lottery and charitable and government funders, but will have to pay its way fairly quickly. How will it do that in city with just over a quarter of a million, where several arts venues are vying for the same audience? "We believe there's a large untapped audience out there that we are determined to attract," McReynolds tells me. "And we have a terrific team here actively seeking out those individuals.
"The city centre, after years of people not wanting to stay around after work, is being constantly revivified and I think there's a hunger for the kind of material we will be programming. We will be open from 10 in the morning till late at night; we are in the city centre, which is not part of one community or another, but is open to everybody."
The MAC is commissioning new work as well being a receiving house for music, theatre, dance and art, and some of its spaces will be available for commercial rent, which is increasingly an important financial driver for arts venues in the UK. The opening production in the main house is Owen McCafferty's courtroom drama, whose subject is close to Belfast's heart, Titanic (Scenes from the British Wreck Commissioner's Enquiry, 1912), while its main exhibition space is given over to LS Lowry (the first time his work has been exhibited in Northern Ireland) and local artist William Conor (1881-1968), two artists working in different cities at the same time, and both fascinated by the industrial landscape around them. It augurs well that the first season is a bold mix of local and international, edgy and commercial.
But ultimately, says McReynolds, the MAC's purpose in life has to come down to quality. "Everything we do here has to have a reason for being programmed," she says, "whether it's by a local artist, or because we're bringing something to Northern Ireland for the first time, or simply because it's interesting and we believe people will want to see it." Sounds like a good plan to me.
Belfast has been busily rebranding itself in the past few years and everywhere, it seems, is now part of a quarter; MAC is in the Cathedral Quarter, while next stop on my cultural tour is the Titanic Quarter. The riverside area has been formed out of the mostly redundant Harland & Wolff shipyards (the company now makes wind turbines instead of ships) where the magnificent but ill-fated Titanic was made.
Titanic Quarter is still a work in progress, with the Odyssey multi-entertainment arena (opened in 2000) and now apartment blocks, university and government buildings and shops springing up, but the area's raison d'être is another stunning new building, the Titanic (pictured left), which will house the Titanic Belfast experience, which opens this week and commemorates the 100-year anniversary of the ship's launch and sinking.
Designed by local company TODD Architects, the Titanic building's four prong-like corners replicate ships' hulls and from above they represent the ship's owners, the White Star Line, while the striking 3,000 aluminium external panels reflect light and the Lagan's waters. The building, at the top of the slipway where the Titanic first went into the water, has nine interpretive and interactive galleries, and offers a state-of-the-art experience in which to explore the Titanic story, utilising special effects, gantry rides and full-scale reconstructions of White Star Line's cabins from third to first class. It also takes the story beyond the sinking, to the discovery of the wreck and a live link to the undersea exploration centre.
It sounds truly innovative, but opinion in the city differs as to whether, like the Guggenheim Bilbao, for instance, Titanic Belfast the building will attract visitors regardless of what is on show inside. However wonderful the opening exhibition may be, the experience will have to evolve into something that attracts repeat visitors. The building, built at a cost of nearly £100 million in a public-private partnership but which will be run as a private commercial enterprise, is certainly captivatingly beautiful – for my money a work of art in itself – but needs 290,000 visitors a year to break even; more than 80,000 tickets have been sold already for this year. Tim Husbands, who ran the Waterfront Hall from its opening, is chief executive.
National Museums Northern Ireland have loaned more than 300 photographs to Titanic Belfast, but still have an enormous amount of material left over to display in TITANICa, a multi-exhibition, year-long exposition of the province's connections to the ship, at two venues – the Ulster Folk and Transport Museum in Holywood, and Ulster American Folk Park near Omagh.
For those not seeking a Titanic fest during their cultural trip to Belfast, the Ulster Museum, which reopened in 2009 after an extensive renovation, is a superb venue for a few hours of glorious multi-disciplinary brain-fodder. It's situated in the city's beautiful Botanic Gardens to boot and, having meant to pop in merely to see the new extension, I completely lost track of time in its galleries learning about Belfast's social and political history, Ireland's geology and nature, the paintings of Sir John Lavery and much more besides.
I didn't have time on this trip to visit the Lyric Theatre (pictured right), although I had been to a production there at the end of last year and was struck by the building's quirky mix of sharp angles and floor levels, which may not be to everybody's taste but which certainly makes a bold statement in venue design. The riverside theatre, three times the size of the previous house, was rebuilt last May (architects O'Donnell and Tuomey) at a cost of £18.1 million and is a mix of brick, wood, glass and steel. There are two auditoria and the main house, which has cross-ply wooden floors and an alarmingly steep rake – just ideal for breaking limbs, I would have thought - at least boasts fantastic sightlines. Currently playing in Northern Ireland's only full-time producing theatre is, you've guessed it, another Titanic-related play, White Star of the North by Rosemary Jenkinson.
You can get Titanic-themed crisps – no, really – in Belfast at the moment, courtesy of the Tayto brand. But absolutely not in any way attempting to forge a connection with the doomed ship (or as far I was able to find at least) is the thriving music scene in Belfast, which over the decades has produced or developed talents such as (among many others) Ruby Murray, Van Morrison, Gary Moore, Stiff Little Fingers and Snow Patrol. I visited Oh Yeah, a former bonded whiskey warehouse in the Cathedral Quarter, which now houses a music centre.
Oh Yeah, a charitable foundation, grew out of a conversation between Snow Patrol's Gary Lightbody, Stuart Bailie (formerly of NME) and local music industry figures and now houses a small permanent exhibition (about musicians associated with the city (pictured below), rehearsal and live-performance spaces and a recording studio, as well as offering an informal meeting space for musicians to collaborate. Oh Yeah also organises bus tours around locations connected with Belfast's musical heritage.
While in the city, I had a brief but illuminating chat with Mark Prescott, the artistic director of the 50th Belfast Festival, a pan-arts festival covering music, theatre, dance, film talks and comedy. Prescott worked as an arts adviser to both Ken Livingstone and Boris Johnson in the London mayor's office, so he's clearly built of stern stuff. Some of the above venues will be home to his innovative and striking ideas, which will be announced shortly. I think he'll raise a few eyebrows...
It pains me to write the following few sentences because Belfast rightfully longs to not have its name synonymous with sectarian violence 14 years after the Good Friday Agreement; apart from the odd marching-season skirmish, the city is as quiet as houses these days and, one proud resident wryly pointed out, there are probably more murders in the part of south London where I live than in present-day Belfast. She's right, but it's an image that sadly will take a while longer yet to shift in many minds.
But equally, much of Belfast's – indeed Northern Ireland's – new cultural wealth could be seen to have come as a direct result of the Troubles, as money from charities and government and European agencies has been poured into the region in the hope or belief that city regeneration, including arts projects, can transform lives. And as one local wag (or cynic, depending on your view) told me, "Anything with the words 'cross-community appeal' in it gets funding in this town."
There isn't, it seems, a sizeable town or a city in Northern Ireland that hasn't been given a shiny new professional arts space in the past few years. Indeed, I saw a fantastic revival of Frank McGuinness's Carthaginians in one such venue during my visit as the play tours Ireland, north and south. Adrian Dunbar has directed a powerful and moving production, which marks the 40th anniversary of Bloody Sunday and is a profoundly moving elegy for those events in Derry. Chris Robinson leads a terrific cast as Dido, the would-be playwright who delivers supplies to a disparate group of individuals holed up in a graveyard seeking personal resurrection in a city that, like Carthage, is rising from the ashes. Try to catch it in the last few weeks of the tour.
There was a lot to pack in in a trip to another city undergoing a resurrection of its own. As I was leaving Belfast, my taxi driver asked me why I was over. I told him and said I was wowed by the new MAC and Titanic buildings. "Small city, big ideas," he replied. Too right.
MAC opens 20 April
Titanic Belfast opens 31 March
TITANICa exhibitions continue at National Museums Northern Ireland
Belfast Festival runs from 19 October to 3 November
Carthaginians is touring until 14 April
Welcoming spaces don't pay the rent and MAC will stand or fall by its programming
Explore topics
Share this article