DNA, Rose Theatre, Kingston |

reviews, news & interviews
DNA, Rose Theatre, Kingston
DNA, Rose Theatre, Kingston
Hull Truck tours with darkly funny teen-crime drama
Tuesday, 07 February 2012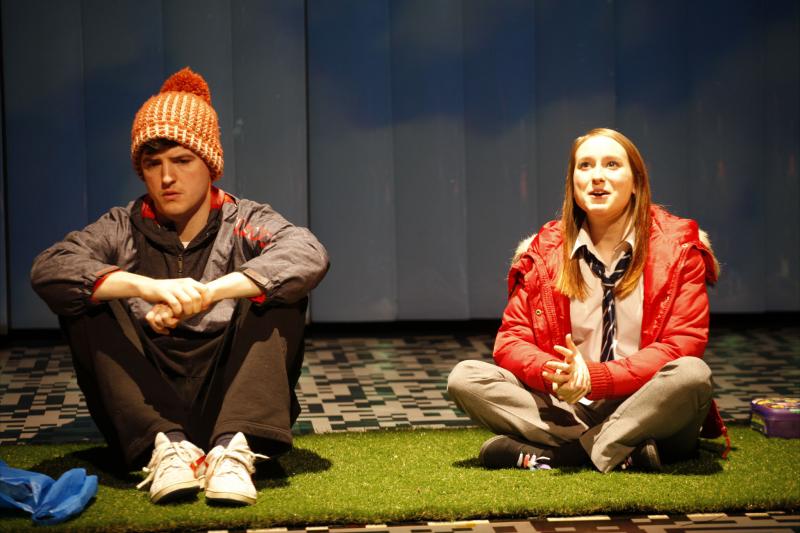 Leah Brotherhead rabbits away while James Alexandrou doesn't listen
I have to confess it was about five minutes in to Dennis Kelly's DNA last night before I concluded, definitively, that I had seen it before. Four years ago, it was part of the Connections programme at the National Theatre – a scheme for generating short, double-billable, "youth"-friendly plays that, practically speaking, don't require the operating budget and elephant-handlers of a Veronese Aïda.
But Kelly's star is now in the ascendant – he is better known, principally, as Mr Matilda – and his quietly simmering ensemble piece is embarking on a national tour, in a production by Hull Truck. A "bit of a laugh" at a schoolmate's expense rapidly (d)evolves into the burning of feet with cigarette butts and the throwing of rocks at his head. When the inevitable happens, there is recrimination and finger-pointing among the half-dozen perpetrators, much panic about how this will ruin their lives, and a good deal of flapping about what, actually, to do – until Phil turns up.
The vocab and syntax becomes improbably mature for this particular crew of teenage manslaughterers
Phil's slightly autistic, Ripley-ish mental gifts get the gang out of a hole – and, for a while, everything seems peachy. Better, even. But then, problem solved, puzzle cracked, Phil disappears back into himself, leaving the rest of them to make do and mend. Or not. As the trauma begins to affect each character differently (duh), it is left to Phil's trusty side-kick, Leah, to keep everything from falling apart… And bingo, there's the rest of your play.
This exploration of herd mentality and nature's brute wiring is, as has been said often enough, a skankier, urbanised update of Lord of the Flies: a sort of Abu Ghrainge Hill. The rag-tag of "accidentally" murderous teens are, troublingly, all more-or-less normal enough; but Phil is, to all intents (and certainly all purposes), a psychopath. Leah, for her naïve sins, is evidently in love with him, and though she's just about smart enough not to blurt it out in any of her epic one-woman dialogues, we feel for her as Phil's most obvious victim – like that blind girl in Red Dragon who doesn't realise she's getting into bed with Francis Dollarhyde.
Scripted with all the implications of its original charter, DNA's teen-friendly, moderno-chatter is often nonetheless very funny ("You enter from the south entrance." "Which end's south?" "By the Asda.") But this dance around the murky area between what is grimly termed "casual violence" and the shock and awfulness at the heart of black comedy, admittedly, makes it difficult for people to know when to laugh. Or, more accurately, to know when it's acceptable to. Thankfully, the house last night was full of young'uns (DNA is, we're told, now on the GCSE syllabus), who had the good grace not to be troubled by such delicacy.
I don't know if the speech about bonobos (and our genetic connection thereto) was actually written to be performed by a native of 'Ull ("In the b'nerber wuerld, havin' i' off is laik sayiingg' 'I laik ye shews.'") but it is an exemplar of the art of repetitious humour. Across the board, Leah (yes) Brotherhead does a superb job of investing her namesake with all the desperate urgency of a puppy trying to drown itself. (There are several moments, though, in her lines and others', where the vocab and syntax becomes improbably mature for this particular crew of teenage manslaughterers. Also, it really would be better if "DNA" didn't crop up in the script, however integral. It clunks horribly, like someone referring to "Coronation St.", on Coronation St.)
James Alexandrou (of EastEnders fame, one is reliably informed) plays a more purposefully menacing Phil than his slightly spacey predecessor, Sam Crane (who appears at the rose later this month, in Ibsen's The Lady From the Sea). Unfortunately, this option doesn't quite bear up when Phil's character switches to silent mode, and in his "If you don't help us, we'll kill you" scene it makes very little sense at all. It's a tough one, though, Phil. The play is basically a two-hander with six assistants, and Phil does much of his best work sitting on the floor, staring at a waffle.
On which: what Phil's actually sitting on is a 2x4m strip of crayon-green Homebase sward, and something of a shout-out is due to the stage-craft chaps here: director-designer Anthony Banks, obviously, but in particular Alex Baranowski (music) and Anrzej Goulding (projection. Projections are great, aren't they?). Especially in the picnic scenes, the plasticky-fake cheer of the "scenery" gave off a creepy, American-Beauty-for-British-adolescents kind of vibe, and the clanging, shrilling music sounded like Don Davis going to war with Arvo Pärt.
That all said, in its present form DNA feels like it's been taken out of the freezer and microwaved for the national (as opposed to National) audience. A lot of the swearing has been downgraded, which is odd (the Rose has been home to everything from Blackbird to Marcus Brigstocke: I'm sure the good people of Kingston can handle someone saying "fuck"), and weighing in at just over 75 minutes it's not really enough for an evening's theatre: one can't help but feel it could have used a more substantial rewrite before hitting the road on its own. In my former incarnation I see I thought moments of it were "engrossing". I can't say the same now.
Dennis Kelly's exploration of herd mentality and nature's brute wiring is a skankier, urbanised update of Lord of the Flies: a sort of Abu Ghrainge Hill
rating
Share this article