DVD Release: Stagecoach |

reviews, news & interviews
DVD Release: Stagecoach
DVD Release: Stagecoach
John Wayne classic re-released again, with even more extras
'Stagecoach': The epochal western that made a star of John Wayne
For the second time in four years, John Ford's Stagecoach - the epochal black-and-white 1939 B-western that made a star of John Wayne and an icon of Monument Valley, and anticipated Ford's unequalled run of westerns over the next quarter-century and the psychological westerns of the Fifties - has been remastered and reissued in a substantial two-disc DVD package.
The eyes of Ford and Wayne completists should thus light up like those of the alcoholic Doc Boone (Oscar-winner Thomas Mitchell) relishing a couple of days' proximity with the milquetoast whisky drummer Samuel Peacock (Donald Meek) on their journey from Tonto to Lordsburg in New Mexico in 1884 - Geronimo on the warpath be damned.
When Warner Bros released its Stagecoach DVD in 2006 the extras included the excellent 83-minute documentary John Ford/ John Wayne: The Filmmaker & the Legend; a half-hour piece about the film's making and content that broke little ground; and a vintage radio adaptation in which Randolph Scott stepped in for Wayne as the escaped convict the Ringo Kid and Claire Trevor reprised her screen role as Dallas, whom Ringo courts not knowing she's a prostitute ostracised by most of their fellow passengers.
The new release by Criterion is busier. It includes Philip Jenkinson's rivetingly awkward 1968 BBC interview with Ford, who veers from suspicious and condescending to charming and anecdotal, then back again; Ford's 1917 modern ranch romance Bucking Broadway, which is no formative classic but pre-echoes the East-West class conflicts of Stagecoach; interview-driven pieces on Ford's colonisation of Monument Valley and the death-defying work of ace stuntman Yakima Canutt; a selection of Ford home movies taken aboard his yacht; and a radio adaptation starring Wayne, Trevor and Ford regular Ward Bond in place of Mitchell. There's an atmospheric visual essay written and narrated by Tag Gallagher, who draws on the observations he made in his Ford biography about the spurning of Dallas by the snobbish army wife Lucy Mallory (Louise Platt). And there's an obligatory interview with Ford acolyte Peter Bogdanovich, which is lacklustre except when he recalls the master's casual cruelty.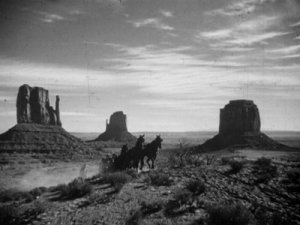 Among the written materials is Ernest Haycox's source story "Stage to Lordsburg", which screenwriter Dudley Nichols added to and deleted from as he and Ford, influenced by Guy de Maupassant's bitter Franco-Prussian War story
Boule de Suif
, expertly transformed their trope-ridden oater into a powerful microcosmic vehicle for social commentary. Their target was the timeless bourgeois hypocrisy embodied by Lucy, the aristocratic Virginian gambler (and probable murderer) Hatfield (John Carradine), who protects her out of loyalty to faded Southern gentility, and the thieving Republican banker Gatewood (Berton Churchill), and opposed by the disreputable but moral Westerners Ringo, Dallas, and Doc. One of the joys of watching
Stagecoach
is observing to what extent these travellers change individually as their collective circumstances worsen due to Lucy being called to childbed, their betrayal by the Apache wife of the Mexican station-keeper at the Apache Wells way station, and the inevitable attack by Geronimo. Delivering the baby redeems Doc. Helping him in it transfigures Dallas. Peacock becomes the spokesman for Christian fellow-feeling. Hatfield gets off his Confederate high horse and rallies to the cause when the Apaches attack. Ringo fights heroically for the group instead of deserting it to escape to Mexico or wage his personal vendetta. Except for Gatewood, they all change for the communal good - even, subtly, the buffoonish driver (Andy Devine) and the authoritative shotgun-riding marshal (George Bancroft).
The main reason for purchasing the Criterion edition is the superb transfer from the best existing prints (the original negative having long disappeared). Experienced under optimum conditions Bert Glennon's black-and-white chiaroscuro cinematography comprises a psychologically resonant expressionistic shadowplay - in the passageway at Apache Wells where Ringo watches Dallas walk away, in the streets of the hellish town of Lordsburg where Ringo, at journey's end, seeks revenge on his brother and father's killer. To photograph Citizen Kane, Orson Welles hired Gregg Toland, who shot The Grapes of Wrath and The Long Voyage Home (both 1940) for Ford, but it was Stagecoach that he watched 40 times while preparing Kane, so Glennon's work must have been hugely influential. Indeed, it can be claimed that Stagecoach exerted more immediate influence on film noir than it did on early Forties westerns.
Beyond the microcosm of nine little people (10 if you include the newborn) is the monolithic cosmic reality of Monument Valley's giant West and East Mitten and Merrick buttes, which dwarf the stagecoach as it passes by them at, surreally, different points during the story. The "huge emblems of menace", as Garry Wills has called them, render the Valley "a place to be got through, to be endured. It is a forge of souls, a test of valor, a passageway to the unknown". Ford literalises this menace when he suddenly pans left from the East Mitten to the Apaches (played by the resident Navajos) on a foregrounded rock shelf. An analogy has also been drawn between that future monolith, "John Wayne", the natural "good badman", bringing the spirit of the landscape into the coach when he climbs into it. Harmonising the terrain and the 31-year-old actor - finally ready for stardom nine years afterThe Big Trail flopped - was an act of mythographic genius, even if most of it was done through process shots. The DVD just about contains them.