Glee, E4 |

reviews, news & interviews
Glee, E4
Glee, E4
The mysterious charm of McKinley High School's nerds, geeks and misfits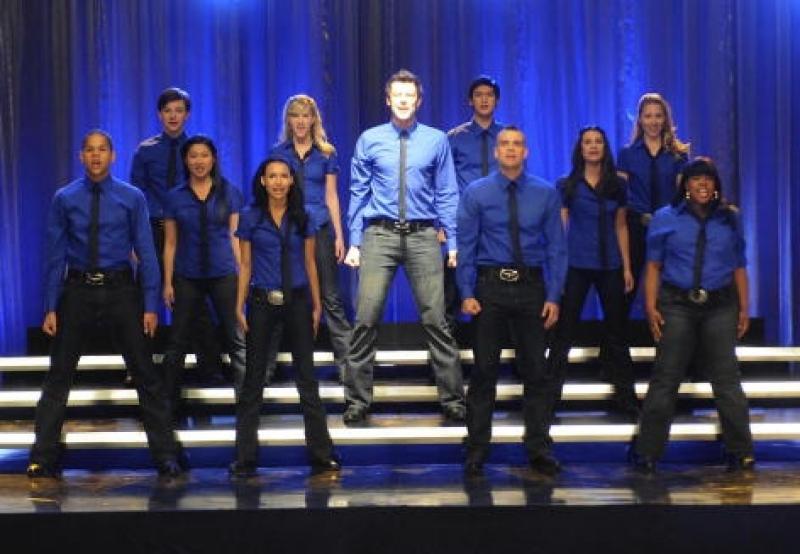 Perfect harmony: the glee club sing the blues
Rarely has a TV series been so easy to like and so tricky to define. If you shoved High School Musical, American Idol and The Breakfast Club in a blender, you'd be in the right ballpark, though you still wouldn't quite have captured Glee's unique tone of sweetness, campness, tragic teenage confusion and satire.
On the face of it, the setup is simple. McKinley High School's earnest, optimistic Spanish teacher Will Schuester (Matthew Morrison) seeks to revive the school's after-hours glee club, partly out of nostalgia for his own glory days in the high school choir. But the cool students want to be football stars or cheerleaders, and the glee club becomes a home for McKinley's misfits, nerds, geeks… and Rachel (Lea Michele), a teenage Barbra Streisand insanely fixated on stardom.
In particular, Will finds himself locked in a bitter turf war with Sue Sylvester, coach of the cheerleaders team, the Cheerios. Jane Lynch (veteran of the Christopher Guest/Harry Shearer school of mockumentary) plays Coach Sue like General MacArthur with implants from Machiavelli, and gives the show its vital acerbic edge. While Glee generally promotes a wry, rainbow-coloured tolerance, Sue ploughs through wimpish liberal sensibilities like a runaway tank. She declares Will Schuester's subject, Spanish, to be a dead language, fit only for students who aspire to be dishwashers and gardeners. She's disgusted that "caning has fallen out of fashion in America." She considers the glee club's parade of dorks and no-hopers intolerable. She deploys her cheerleaders like Special Forces operatives, urging them to infiltrate the club and demolish it from within. Often, Sue's malevolence gathers such anarchic momentum that it threatens to wreck the entire edifice.
We British lack the American heritage of cheerleading coaches, cheerleaders or even glee clubs, but creator Ryan Murphy (he of Nip/Tuck) has accurately skewered a set of generic memories of the humiliations, torments and sometimes triumphs of schooldays. Beyond that, Glee's narrative tentacles entwine themselves around a breadth of adult concerns, not least the way the high hopes of youth tend to crash and burn as the years tick by. Will's marriage to Terri (Jessalyn Gilsig), his high school sweetheart, should be a picture-postcard idyll, but she's so jealous and insecure that she has created a phantom pregnancy to help keep her man. Pert blonde cheerleader Quinn (Dianna Agron) seems to have the world on a plate, but she's not only pregnant and enmeshed in a love quadrangle, but on the brink of giving away her baby, secretly, to Terri. Yet while the ravishingly gay, soprano-voiced fashionista Kurt (Chris Colfer) is the butt of bullying by the jocks on the football team, he's managing to build an adult rapport with his motor mechanic father (Rachel and Kurt, pictured below)
That might all leave Glee stranded in soap-land, if it wasn't essentially a musical. All its subplots and emotional currents converge in its cathartic song and dance set-pieces, though it's frustrating that these are so obviously mixed and recorded separately, sometimes with glaringly faulty lip-syncing. But that's probably crucial to Glee's business plan, because the mix of material, from show tunes and classic pop songs to rap and R&B, has spun off a thriving range of CDs and downloads.
Last night's episode, "Hairology", pitted the McKinley glee club against the delinquent girls from the Jane Adams Academy (one of them was called Aphasia) performing a scintillating version of "Bootylicious". It also risked some politically incorrect fun at the expense of a deaf choir, whose principal could never hear his phone ring and whose members couldn't sing in tune.
Disappointingly, it settled for a "but seriously, folks" turnaround, with the McKinley choir joining the aurally challenged squad for a version of "Imagine" even more drivellingly sentimental than the original. But there'll always be room in Glee's eclectic mix for a bit of shameless schlock.