First Aid Kit, Sneaky Pete's, Edinburgh |

reviews, news & interviews
First Aid Kit, Sneaky Pete's, Edinburgh
First Aid Kit, Sneaky Pete's, Edinburgh
Everything seems possible for a pair of Swedish sisters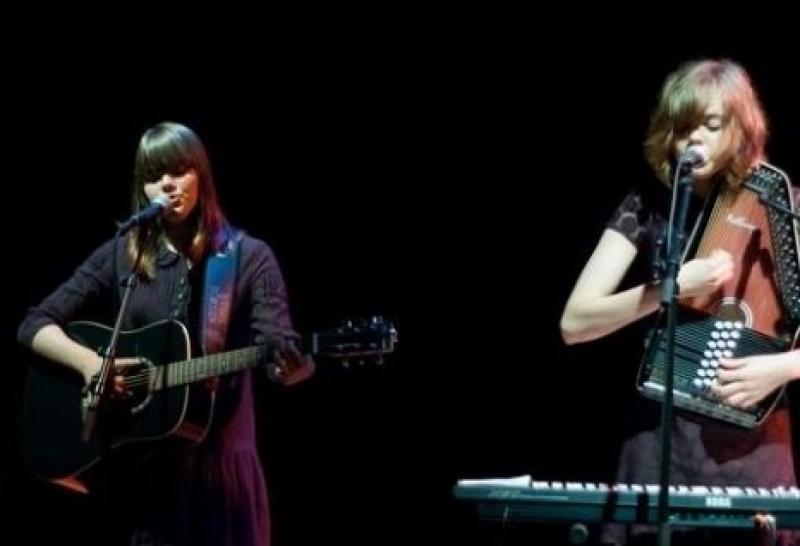 First Aid Kit: Teenage Swedish sisters Klara Söderberg (left) and her sister Johanna (right)
There is something eternally refreshing about catching a band on the first show of their first tour after the release of their first album. Banter remains untarnished by overuse; smiles appear spontaneous and gratitude genuine; mistakes are swatted away with a giggle and a sly curse. Hope – that most intoxicating of emotions – fills the air like the scent of fresh cut grass.
When the group march off stage at the end of the set and plonk themselves behind the merchandising table, it almost seems churlish not to hand over your cash, if only to buy into the dream that, right now,
everything seems possible
.
This is where we find First Aid Kit. Two teenage Swedish sisters, Klara and Johanna Söderberg have just released their debut album, The Big Black and the Blue, to an an appreciative swell of approval, and now Act 2 is beginning. Specifically, it began at 9 o'clock on a Friday night on a tiny stage in a scruffy, narrow club as the horrors of Edinburgh's Cowgate (a place that always reminds me of a line from the Tom Waits song "Shore Leave": "I rolled down the gutter to the blood bank") howled outside.
This is where bands earn their stripes, and First Aid Kit did just fine. Despite their tender age, they've been doing this for a while and it shows. Mixing songs from their new album with the best of their two previous EPs and a couple of covers, they displayed a playful, relaxed and confident stage presence, shooting smiles at each other across the stage. Although their songs owe their style and structure predominantly to US folk-pop, old and new (inevitably they played Fleet Foxes' "Tiger Mountain Peasant Song" which, with well over 1 million YouTube views, is effectively "the hit") they are suffused with a uniquely Swedish sense of melancholy, something pale blue and icy. On "Winter is all Over You" a mother is "innocent as a stillborn"; on "You're not Coming Home Tonight", life was once "new and fun" but now "corners are filled with dust".
Despite the often chilly lyrics, there's no escaping the fact that First Aid Kit make a gloriously uplifting noise. This is almost entirely thanks to their voices. 16-year-old Klara, who takes the lion's share of the lead vocals, has a voice like sunlight striking a bell-tower and it rang out like a benediction over the crowd; as long as she possesses such a powerful weapon this group will always make music worth hearing. 19-year-old Johanna wove her faultless harmonies into the mix, her autoharp and keyboard adding daubs of colour to Klara's acoustic guitar-playing. When they left their microphones and came together centre-stage to sing unamplified on "Ghost Town" (not the Specials song; it's better than that) they sounded like they were conjuring magic. It brought Friday night in the city centre to a hushed silence; no mean feat.
The big decision they will have to make at some point further down the line is whether they are a band or a duo. They brought a drummer along for the ride on Friday night but mostly he sounded like an afterthought on these simple songs, which only needed to be strummed and sung out. He added a natty galloping train-rhythm to "You're not Coming Home Tonight", but when he attempted to bring down the curtain on closer "I Met up With a King" with an explosive snare-and-cymbal freak-out, the effect was more Button Moon than Keith Moon.
First Aid Kit played a cosy, well-judged 45-minute set, ticking off their best songs – the affirming "Hard Believer", the weary-beyond-their-years sadness of "Tangerine", the tale of a man returning from a business trip whose infidelity is betrayed by the citrus smell on his body. After which they stepped off the front of the stage, hung around in the crowd for 30 seconds then returned for an encore. In deference to the rites of spontaneity demanded at this point in the narrative – remember: first show of the tour, first album just out – they conducted a hasty onstage quorum before deciding on a cover of Gram Parsons' "Still Feeling Blue", and then descended into the crowd to sing an unamplified and quite beautiful version of "Waltz for Richard". Then they walked through the enthused audience, sat behind the merch desk, and waited for us to give them our money. And we did. Because they thoroughly deserved it.
Book for the tour dates until 8 March. Check out First Aid Kit's myspace page.