theartsdesk on Vinyl 72: Blondie, Joe Meek, Asha Puthli, Minions, Prince, Horse Meat Disco and more |

reviews, news & interviews
theartsdesk on Vinyl 72: Blondie, Joe Meek, Asha Puthli, Minions, Prince, Horse Meat Disco and more
theartsdesk on Vinyl 72: Blondie, Joe Meek, Asha Puthli, Minions, Prince, Horse Meat Disco and more
The most extensive regular record reviews in the universe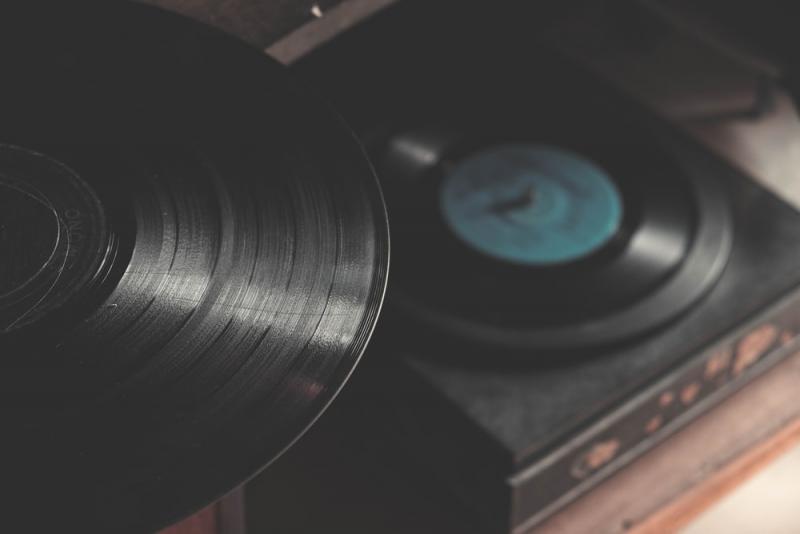 Record after record after record...
This month's reviews take in everything from New York new wave pop to apocalyptic electro to kitsch exotica. There are no genre boundaries at theartsdesk on Vinyl, just a constant desire to play music loud, whether new or reissues, then share what it felt like. Dive in!
VINYL OF THE MONTH
Congotronics International Where's the One (Crammed Discs)
Crammed Discs is a label that understands how music can connect different cultures and sounds. They put their money where their mouth is when they conjoined crossover African percussion-led outfits Konono No.1 and Kasai Allstars with exploratory indie sorts Deerhoof, Wildbirds & Peacedrums, Juana Molina and Skeletons. This brilliantly conceived, albeit bizarre, supergroup played the 2019 Congotronics vs Rockers tour, about which a film, Kinsasha Superband: Congotronics vs. Rockers, was made by Pierre Laffargue. They also made an album, which arrives on photo/gatefold double with a 12" x 12" booklet full of photos and background info and quotes from participants. From reading the booklet, it sounds like it was sometimes a tricky collaboration, with language problems and other issues, but, in the end, ultimately a rewarding process. The results run the gamut from the ballistic to the beautiful to the head-fryingly hypnotic, varying between Afro-techno-noise music and lighter pieces with uplifting stringed instruments. Sometimes African voices are to the fore and, at others, indie singing in English. It's such a feast I've only just started to get my head round it, so many sounds, so much going on, and all of it so original. Get involved. This lot really did.
VINYL REVIEWS
Prince and the Revolution Live (NPG/Sony)
In 1985 Prince was at a commercial peak, riding the back of the Purple Rain phenomenon, the album and film from the previous year whose sales figures were still strong and would rise again when the Live concert film and CD appeared in July. The actual gig was in March at New York's 35,000 capacity Syracuse Dome (now the JMA Wireless Dome) and it reappears for the first time on vinyl on three discs accompanied by a 12" x 12" 16-page booklet of photographs that have previously not been publicly available. Cut loud and fresh, remastered, this is the sound of Prince enjoying his super-massive pop-rock pomp, before he started to feel trapped by it. The opening side is just phenomenal, "Let's Go Crazy", "Delirious", "1999", "Little Red Corvette" and "Take Me With You" seamlessly bumping against each other with about as much joyous funk-rock sass as is humanly possible, the crowd clearly going absolutely nuts. While things settle as the set progresses, the sense that anyone at this gig witnessed something extraordinary never goes away. Mostly focused on Purple Rain, there are other cuts here delivered with equal panache (for instance, 1982 B-side "Irresistible Bitch" ripped out with battering slap bass aplomb). Anyone who needs a sharp reminder of Prince at his most dynamic, immediate and accessible should slap this album on the decks.
The Dream Machine Vol: 1 – 3 (Run On)
Wirral band The Dream Machine gather together their first three EPs - Sacraments, On the Water and Pooch Slinger's Wild Round-Up - on a single, autographed, limited-edition-of-300 album in a plastic sleeve with a 12" x 12" photo/info card insert. Fronted by singer Zak McDonnell, son of David McDonnell of The Coral/The Sand Band, their work is like a psychedelic progression of those bands, fired also with Seventies rock verve. Opener "Introduction" and cuts such as "The Sea is My Friend" have that phasing sound of LSD-era Beatles, or deliberate imitators such as The Dukes of Stratosphear, but elsewhere are songs such as, say, "Days of Heaven", that come on like a Rolling Stones slowie fighting it out with Stone Roses. Alternately jangling and rocking harder, it's retro indie dipped in well-chosen historical flavours and (it sounds like) the right drugs.
J.Rocc A Wonderful Letter (Stones Throw) + Grandmaster Flash, Melle Mel & the Furious Five Sugarhill Adventures: The Collection (Cherry Red)
Hip hop old and new. J.Rocc is, clearly, the new. Although he's been around for yonks this is only his second proper album (the rest are beat collections and such). In The Beat Junkies long ago, later a regular collaborator with Madlib and J Dilla, the LA turntablist-producer is in possibly his finest form here. In a similar vein to the recently re-released Edan album Beauty and the Beat, J.Rocc paints a psychedelic sample-quilt, smooth yet utterly stoned, a groove rolling underneath, constant voices entertaining the ear ("In synch with the universe"!), and a well-chosen collection of mellow-mouthed MCs contributing (LMNO, Hey Kool, Frank Nitt, Med, plus singing and funk-chat from Steve Arrington on "All I Wanna Do (Remix)"). Quite simply a classily stoned package. Cherry Red Records are winding the
clock back to the very beginning of hip hop with an art/info gatefold double collating the messy early days of the Furious Five. Not messy musically; the mess in question was the tangle of who did what, who was owed what, and a blizzard of cocaine. It undermined the immense career possibilities of this group of New Yorkers who, among much else, coined the term "hip hop". The biggies are here, "The Message" and "White Lines (Don't Do It)", but so are lesser known gems such as the winding bounce of "Step Off", the dated electro-funk throughout balanced by the now basic-sounding but elastic, enthused early rap style. The best of it is when Melle Mel, the true verbal talent, is to the fore, which is for much of it, including tracks such as the Jesse Jackson voter plea "Jesse" which was, in fact, a solo single. Essential stuff.
Sinead O'Brien Time Bend and Break the Bower (Chess Club)
Sinead O'Brien is a multi-faceted, multi-disciplinary talent whose primary work thus far has been in the world of fashion, where she's a designer for John Galliano. Her debut album is driven by stripped back, percussive groove-driven, post-punk backing tracks, over which her heavily Irish-accented voice lets rip with sometimes forceful, sometimes dryly stated, spoken word. She paints Yeats-ian impressionistic pictures: "Bowed heads see futures in points of the needle/The demon with two heads/Does not know it from itself/Consumes itself away". These combine with no wavey grit-funk to darkly groovy effect, building a sound that could even work on some dancefloors. Comes on baby blue vinyl with a giant fold-out, poster-sized sheet containing photos and lyrics.
Various Joe Meek's Tea Chest Tapes: The Telstar Story (CR) + Heinz Joe Meek's Tea Chest Tapes: The Heinz Sessions Vol.1 (CR)
These two 10" EPs offer a stylishly presented and intelligently researched glimpse into the recording world of Joe Meek, the London-based producer whose run of hits in the late-Fifties and early-Sixties represented a quantum leap in how studios were used, equivalent, in a different way, to what Phil Spector was up to in the States. When Meek killed his landlady and shot himself in February 1967, his career on the wane, he left behind a tea chest of unreleased tapes with little indication of their contents. In recent years an archive project has started to go though these and seek the proper permissions to release them. These two records are part of the result. Both are in gatefold with densely written text that illuminates the contents excellently, giving overview, as well as specific background to each track. The Telstar Story is as much as anyone could need on The Tornados' 1962 classic sci-fi-surf instrumental (perhaps even too much!). The tracklisting follows the tune from its earliest idea demos by Meek and various associates, through The Tornados' version in its original form (before Meek added all his studio effects and
eccentricity), an alternate edit, a version by another band called The Rhythmics, and the rare "Magic Star" wherein Meek and the singer Glenda Collins attempted to give the tune another life as a vocal song. If that 10" is a historically intriguing deep-dive, the Heinz sessions are a more varied and entertaining listen. Heinz Schwartz was a young singer who the semi-closeted homosexual Meek took a fancy to (at a time when gay sexuality was illegal). He was made part of The Tornados and then, with hair bleached platinum blonde, Meek tried to launch him as a solo star. Aside from the 1963 Top Five hit "Just Like Eddie", it didn't take, partly because times were changing (Beatles!) and partly because Heinz's singing and playing were rough round the edges. These many decades later, especially in light of punk's aesthetic, there's a charm to most of these nine songs, especially the rockin' version of "Movin' In" and the unrefined but likeable ode to Eddie Cochran, "Tribute to Eddie".
Various Horse Meat Disco: Back to Mine (Back to Mine)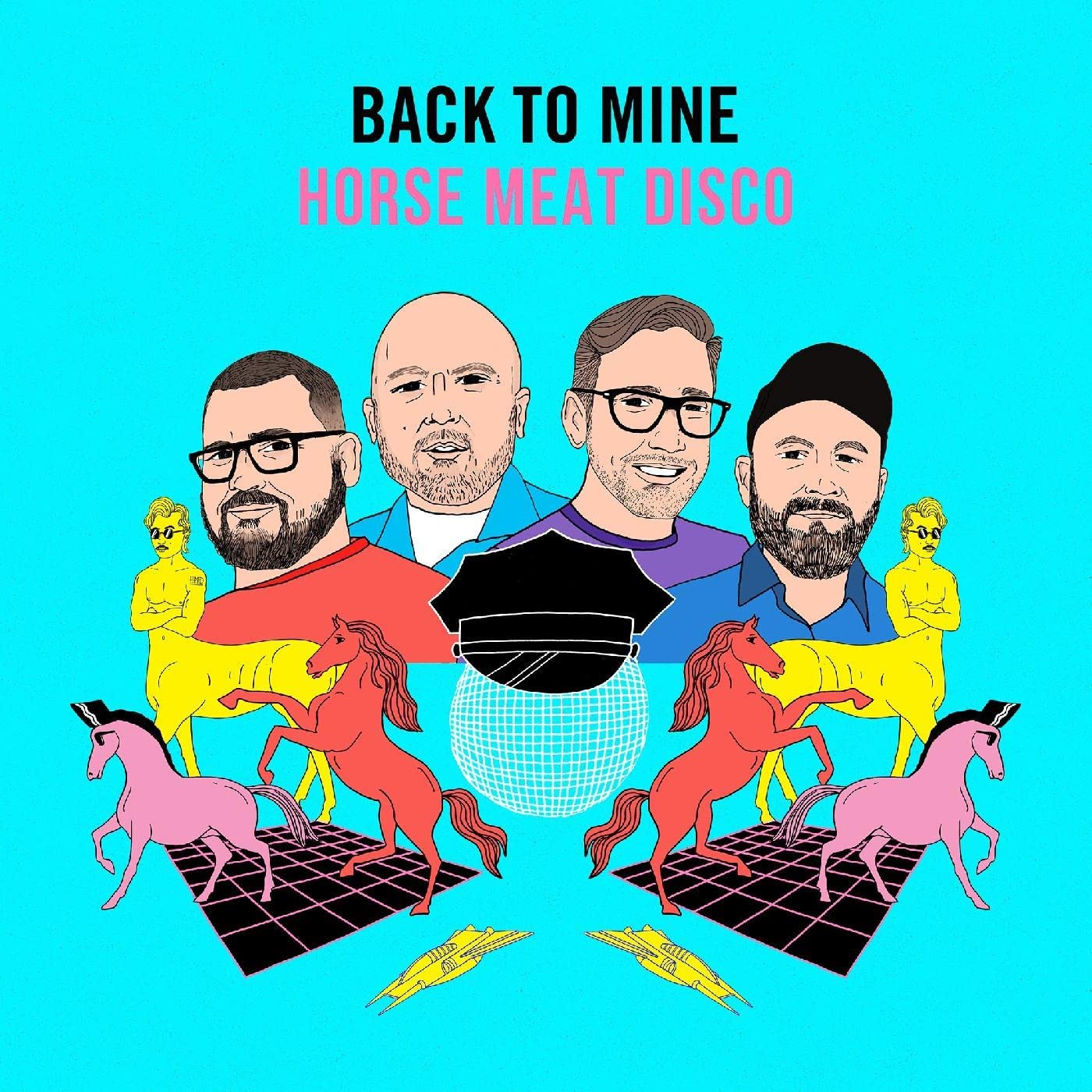 The latest volume of the Back to Mine after-party comps comes from queer club culture doyens and Glastonbury Festival south-east corner party beasts Horse Meat Disco. While I like their nights, I had a suspicion that this album, going for the late-late thing, might wallow in that Too Slow To Disco thing which is overly yacht rock smooth for theartsdesk on Vinyl. I needn't have worried, Horse Meat Disco are still racking up decent shit as dawn peeks through the curtains. There's disco here, of course, such as William Stuckey's jolly 1979 Memphis oddity "Just Around the Corner" and many others, including a couple of Horse Meat Disco originals, one featuring Kathy Sledge, but there are also flavours ranging from the spaced-out bongo Balearica of Ray Mang and Severino Panzetta's remix of "Perfidia" by Alien Alien featuring Igino, to the cheap synth Latinate sunshine of "Avèou Doudou" by French musician Jean-Claude Naimro's Kassav outfit, to Marianne Faithful's ultra-sleazy electro "Sex With Strangers", to Severino & Nico de Ceglia's mix of Róisín Murphy's stately, hypno-groove "Ancora Ancora Ancora". A double set well worth cherry-picking.
Tumi Mogorosi Group Theory: Black Music (Mushroom Hour x New Soil)
South African drummer Tumi Mogorosi has established himself as a name on the international jazz scene, among other things with Shabaka and The Ancestors. His second solo album, and first in eight years, strides out into original territory. While, at heart, it's spaciously improvised jazz with great solo work from trumpet-player Tumi Pheko, alto sax-player Mthunzi Mvubi, and guitarist Reza Khota, the whole thing is set apart by the way it plays off against a minor key backing chorus that keeps popping up, part Wagner, part ecclesiastical, part horror film. There are words spun by poet Lesego Rampolokeng on one cut, and the overall spooked effect is extended on an almost sinister-sounding version of "Sometimes I Feel Like a Motherless Child". Strikingly different.
Nuklear Prophet Prophecies 11:21 (U-Trax) + Low End Activist Hostile Utopia (Sneaker Social Club)
Two albums of apocalyptic electro, not in the sense of being noisy, although they sometimes are, but due to the fact they're both themed around end times. Nuklear Prophet is LA producer Erik Villalpando whose roots are in hip hop, and whose debut album owes a large debt to Eighties electro, but via the starker sound of Detroit and booty-bass. Opening with a remix by retro-analog hip hop don Egyptian Lover, its four sides match occasional vocoder vocals with stuttering beats and the kind of gloomed technolectro that techno master Dave Clarke sometimes plays. Comes in a gatefold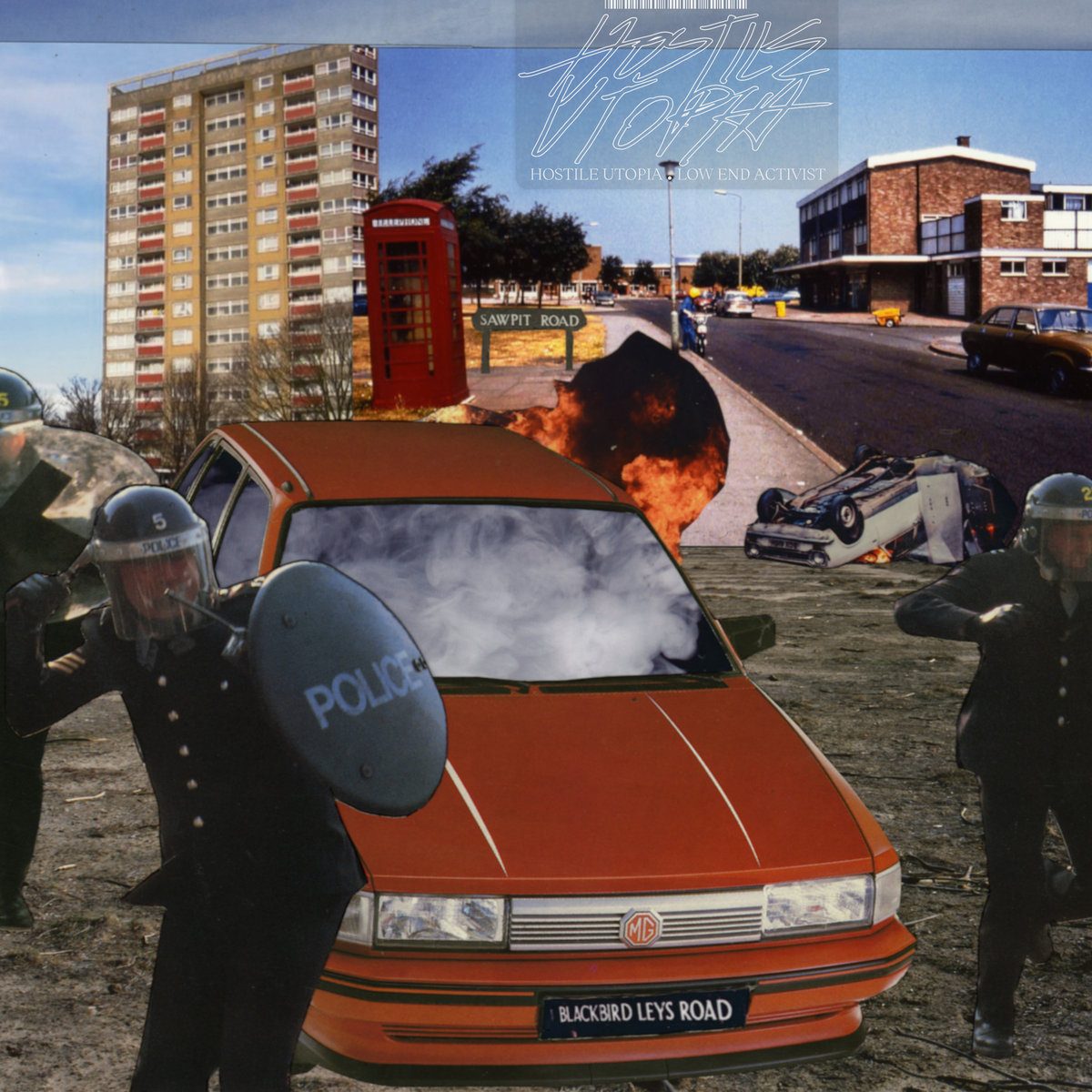 featuring a nuclear bomb going off in smog-sun-drenched Los Angeles. Low End Activist's debut album offers a more direct reflection, via doomy, dub-flecked electro, of a society on the ropes. Hailing from Oxford's Blackbird Leys Estate, the album's creator has suggested that it plays on "how it's possible to feel nostalgic for the griminess of urban and suburban Britain". I'm not getting that but the pervasive sense of subtle threat is effective. When Killa P pops up on the mic for the ragga-dour "OFRNT Style" it reminds that the music also has much in common with Kevin Martin, notably The Bug's less frantic fare. Comes on double.
Madness Mad Not Mad (Virgin)
The latest Madness reissue comes with extensive sleeve notes by the band on a 12" x 12" insert. They are unlike sleeve notes for any other reissued album, except perhaps those for their own recently reissued The Madness album. This is because they essentially state that making the album was a miserable experience and that the results are far from the band's best work. Hardly selling it! Released in 1985, it's the only proper Madness album to be made without pianist and founder member Mike Barson, who had left to live in Holland with his girlfriend. The band weren't, they feel, working as a team. Their new label, Virgin, was not a good fit, and they were, they reckon, experimenting with new technologies that ill-suited their style. Squeaky, dry mid-Eighties digital production aside, however, I must disagree with them. It's a lovely album, a continuation of 1984's melancholy-tinged Keep Moving. It contains songs that are contemplative but tinted with a longing for better. I'm not alone in my assessment. Years ago, I recall the NME staff voting it one of the 100 best albums ever made. It isn't, but it's a worthwhile addition to the band's catalogue: the plush, lyrically twisty ride of "I'll Compete", the queasy waltz of the title track, the philosophical "Time", the singles "Yesterday's Men" and "Uncle Sam". It's not all juice but there's plenty to love. Comes in a reproduction of the photo/info inner sleeve.
Various Minions: The Rise of Gru: The Original Motion Picture Soundtrack (Decca)
Who'd-a-thunk, when Despicable Me appeared in 2010, that it would become such a juggernaut? At the time I recall preferring the similarly-plotted animation Megamind, which came out a few months later, but the Will Ferrell-voiced good-baddy did not have minions, did he! Those ubiquitous dungaree'd beans have thrived everywhere, like mould, and when "Happy" from the soundtrack of Despicable Me 2 became one of the biggest hits in the world, the soundtracks to these films also became a thing. Thus, on double minion-art gatefold double, on splattered yellow'n'denim blue vinyl (of course), arrives the soundtrack to the latest prequel chapter, Minions: The Rise of Gru. The film is set in 1975 and the music consists of contemporary artists (and RZA) tackling songs you might come across at a typical Seventies party night. The choice of artists is solid and they veer to differing degrees from the originals, adding their own little something, more of it in the case of Brockhampton's take on Kool & the Gang's "Hollywood Swinging", less in the case of H.E.R.'s Sly Stone classic "Dance to the Music". Given this is an ultra-mainstream exercise, it's an impressive collection, with the songs having a spacey, spliffed-out groove, from Tierra Whack's "Black Magic Woman" to Thundercat's "Fly Like an Eagle". Other names on board include St Vincent (a lightly tweaked "Funkytown"), Phoebe Bridgers (Carpenters!), Caroline Polacheck, Kali Uchis and the bizarre combo of Diana Ross with Tame Impala. Comes with 12" x 12" info sheet.
Ferry Djimmy and his Dji-Kins Rhythm Revolution (Acid Jazz)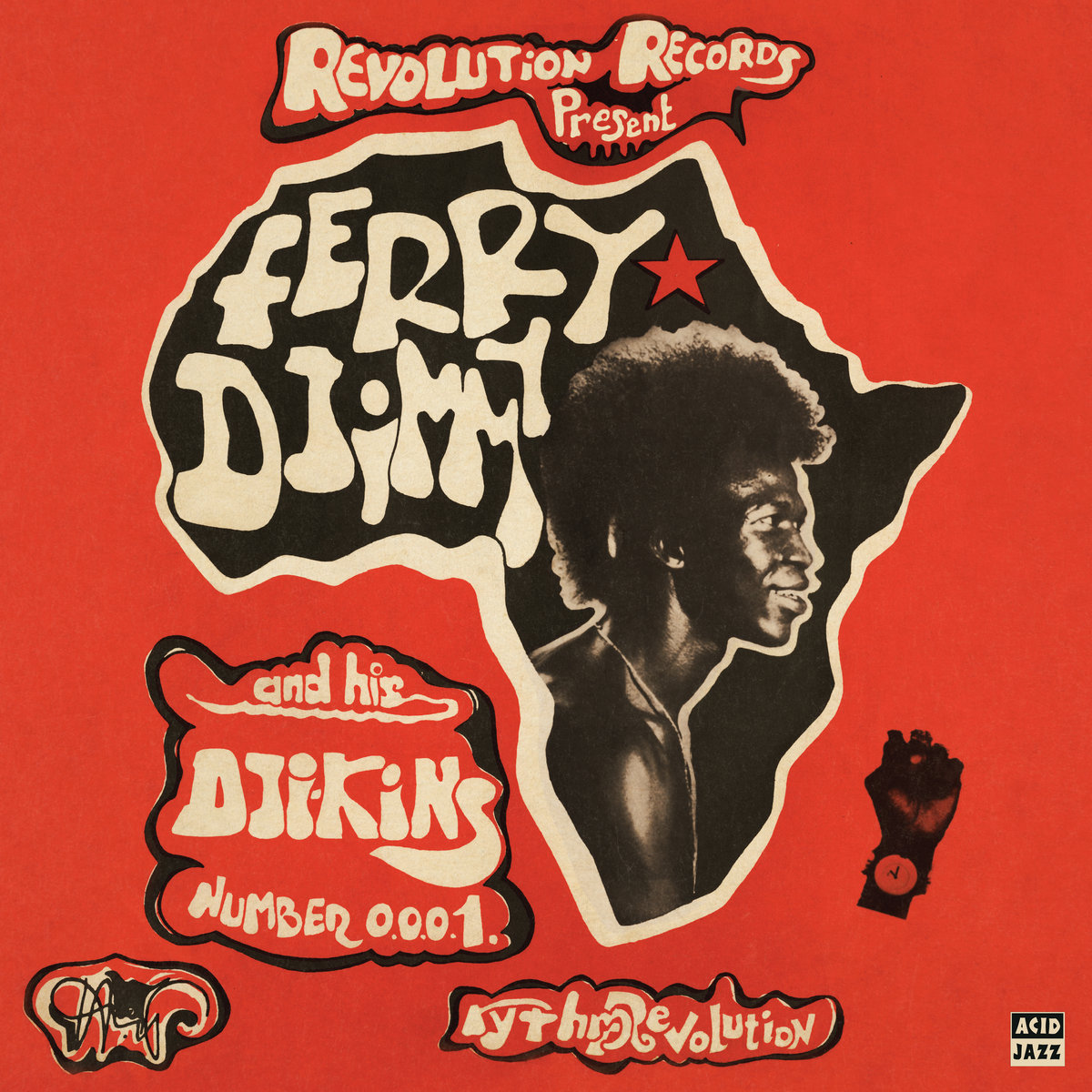 This album deserves a well-researched popular history book rather than the brief summation I'm about to give. It's a whopper of a story. Ferry Djimmy was born Jean Ogoudjoubi in 1939 in West French Africa but given his nickname at an early age (which means "Please forgive me" in Yoruba as he was a naughty child). He had brief careers as a teacher and a boxer, and a period spent in Paris as a policeman, but making music increasingly ran parallel. Convoluted story told short, he moved back to Africa and was resident when his homeland of Dahomey became the République Populaire de Bénin in 1975 under born again Marxist leader Mathieu Kerekou, with whom he became close friends. Kerekou gave Djimmy a budget to set up a record label and record Fela Kuti-flavoured socialist Afro-funk-rock to light up the kids to the cause. This album is the result, but it never caught on and, within a couple of years, the political tides changed and Djimmy moved to Lagos (where he died of heart failure in 1996). The music is banged-out garage Afrobeat. Imagine The Seeds or similar having a crack at Afrobeat; that sort of thing. After a couple of listens, no particular tune has yet stood out but the general vibe is great. Various cuts would be great for rockin' certain dancefloors; blaxploitation wah-wah guitar, strident Hammond and boisterous vocals, presumably urging revolution, a rowdy, rambunctious, lo-fi listen bleeding out a historical moment. On double, it arrives on a gatefold containing its story, as told by African music expert Florent Mazzolini.
Blondie Against the Odds 1974-1982 Boxset (UMC)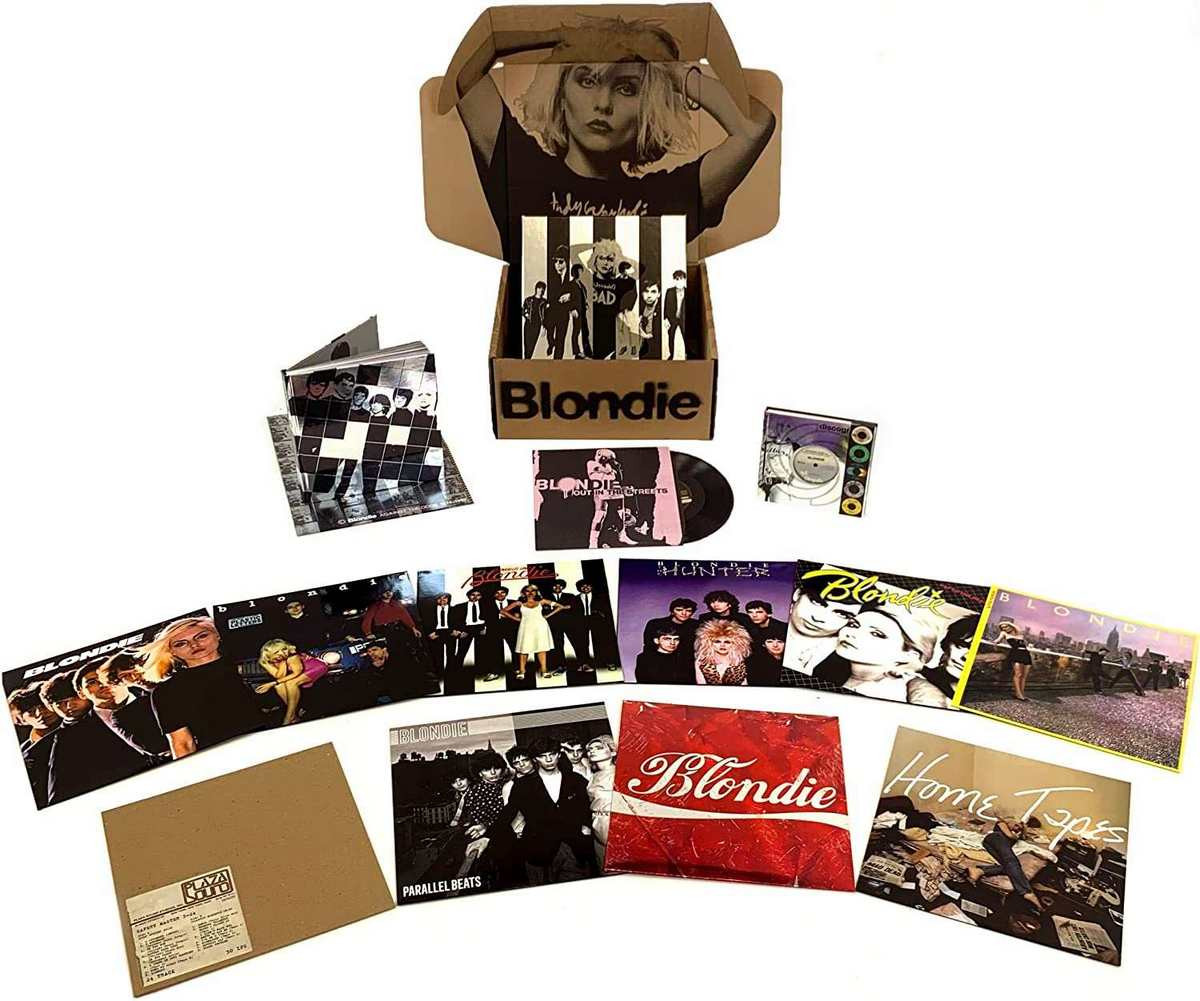 It's Christmas time for Blondie fans this August. Word of a new Blondie collection, unearthing all sorts of rare golden era odds'n'ends, first surfaced four years ago. The key juicy stuff for most of us will be the four LP vinyl set which arrives with a 112 page hardback book that outlines the band history, album by album, including fresh interviews with band members and producers such as Giorgio Moroder, Mike Chapman and Richard Gottehrer. There's also background to each of the four new albums of material, which are remastered from the original analog tapes, and sound rich, raw and in-the-flesh. These are Out in the Streets, which is way-pre-fame early-Seventies Blondie from 1974-75, lo-fi studio cuts and home demos, but it's all already there; "Disco Song" is a jangly take on "Heart of Glass", and the spell-binding Velvet Underground-go-synth throb of a primitive "Sunday Girl" is fantastic. The CBGBs New York energy creeps further into the next album, Plaza Sound, Side A of which contains alternate versions of songs from the self-titled debut album, while Side B does the same for breakthrough album Plastic Letters, including a Terry Ellis mix of their first charting single "Denis Denis" (except in ahead-of-the-curve Australia where they'd already been having hits). There's also a lively take on The Doors' "Moonlight Drive". Parallel Beats is Blondie in their '78-'80 pop pomp, including a Spanish version of "Call Me", and "Hanging on the Telephone" with a B52s-gone-punk vibe and male guide vocals. Finally, Blondie takes us through to 1982, includes the Christmas hip hop tune "Yuletide Throwdown", recently unearthed song "I Love You Honey. Give Me a Beer (Go Through It)", and more male guide vocals on the strangely likeable demo for "Angels on the Balcony" from the Autoamerican album. Overall, it's a smashing set over which time and care has been spent. There's another much larger vinyl version that also contains all six original Blondie albums, a 10" of outtakes and a 7" featuring "Moonlight Drive" and a "Mr Sightseer" demo. It also has an additional book full of visuals and more. It's massive! For me, though, the four album version is a complete treat and all I need.
Asha Puthli The Essential (Mr Bongo)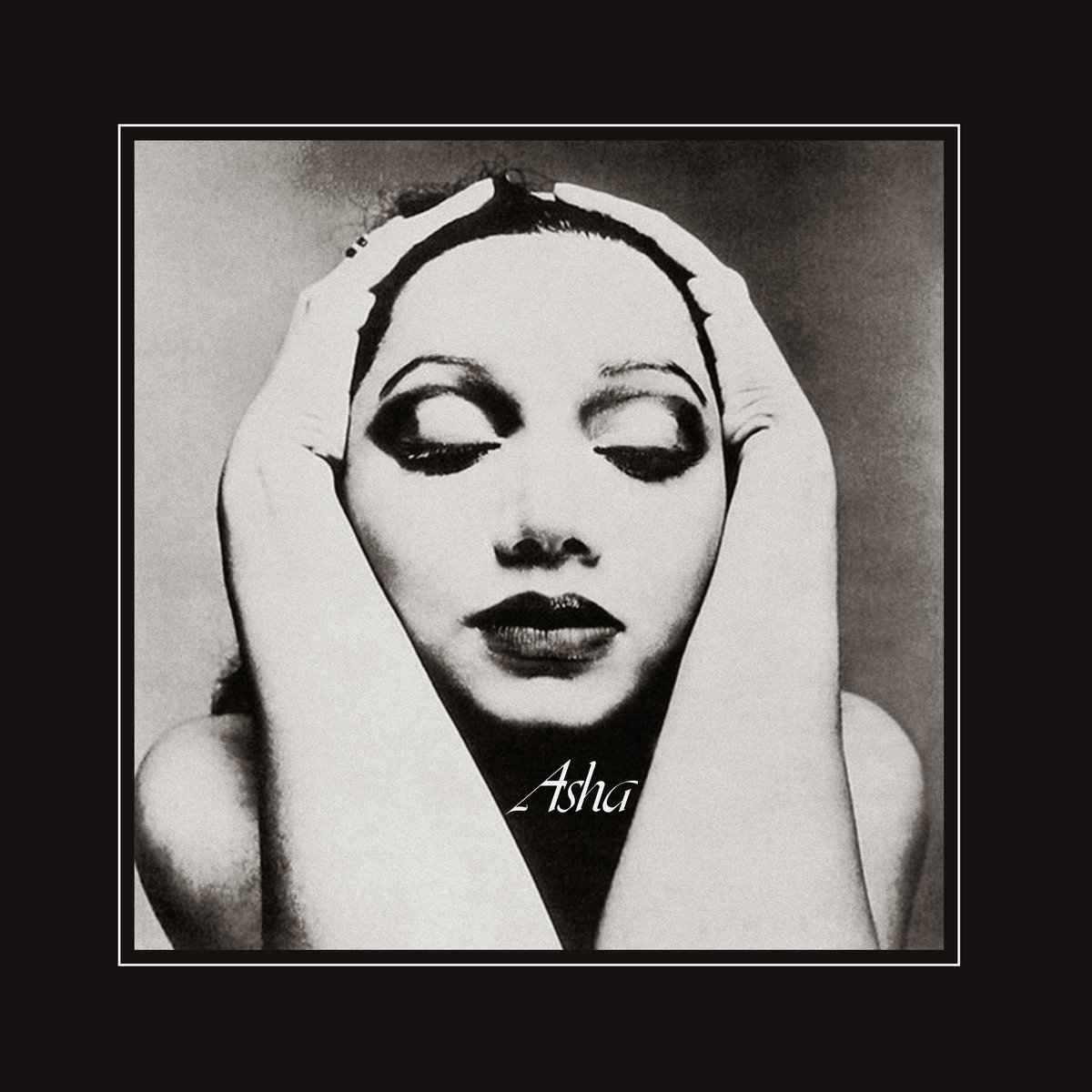 The ever-impressive Mr Bongo Records continue their revelatory archival digging with a double set compiling the work of Indian-born singer Asha Puthli. If people know her at all – at least in the circles in which theartsdesk on Vinyl travels – it's because of the single "Space Talk", a 1976 Balearic bongo roller that was favoured by seminal New York DJ David Mancuso at his Loft nights. However, Puthli's work is not genre-specific and she dived into all sorts of areas. Raised in the Indian classical tradition, which can be heard on the scaling of cuts such as the smooth disco of "1001 Nights of Love (Reprise)", her Seventies career was in the UK and US. Going further back, she sang with Ornette Coleman ("All My Life" and "What Reason Could I Give" are here) and, further still, the first side is filled with Sixties pop-folk-psyche covers that offer yet another side to her. All in all, a multifarious and eclectic but always elegant collection which comes with a 12" x 12" photo info sheet containing a short new interview with Puthli.
L'Exotighost Kamongo (Everlasting)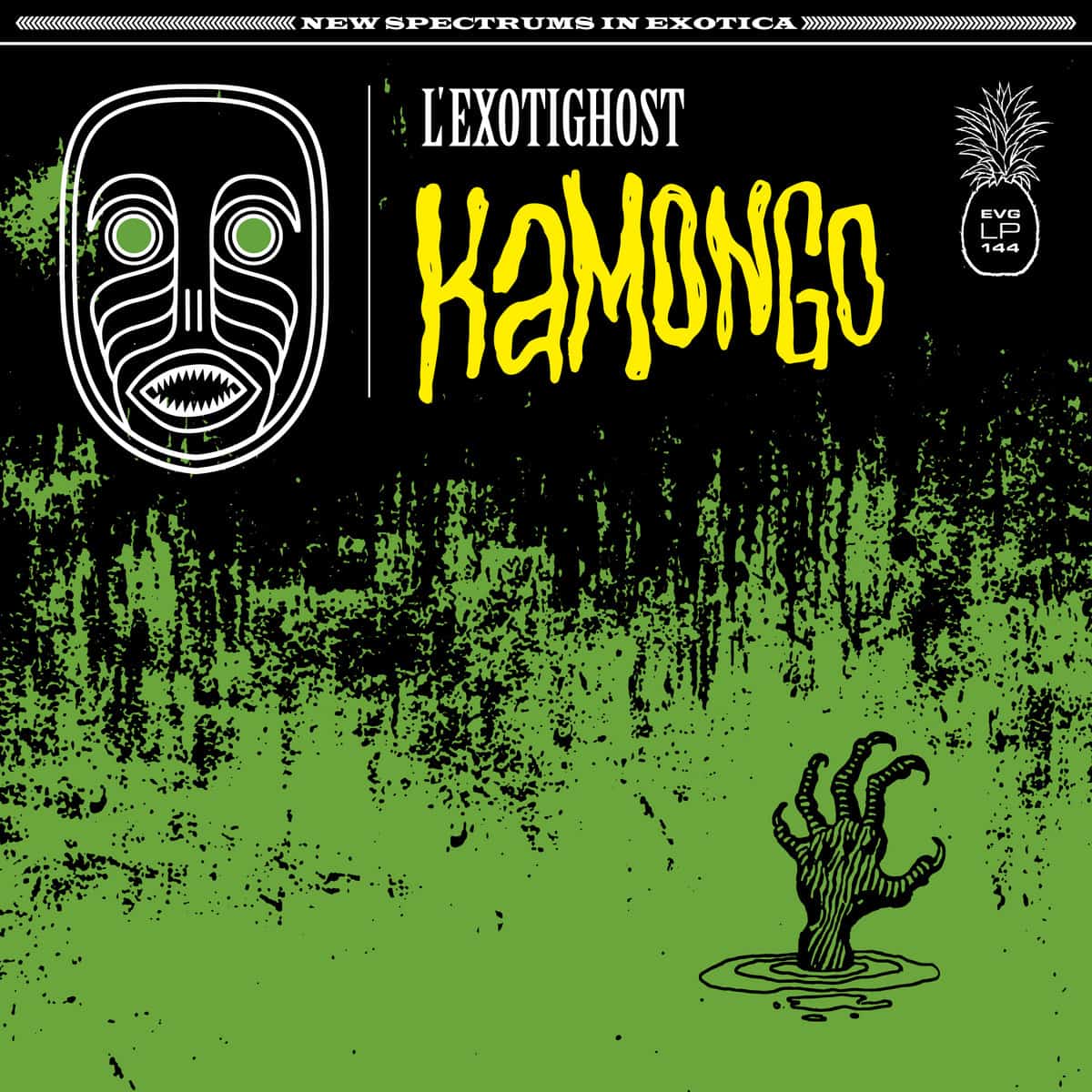 On their second album Madrid's trickily-named L'Exotighost channel the classic kitsch exotica of Martin Denny and the like. In other words, they take a deep dip into the era between rock'n'roll and The Beatles, when there was a hugely popular strata of music aimed at the newly affordable home hi-fi systems taking listeners daydreaming to other locations, often Hawaii, but anywhere tropical, and sometimes even space and the future. Such releases now sound superbly kitsch yet adventurous, preposterous easy listening with an almost-psychedelic edge. This outfit completely understand the dynamic and their Mondo schtick is delightfully rendered, perfect for cocktails at the palm-themed bar in the corner of your pastel-bright bubble-chair lounge. Apparently it's loosely themed around the classic monster B-movie Creature from the Black Lagoon, but you don't need to know that to enjoy it's freaky-tuneful waltz'n'wibble delights.
Various On Record (BMA)
On Record celebrates the Birmingham 2022 Festival and the city being home to the Commonwealth Games. Indeed, it opens with the joyful dancehall bounce of Friendly Fire Band's "It's a Brum T'ing" which has been used on the BBC's ads for the Games. Arriving on yellow vinyl in photo gatefold with a 12" x 12" insert detailing the various bands on board, and a proudly Brummie big-up to the city from Birmingham Music Archive founder Jez Collins, the album has a persistent geographical assertiveness but stands up completely via the varied music on board. This ranges from the poetic pared-back folk of We Are Muffy to the C86-style indie of Cherry Pickles, to the smart Afro-jazz of Kate Luxmore & Lekan Bablola to the pure 2022 wanna-be-chart-pop of Bambi Bains "My City". UB40, Soweto Kinch and TJ Rehmi also feature. A fine ear-pleasing listen.
ALSO WORTHY OF MENTION
Lynyn Lexicon (Sooper): This one comes on the most bizarre-looking vinyl I've seen in a while. Looks like a 3D pizza! It's a limited run of 25 via specialist pressing plant Wax Mage in Ohio, an imprint run by vinyl production expert Heath Gmucs. They focus on one-of-a-kind vinyl and the debut album from Chicago electronic sort Conor Mackey is another example of the physical thing-ness that makes their output collectible. The music too, of course, which owes a large debt to 1990s Warp Records, especially Aphex Twin, but has enough seat-of-the-pants dynamism and twitch to hold the attention. There's also gloopy digital art on the sleeve and in an insert from Mackey's pal Owen Blodgett. A solid package.
Pose Dia Front View (Bureau B): Pose Dia is Hamburg renaissance woman Helen Ratka, a film-maker/theatre composer/DJ who's also half of alt-electro-pop outfit Shari Vari. Her debut solo album is not a million miles from the latter band but with more of a post-punky ZE Records feel. Over clickety, gloopy, moody, downtempo rhythm tracks she deadpans intriguing abstractions. The combination of her and these cranky, slightly sinister pulsations works well and is a deal more more-ish than it sounds.
Noori & his Dorpa Band Beja Power: Electric soul & Brass from Sudan's Red Sea Coast (Ostinato): The focus of this band is drawing attention to a forgotten African people and culture, oppressed by the usual western greed. The Beja people's Red Sea-adjacent land in Eastern Sudan has long been mined for gold by non-local companies, the rights of indigenous people ignored. The six tracks are all Beja pieces, some traditional, some newer, played by band-leader Noori on a unique electric stringed instrument built from scraps of guitar and a four-string tambour, a kind of lute. With wheezing wind instrumentation, a clattering rhythm track, the nearest I can muster to a description is that's it's kind of Arabic-scaled, raw surf music, but slower and more contemplative. In Sudan, however, it is the sound of social protest, change and upheaval, as is described on the 10" x 10" photo/info insert. The inner sleeve has a great photo of Noori on.
Arp New Pleasures (Mexican Summer): Brooklyn producer Alexis Georgopoulos's latest is the second part of his Zebra trilogy, named after the opening 2018 album. This time round the music is less wafty and easy, more jagged, the underlying theme being, perhaps, a xylophonic sound from which much of it seems built (there's lots of marimba on it). It's squiggly and tricksy but also boasts an abstract funk that's ear-intriguing. It steps away from the kind of classic Nineties-rooted avant-electronic awkwardness that Lynyn (a couple of reviews above) is in thrall too and, instead, brings in a snifter of global roots to the party. But then warps that too. The result is well worth a listen.
Bad Breeding Human Capital (One Little Independent) + Froggy & The Ringes Ringe Rock Pond Scum (Amok/Kibou) + Loose Nukes Fast Forward to Extinction (Cimex/Kibou): Three bunches of noisy fuckers, two of them keen to take down the man. Stevenage hardcore punks Bad Breeding are on One Little Indian and hark back to that label's origins among Crass-related Eighties bands, notably Flux of Pink Indians. It arrives on scarlet vinyl with a samizdat-style poster-pamphlet (again very much in Crass band mode) that eruditely draws lines between social media isolation and political divide-and-conquer, and a 12-page booklet of lyrics in a similar vein. The album, their fourth, is a relentless roar of rage, purposely more catalytic than tuneful, spewing out of the speakers with untrammelled urgency. Texan punks Loose Nukes are less specific in their political ire but the music is vocally puked out with equal aplomb, backed by jarring speed-riff attacks. Take "Slaves", for instance: "Corporate future/Always slaves/Consume, comply, reproduce/Go and die". The record, on red vinyl, is marinated in more nihilism than Bad Breeding but fuelled by the same rage. Comes with 12" x 12" photo/lyric card. Finally, Froggy & The Ringes are the equal of the above in cacophony, although closer in tone to sped-up 1970s prole-punk of the Cockney Rejects variety, but their "content" has more in common with Peter & the Test Tube Babies and the like, as their songs deal with frogs, tadpoles and other pond-related silliness. There are tunes in here too, but mostly it's a bit of a laugh, Bet they'd be a riot live. Comes with 12" x 12" lyric sheet so you can work out how to sing along to "Do the Frog", "Fuck You, Kermit!", "One Chord Frog" and the like.
Mustafa Khetty/Morpheus Project Mozaick Remixed (Morpheus Musica): Mustafa Khetty is a New York-based globetrotter of Sri Lankan origin whose background is as a very successful businessman, but who cashed that all in around five years ago to focus on music. Initially dabbling in classical styles, he transitioned easily to prog with his Morpheus Project and their 2021 debut album Mozaick. Three tracks from that album now appear in their original form, global-flavoured new age-tinted fare, on an EP with remixes on the flip by Seahawks, Andy Votel and The Grid's Richard Norris. The first two of these are passable noodle but it's Norris's bongo-tastic tribal groover that takes the cake, building into something pared-back but funky, in a chilled sort of way.
On Man On Man (Houndstooth): Respect, as always, to Houndstooth Records, the fabric nightclub-affiliated label that's unafraid of getting behind music which is not immediate or easy. On Man is a Hertfordshire-based singer-producer whose music ranges from Howling/Ry X/Anohni-style falsetto-tronica to the crunching post-grime of "Darks" to phased squelch-pop with a hint of Aphex to it (sometimes even a bit like label mate Aisha Devi). It's experimental, occasionally abject alt-pop, which suddenly flits into self-revealing singer-songwriter territory. Comes on art gatefold with a 12-page 12" x 12" art-lyric booklet. The art is worthy of special mention. Rising mixed digital artist Salvi de Sena excels with the grotesque yet fascinating visuals on the cover and, indeed, the images throughout. Pictured left/right.
Wendy Carlos Tron: Original Motion Picture Soundtrack (Walt Disney): "Music by Wendy Carlos," it says on the sleeve. What it doesn't tell the unsuspecting listener is that there are also two songs by US FM radio behemoths Journey. One of them is typically hideous but the bigger surprise is that the other, "1990's Theme", a sound effect-swathed electro-rock instrumental, is kitsch and quite amusing. Fans of the film will recall its groundbreaking visual style, the basis for much of Daft Punk's career (they soundtracked the sequel too!). The music, however, is not as retro-future electronic as memory might suggest. Much of it is lively John Williams-ish orchestration with only occasional synthesizer intrusions on cuts such as "TRON Scherzo" and "We've Got Company". Overall, one for hardcore TRON fans.
Healing Force Project Drifted Entities Vol. 1 (BM): Prolific electronic producer Antonio Marini's output is not easy to bracket. His latest mini-album/EP contains five tracks that have an organic feel – the basslines and organ sounds – but also attached to a sensibility that seems indebted to prog rock (a form that remains massive in Italy). Partly this is down to the wilfully perverse stop-start rhythmic changes. The whole thing is instrumental, a key feature being the endless interjections of different kinds of percussion, as if the central track were under attack by toddlers. Fans of San Diego's I-think-now-defunct - and legendarily off-the-wall - Accretions Records may very well enjoy.
Ace Hansel Jr Songs from Croix-Noire (Madhouse Rag): Where to start with this one? It's by a fictional character, a Parisian superhero who can manipulate people's emotions as he oversees the welfare of bawdy, crime-filled, dystopian arrondissemont Croix-Noire. Ace Hansel Jr is voiced by singer Jean-Charles Capelli and the whole project arrives attached to a series of seven comics and a ROBLOX game. The team behind it includes unstoppable Melua/Wombles imaginator Mike Batt, Marvel comics artist Mike Collins and the dryly funny journo-writer-wit David Quantick. The music is a frothy concoction laced with Batt's gift for melody; theatrically-aligned narrative songs. It's a Comicon-friendly pop-conceit burlesque of sub-Gorillaz whimsy that those who come across it will either be amused by or scoffily reject out of hand. It should, at the very least, receive plaudits for containing the line "He tells me that he's got a pill-popping parrot". Comes in a sleeve that relates the backstory and a four-page 12" x 12" art-lyric insert. Mine came with three comics too but you'll likely have to track them down if you want to get involved…
The Kills No Wow: The Tchad Blake Mix 2022 (Domino): Black Keys/Arctic Monkeys producer Tchad Blake has been brought in to revitalize an already sturdily noisy and in-yer-face album, and he does a fine job, bringing out the underlying percussive punch. The album is the duo's second, from 2005, when The Kills were fresh on the block; when they and White Stripes were offering up a vibrant model of what a guitar-led two-piece could sound like. It has a fuzzed, frazzled potency, simple but effective, Alison Mosshart's bored, spiky vocals playing well against the broken amp snark-rock guitar and effects. Comes with 12" x 12" four-page art/lyric booklet.
Michael Shaw He Rode On (Wolfhard Productions): Michael Shaw has lived a proper backwoods cowboy life. He's a horseman who's spent much of his life off-grid, caretaking middle-of-nowhere places in Montana and the like, living off the land. His music, which gestated in almost equally isolated haunts, with a late great friend, Colin McKnight, to whom the album is dedicated, sometimes descends into country'n'western lyrical-conceptual cliché but is also spirited, and bursts, from time to time, into a blues-rockin' bar party. If he can channel more of the lonely wastelands into his sound and tone down the more obvious references, musical and lyrical, he'll be on his way. Comes in photo/lyric inner sleeve.
Jeremiah Chiu & Marta Sofia Honer Recordings From the Åland Islands (International Anthem): Some records are, essentially, travelogues, reportages, representations of geographical experience, and such is the case with this one. Åland is an archipelago in the Baltic Sea between Finland and Sweden, consisting of thousands of islands. Cerebral US West Coast modern-classical academic-experimental musicians Jeremiah Chiu and Marta Sofia Honer discovered that a friend's mother wanted to build a small hotel in an area there called Kumlinge, and would welcome assistance, so they went to help. They also invested themselves in an art project. This album is that, a collection of semi-ambient, rustic instrumental tone poems, mingling organic and electronic, overlaid with natural sounds, wheezy accordion-esque notes, and other squiggles, all adding up to an impressionistic snapshot of the place they were. Best-consumed, then, with the 16-page booklet about the project, replete with photos that set the scene. Gently interesting.
AND WHILE WE'RE HERE
CoN&KwAkE is the London pairing of Confucius MC and Kwake Bass. They present their jazz-laced hip hop album Eyes in the Tower on Shabaka Hutchings' Native Rebel label. In fact, Hutchings is all over it, co-writing the music and co-producing. The music is a live three-piece band – keys, bass and drums – fronted by clearly, calmly enunciated lyrics that match the observational with social commentary. It comes on two discs with photo/info inner sleeves and does what it does with calm panache. Cherry Red re-release The Blue Meaning, the 1980 second album from Toyah, the band fronted by the woman of the same name. She's like the noiser, less cool, younger sister of Kate Bush, both artists filtering prog rock's fantastical conceptual wibble and experimentalism through post-punk tropes in their very different ways. The Blue Meaning comes in photo/info inner sleeve and is packed with quirky, squeak-voiced new wave numbers that achieve the unlikely feat of being both playful and serious in their execution (one song, "Space Walking", even sends up the squeaky aspect by featuring Toyah delivering the lines on helium!). Cherry Red are also behind the five-track 12" EP of Dinosaur Jr live on MTV's 120 Minutes in March 1993, entitled SeventyTwoHundredSeconds, and featuring prime smeary grunge takes from all over their career up to that point, right back to "Severed Lips" from their 1985 debut. It all sounds a bit sludgy to me, but I guess that's kind of the point. Sharper but also on 12" and featuring no guitars at all is the new, eponymous four-tracker from Italian electro trio Qualia on Dutch label U-Trax. It veers towards the back-room rather than bangers, leading with the squelchy acidic "Perception", the best cut, and also featuring the industrial-flavoured wash of the title track and two other ambient tone pieces. Comes with sticker and art card insert. Also on the ambient side is Luke Howard, an Australian composer, who returns with a string-laden COVID lockdown meditation All of Us on Mercury KX (his native Melbourne had the longest lockdown in the world). Drawing sustenance, as many did, from Albert Camus' allegory of fascism as a disease, The Plague, his work, in info inner sleeve, is sweeping, romantically melancholic and filmic, but tinted with just enough minimalist underlay, here and there. Szun Waves are Luke Abbott, PVT's Laurence Pike, and Portico Quartet's Jack Wylie, and their third album, Earth Patterns on the Leaf Label, in art inner sleeve, occasionally features an explicit kozmische pulse but more usually the rhythm track is subsumed by psychedelic electro-jazz that's well-crafted brain-phasing but doesn't ever go for the jugular. Its antithesis might be Hot Hot Hot, a best-of compilation via BMG of the late Montserratian soca star Arrow (AKA Alphonsus Cassell) whose song of the same name as the comp has haunted dancefloors for decades. There are percussive exercises that start to pull me in but, consumed as a whole, the primary coloured, major key super-good-cheer is too relentlessly one note. The debut album from London producer Ben Marc is Glass Effect on Innovative Leisure. It arrives in art-info inner sleeve and is a hazy, summery exercise in broken beat-jazz-tronica that noodles along ear-pleasingly without ever striking out in new directions. Mind you, if you live in Brighton or, particularly, if you live in Brighton and think the Love Supreme Festival is the best thing ever, you'll probably love it to bits. 2 Tone acolyte Rhodar Dakar drops another 7" ska cover version on Sunday Best, this time a jolly assay at The Rolling Stones' "As Tears Go By" with a decent dub-out on the flip. I'd still say that the already-released versions of "The Man Who Sold the World" and "Everyday is Like a Sunday" are the best ones so far. Scottish musician Jackie Leven led a storied life, not all of it happy, and is seriously rated by many, including uber-fan and crime author Ian Rankin, with whom he once made an album. A cult grew around him during his life and extends now beyond his 2011 death with the reissue, on double in gatefold with extensive sleeve-notes, of 1994's The Mystery of Love is Greater Than the Mystery of Death (Cooking Vinyl). It's a folk-blues affair; the fact Waterboy Mike Scott is involved says something about the vibe. It's all too portentously Celtic-mystic for me but worth a shout for those who like that sort of thing. Comes on vinyl that looks like water into which black ink has been dribbled.
Finally, three that have already been reviewed on theartsdesk but which are well worth owning on plastic
Kathryn Williams Night Drives (One Little Independent): While too persistently forlorn overall, there are still some great songs on the latest from folk perennial Kathryn Williams, here investigating an opulent musical palette. Full review here.
Ibibio Sound Machine Electricity (Merge): The fourth album from London's Afro-techno-soul-pop party-starters may be their best, a lively and varied outing, reviewed fully here.
Lettuce Unify (Round Hill): "There isn't a duff track here," reckons Guy Oddy in this review of the latest from Boston's three decade-old funk juggernaut.
We welcome any and all vinyl for review. Please hit thomash.green@theartsdesk.com for a postal address.
The mess in question was the tangle of who did what, who was owed what, and a blizzard of cocaine
Share this article