The Rolling Stones' Tattoo You at 40 |

reviews, news & interviews
The Rolling Stones' Tattoo You at 40
The Rolling Stones' Tattoo You at 40
Arguably the band's last great studio album returns remastered and expanded
Wednesday, 27 October 2021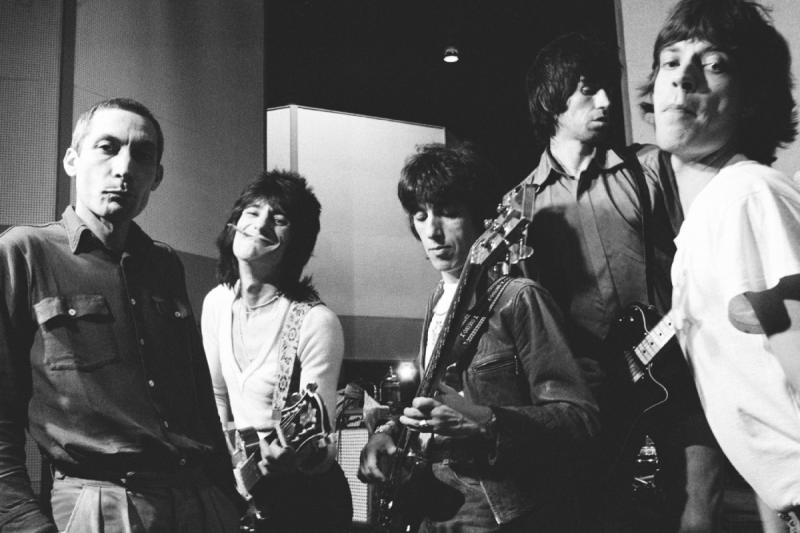 Helmut Newton's shot of The Rolling Stones in 1978
As The Rolling Stones – sans a much-missed Charlie Watts – generate old fashioned, 20th-century rock'n'roll excitement in the stadiums of north America this autumn, their final great studio album, 1981's Tattoo
You, returns to the new releases shelf after 40 years. It's available in a range of editions, from the standard single remastered album through a deluxe double set that comes with a disc of "Lost and Found" outtakes, to a "super-deluxe" four-disc boxed set encompassing a hardback book and the band's live performance from the second of two dates at Wembley, on 26 July 1982.
The Wembley set joins Hampton Coliseum from the 1981 leg of that tour, and Leeds 1982 (the final concert of the Tattoo You tour and their last major gig before the Steels Wheels tour in 1989), which makes this one of their most documented tours. It was the Stones's first Wembley appearance, too, and their first live show in the UK since Knebworth 1976.
Energetic, tight and ragged as it is (though we're missing the notorious epic fail intro to "She's So Cold") and with plenty of Ian Stewart on the ivories – including on the superb rock n roll throwback of "Chantilly Lace – it's a fine gig, running at high speed, with some highly taut weaving between Richards and Wood, especially on a luxuriantly drawn-out "Just My Imagination". There's plenty of freshly-minted Tattoo You live cuts, too, or at least from its A side – the hard-edged rockers like "Black Limousine", "Neighbours", "Hang Fire" and Richards' "Little T&A".
The super-deluxe edition's live set aside, the original Tattoo You album itself sounds sharper, fuller, more detailed and more cohesive sonically, and more than stands the test of time. Starting out as an album culled from studio sessions going back to the early Seventies, it ended up as the band's last great hurrah. It's fitting, then, that the deluxe edition's "Lost and Found" disc contains what most Stones fans want to hear first – outtakes largely culled from their productive sessions for 1978's Some Girls and 1979's Emotional Rescue at Pathe-Marconi studios on the outskirts of Paris.
These sessions really are the gift that keeps on giving – having already supplied a second disc for 2018's expanded Some Girls, they continue to yield up yet more rolled gold, stamped with that classic slurred Stones vibe.
There has already been a video-led preview of "Living in the Heart of Love", a great performance of an almost-great Stones song, the riff's lean swagger dipping and diving between the more straightforward boogie of the verses. It's a fine, powered-up kick-start to the nine "new" tracks, many of them well-circulated lo-fi bootlegs now seeing the light of day in pristine condition, and they're great to have. It's 2021, and new Stones tracks from those old Pathe-Marconi bottles are more than welcome.
A punky, funky take on Jimmy Reed's "Shame Shame Shame" slicked by a storm of Jagger's superb, echo-drenched harp
Of the three covers – The Chi-Lites' "Trouble's A Coming" has been brought into the band's current live set (while here it sounds as if it's about to get up and running into the scorching riff of Black & Blue's "Crazy Mama"), while a punky, funky take on Jimmy Reed's "Shame Shame Shame" slicked by a storm of Jagger's superb, echo-drenched harp, is a brilliant harking back to one of the band's primary inspiration. "Drift Away" was a cover of Dobie Gray's song meant for It's Only Rock n Roll, and appears here two years short of its 50th anniversary - it's one of the few cuts to retain the vocals from the original sessions.
"Fiji Jim", like many of the "new" songs here, comes with a new vocal, lots of new lyrics and a basket-weave of guitars, adding up to the sleazy roll of a classic Stones rocker, while "It's a Lie" is another great number with a fair amount of work done to it. It's a stand-out song, its new vocals and additional guitars flesh it out well, but the irrepressible bounce of the skinnier, fuzzier bootleg original is still hard to dislodge from the heart. Jagger's ability to convincingly replicate the kind of vocal delivery he gave more than forty years earlier is as impressive as his continued command of the concert stage, where the band, perhaps propelled by the death of their beloved drummer, seem to have been sparked into a renewed sense of mission in the face of mortality, capped by a demonstrative bromance between the Glimmer Twins that's good to see in otherwise depressing times.
Some of the songs date back to the Jamaica sessions for Goat's Head Soup. There's the woozy gait of "Fast Talking, Slow Walking", while "Come to the Ball" is a Jimmy Miller-produced piece of louche early Seventies Stones. The one alternative take from the original Tattoo You (no 17-minute "Slave" jam in full, then) is one of the many reggae-based "Start Me Ups", caught in transition to rocker status, with the chorus we all know, and what sounds like another new vocal all over it to close the set.
2016's Blue & Lonesome aside, buffing up and working up tracks from the archive has more or less how we've heard the Stones in the studio this past decade. Rumours of a new album have followed the band's trail through tour after tour since 2015, and with just the one lockdown single, "Living in a Ghost Town", to show for it. As the band's 60th anniversary comes next year, along with the likelihood of the Stones with new drummer Steve Jordan coming back to the UK's stages perhaps for one last time, you have to hope that after the success of their ongoing No Filter tour in the face of a death in the ranks and pandemic-related adversity, they'll return to the studio pronto to deliver one more time, and this time, it won't be to buff up something they first laid down more than forty years ago.
Watch the "Living in the Heart of Love" video
Tim Cumming's website / @CummingTim
These sessions really are the gift that keeps on giving, yielding up yet more rolled gold, stamped with that classic slurred Stonesy vibe
rating
Share this article