Gerde's Folk City at 60, The Iridium, New York City - a celebration of the legendary folk club |

reviews, news & interviews
Gerde's Folk City at 60, The Iridium, New York City - a celebration of the legendary folk club
Gerde's Folk City at 60, The Iridium, New York City - a celebration of the legendary folk club
Remembering Gerde's, the Greenwich Village coffee house that drove the New York folk revival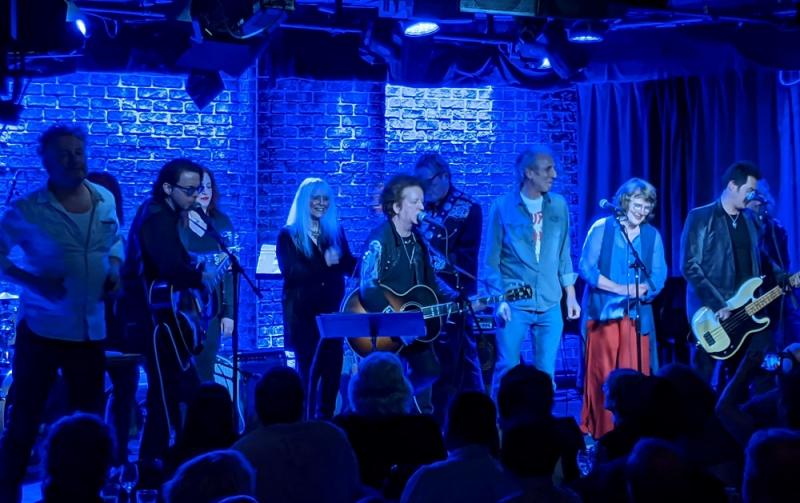 Talkin' Gerde's Folk City: Willie Nile, centre with guitar
Fifty-nine years to the day, 24 January 1961, that a young college dropout named Robert Zimmerman clambered out of a car on the Manhattan end of the George Washington Bridge, having hitchhiked across the country to reinvent himself as Bob Dylan, the sixtieth anniversary of the club where his career was launched was celebrated.
Gerde's Folk City, one of the most famous of the Greenwich Village coffeehouses on whose rickety stage innumerable careers were honed, opened its doors on West 4th and Mercer on 26 January 1960. The owner was an Italian immigrant named Mike Porco, who had opened Gerde's as a restaurant in the early 1950s, its clientele drawing heavily on those who worked in Broadway's millinery trade. Evenings were quiet, ends hard to meet, so when in late 1959 two guys walked in suggesting Gerde's become a showcase for folk music, he was curious. Izzy Young, proprietor of the nearby Folklore Center, and his friend Tom Prendergast, explained to Porco what folk music was, pointing to the popularity of Pete Seeger, Odetta and Joan Baez. Porco agreed they could produce the shows and pay the musicians out of the restaurant's cover charge. The Fifth Peg at Gerde's was born (folkies understood the allusion to the banjo) and though the arrangement with Young and Prendergast didn't last, folk music at Gerde's did.
On 29 September 1961, Dylan was opening for the Greenbriar Boys when he caught the attention of New York Times critic Robert Shelton. His review of "a bright new face in folk music… one of the most distinctive stylists to play a Manhattan cabaret in months", launched Dylan's career and put Gerde's on the map. It was where Dylan met Baez, already an established artist, and where, on 30 October 1975 (Gerde's by now relocated across Washington Square Park to West 3rd Street) the two gathered with friends to celebrate Mike Porco's sixtieth birthday – and to launch the legendary Rolling Thunder Review.
Bob Porco (left) has spent the last few years assembling memories of Gerde's with a view to making a film honouring his grandfather's role in music history. The documentary has yet to come to fruition but Friday's Gerde's Folk City at 60 was another step on the road to completion. Bizarrely, instead of celebrating the occasion in one of the remaining Village Clubs – the Bitter End perhaps – the concert took place almost fifty blocks north in Times Square at the Iridium, a nice enough venue but one lacking the history and the vibes of downtown.
Bob Porco himself opened the proceedings, offering a heartfelt but rambling introduction to his grandfather and the club and its remarkable history. Dylan would have done it as a talking blues, a style he used often – "Talkin' New York" tells the story of his arrival from the Midwest. Brandishing the guitar signed at the Folk City exhibition staged at the Museum of the City of New York in 2015, he also played a tentative opening song before handing over to his co-MC Richard Barone, who played Gerde's with his band the Bongos. Barone's performance of "When I'm Gone" lacked all the delicacy, wistfulness and poignancy of the Phil Ochs original. He introduced Terri Roche who reminisced about the Roches time at Gerde's, on-stage and off.
It was a somewhat ragged evening whose standouts were Willie Nile and Rob Stoner, who directed the Rolling Thunder band and performed many of Dylan demos, and James Maddock, a British singer-songwriter now based in New York City. The three of them brought energy and engagement to an evening that had rather too many out-of-tune voices and guitars.
Carolyn Hester, who played Gerde's opening night, was fittingly among the line-up. Long, white hair framing her face and recovering from a cold, she recalled her fellow Texan Buddy Holly's time in the Village, about turning down the opportunity to join the trio that would become Peter, Paul and Mary, and how she introduced Dylan to Columbia's John Hammond when he played on her third album. Her set included Gershwin's "Summertime", a surprising (and unwise) choice, and Dino Valenti's "Get Together", the audience singing along. Paul Metsa, who like Dylan hails from the Iron Range and is a sort-of American Billy Bragg, offered a set that included "Walkin' in a Woman's World", while the marvellously entertaining Stoner wore various musical hats and sung "Forever Young" as he had done on the Elvis-style Dylan demo that Presley unaccountably turned down.
Nile, whose career was made in the Village though not at Gerde's, brought the evening to a conclusion, his songs featuring the acclaimed "American Ride". He led the company in a finale of Dyan's classic, "The Times They Are a-Changin'". Shame on those members of the company who brandished lyric sheets!
Overall, it was a disappointing evening that lacked proper focus and cohesion. You felt it quickly forgot about its own purpose – a celebration of Mike Porco and the coffeehouse that played such a formative role in the 1960s urban folk revival. It would have benefited from a through-composed narrative that put the people and the music in context. Why celebrate the centrality or Irish music and the Clancy Brothers with a song by Scottish songwriter Ewan MacColl about a fisherman on Britain's Norfolk coast? Better surely to sing "The Shores of Erin" on which MacColl (who famously dismissed Dylan as "a youth of mediocre talent") based it.
A missed opportunity.