Darbar Festival, Southbank Centre |

reviews, news & interviews
Darbar Festival, Southbank Centre
Darbar Festival, Southbank Centre
A weekend of extraordinary performances from India's classical music traditions
Wednesday, 25 September 2013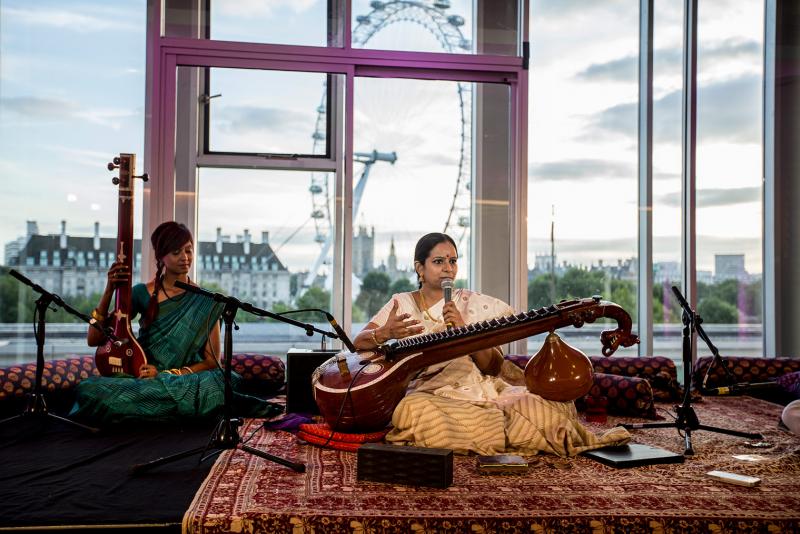 Eye's on you: Veena player Jayanthi Kumaresh at Darbar Festival
Darbar Festival, now in its eighth year, encompasses four days of talks, yoga, food, and music – swathes of it, morning, afternoon, and night, with each concert featuring two main sets.This year's focus was on female musicians, and included a talk featuring the great Carnatic singer Sudha Ragunathan discussing her own experiences and the role of women in Indian music.
Friday and Saturday evening's concerts focused on Dhrupad, Hindustani and Carnatic music. Dhrupad is the oldest living form of Hindustani (north Indian) classical music, uninflected by Persian and Islamic influences, and with written sources dating to the 15th century, and a much deeper root system connecting to the Vedas, which date to 1500BC.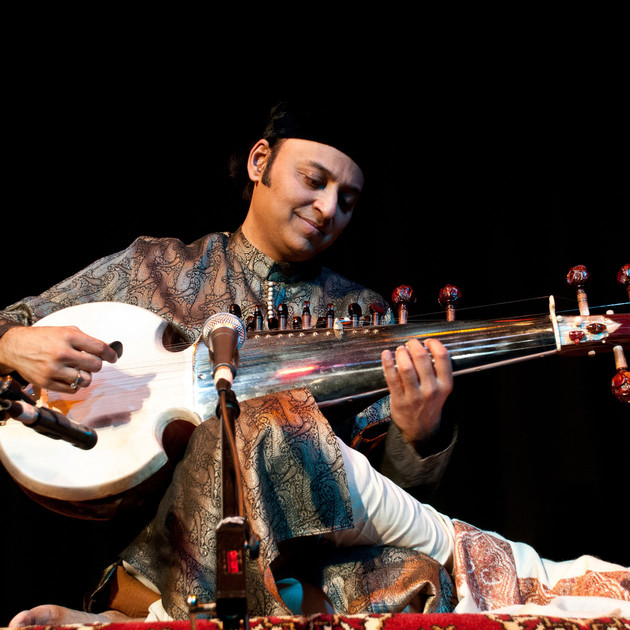 Dhrupad vocalist Nirmalya Dey's Friday night performance began slow and rose to life even more slowly, the singer flanked by two female tambura players languidly fingering the same four strings over and over. Dey's eyes are closed, lips almost pursed, his left hand beckoning, his right hand moving up and down to the tal, or pattern of beats. Over the next forty minutes, the first raag manifests with tectonic slowness and hugeness, hypnotically drawing you further in and further. "One music is heard," he says, "One is unheard, and all music is created from Om."
Following him is sarod master Ustad Wajahat Khan (pictured above), the youngest in a 400-year-old family lineage. "We have a celestial array of musicians here,' he remarks jovially, while meticulously tuning his sarod, and gesturing to a formidable front row of Indian maestros. "I tune the instrument," he adds, "and I tune you too."
The sarod's nearest western equivalent is, perhaps, a national steel guitar, though it sounds more like a haunted mansion, with Khan conjuring 'ghost' notes or meend (glissandi) with the left hand while his furious, chiming 'stroke patterns' with the right hand are his own innovation, forging a propulsive, primordial energy with brilliant tabla player Akram Khan.
Saturday night began with sitar maestro Anupama Bhagwat (pictured below), regarded as one of the finest, most innovative of players. Her second raag, a lengthy intense Alap (solo performance) was extraordinary. She bends and rocks, drops her head close to her instrument, as if imparting its secrets, or hearing them, pulling focus with British tabla star Gurdain Rayatt on different dynamics of the raag. It's music that flows through you like a seemingly endless range of peaks – a Himalaya of mind and music that suspends all outside distractions, preoccupations and the conventional flow of time.
Carnatic singer Sudha Ragunathan was introduced as India's greatest vocalist. "Where words fail, music speaks," she says, quoting Hans Christian Andersen. "After silence, that which comes to express the ineffable, is music." Accompanied by mridangam and ghatam, a tambura player, and violinist Jyotsna Shrikanth, this was a superlative, engrossing performance. The percussionists punctuate – defibrillate – the pulse of the music, and the violin shadows and echoes the voice so that they merge into one extraordinarily resonant sound. A Raag imploring Rama to receive the singer into his fold is utterly beautiful and importuning, with its architecture of crescendos, cascades and exultations, and Ragunathan's extraordinary vocal sustains don't so much hold the notes as massage them and send them heavenwards.
A raag featuring just violin and voice is intensely, ethereally beautiful, and followed by a wonderful solo violin drawing a veil over the quietly churning tambura. This Carnatic vocal music of south India sounds as if it came of age at the dawn of creation, it is that pure and resonant; some ancient race memory sending involuntary shivers down the spine of rapt listeners, a force that corresponds with something very deep in our nature; very fine, very unifying, and very, very old. In terms of the power of the human voice, it cannot, does not, get any better. Search no further - this is the real thing.
It's music that flows through you like an endless range of peaks – a Himalaya of mind and music
rating
Explore topics
Share this article