10cc, London Palladium review - still firing rubber bullets 50 years on |

reviews, news & interviews
10cc, London Palladium review - still firing rubber bullets 50 years on
10cc, London Palladium review - still firing rubber bullets 50 years on
Graham Gouldman is the last man standing in his own excellent tribute band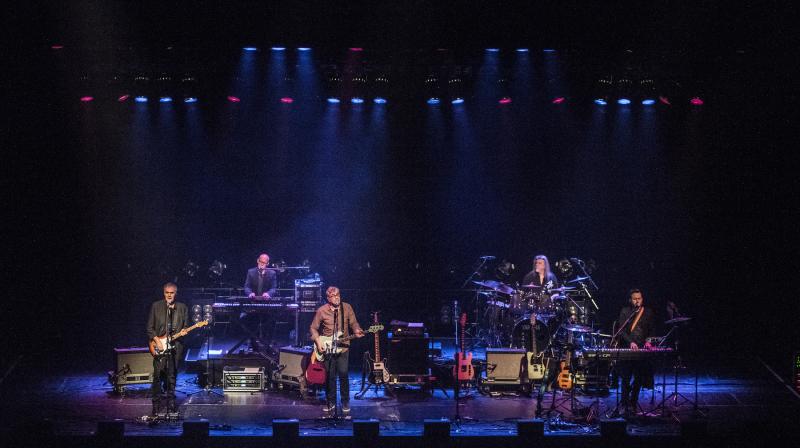 2.5cc with extra minestrone
What a remarkable band 10cc were. For most of the 1970s they made highly unusual pop that careered without a care between bubblegum and prog. Their ease migrating across style lines from Pythonesque japes to dense seriosity lay in the personnel: four bandleaders who all brought a sensibility to a democratic collective.
The wackier half of the band departed in 1976, not long after their most soaring hit, written by the more mainstream half. Godley and Creme, seemingly, were not in love with Stewart and Gouldman, whose next big hit was "The Things We Do For Love".
Their first hit – a falsetto doo-wop pastiche called "Donna" – was in 1972. Fifty years on the band still exists, and is out on tour playing all the hits and more. To be strictly mathematical it's really 2.5cc these days. Graham Gouldman, 76 next month, is the last frontman standing. He's become one of the "old men of rock 'n' roll" fondly imagined by 10cc in their twenties in "Old Wild Men". He does his bit centre stage like an affable professor (retd) on the Caribbean cruise lecture circuit. He performs noodling bass solos, sings his bits in a growling baritone and modestly summons up the good old days.
Not that he's surrounded by fresh-faced newbies. Paul Burgess on drums and Rick Fenn on lead guitar have been associated with the band since the 1970s - the former wears the luxuriant mane of the period by way of authenticating rubber stamp. (Much of the audience was of a similar vintage.)
The show which reached the London Palladium last night is a moreish oddity. The songs are gorgeous, the musicianship immaculate, the stagecraft polished. Yet there is a nagging sense that 10cc have morphed into their own tribute act, a classic car with an engine full of replacement parts. Other bands have patched holes in an original line-up and carried on regardless – Fleetwood Mac, serially; Queen, flagrantly. The difference with 10cc is everyone's still alive and, seemingly, on speakers. Kevin Godley, who left with Lol Creme to make videos, even pops up singing "Somewhere in Hollywood" on an arty black and white back projection.
There is no attempt to deny that the departed members left huge shoes to fill. When Iain Hornal, much the youngest member of the current cohort, told a story about the composition of "Life Is a Minestrone", it was like listening to an eager young museum tour guide. He had a busy time of it. As well as playing a lot of instruments (although not as many as Keith Hayman on various keyboards and guitars), Hornal has two jobs in 10cc: tonight, Matthew, I'm going to be Lol Creme and Eric Stewart. With a sweet and soaring voice he pulls off the double mimicry with great skill.
It's not easy reproducing authentic 10cc. Songs like "Feel the Benefit" and "The Second Sitting for the Last Supper" perform weird and sudden handbrake turns. "Say the Word", Hornal's own pastiche of the band composed with Gouldman, ended with an off-brand crashing chord, where the old songs so often concluded elliptically. "I'm Mandy Fly Me", an elusive enigma of a love song, faded into silence and darkness.
From near the top of a show that contained 20 songs in all, the jagged "Art for Art's Sake" and the jiving "The Dean and I" came up absolutely box fresh. When "I'm Not In Love" eventually arrived, lushly harmonised, the band were backlit so that the absence of 7.5cc was less of an issue. Instead we had to watch the screen behind featuring two young models in what looked like a slo-mo shampoo ad. Then came "Dreadlock Holiday", the mock-reggae megahit which has a pub band vibe about it these days. For the encore, "Donna" was rendered a cappella like a barber shop quartet, before a climactic wig-out with "Rubber Bullets". They're not all there, but 10cc's songbook, full of fun and love and rage, remains blessedly the same.