The Wall of Shadows review - a holy Himalayan mountain and a Sherpa family's dilemma |

reviews, news & interviews
The Wall of Shadows review - a holy Himalayan mountain and a Sherpa family's dilemma
The Wall of Shadows review - a holy Himalayan mountain and a Sherpa family's dilemma
Spectacular documentary explores Sherpa porters' real feelings about their foreign clients
Father and son: Ngada and Dawa
"You're mad to try and climb a holy mountain," says Jomdoe, wife of Sherpa Ngada, as they argue over whether it's more important to respect the body of God, aka the mountain Kumbhakarna in eastern Nepal, or to take the money earned from a dangerous climbing expedition that could help pay for their son's education.
This beautiful, meditative film by director and climber Eliza Kubarska (K2: Touching the Sky) captures the power of the Himalayas with great intensity. Plot strands, though interesting, pale into insignificance in the face of Kumbhakarna, 7710 metres high, as yet unsullied by humans and more dangerous than over-populated, no longer holy Everest.
This is not a heroic Touching the Void mountaineering movie though – we see very little in the way of rappelling or belaying. Instead Kubarska concentrates on the western lack of understanding of Nepalese customs and knowledge, though it's not always completely clear if this is a straight documentary or whether scenes are staged.
The legend goes that the mountain is the youngest of three brothers; the other two were envious of his talents and planned to murder him but were prevented from doing so by a holy monk, who turned them all into mountains. But Kumbhakarna remains the most powerful, tall and graceful of the three, and people believe that God lives within it. Others believe that the mountain is a sleeping demon, bent on exacting revenge from those that ask for favours.
The stunning Himalayan scenery, with its massive peaks of rock, ice and snow and soaring eagles, is spectacularly shot by cinematographer and co-writer Piotr Rosolowski. It forms an extraordinary, hypnotic backdrop to the family's ordinary life in their summer and winter settlements: lugging baskets, tending to the oxen, preparing tea, playing games with piles of stones, drumming while streams of Buddhist prayer flags flap in the wind.
But the teenage son, Dawa, wants something more out of life than becoming a high-altitude porter like his father, who's been to the top of Everest and other mountains many times but doesn't earn much. He wants to be a doctor and help people poorer than himself. There just isn't the money, his mother tells him: "Take your load and get on with it."
But his father, blinking and frowning nervously, seems to think that the money from this expedition may make a crucial difference to Dawa's prospects, and after a fierce argument between husband and wife, she agrees to let him go, as long as he explains to the divine mountain that it's because he needs to help his son. Then perhaps, if he finds the right words, God will understand and save him from death on the trek. She remembers her own journey to a base camp, pregnant and struggling with 25 kg loads on her back. Such is the life of the Sherpa, and Kubarska shows its harshness vividly.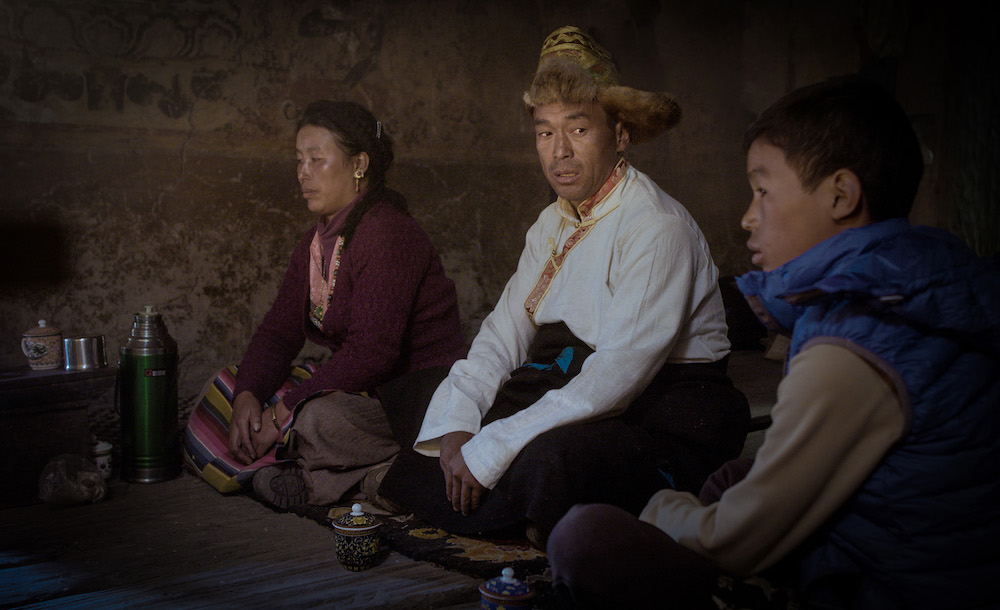 At this point, a helicopter brings three seasoned climbers, determined to climb Kumbhakarna. They're well known in the climbing world: two Russians, Sergey Nilov and Dmitry Golovchenko, and Marcin Tomaszewski, who's Polish. Soon there's tension, as the alpinists seem in a tearing hurry and insist on starting the climb the next day, even though the weather doesn't look good – the clouds are moving, constantly changing, a bad sign. But, says Ngada, they listen only to themselves. "Alpine climbers are usually stubborn people," agrees another Sherpa. "They climb forcefully and give up only if it's totally impossible."
Ngada doesn't want to go, but if he doesn't, he won't be paid in spite of the time he's already spent getting to base camp – difficult enough in itself – with his family (pictured above). They had to pay other people to look after their hens and goats, but none of that matters to the Nepali organisers. Meanwhile, Dawa's doing his homework, perched on a rock while snow falls.
"This film isn't about climbing, it's about people," says one of the Russians scornfully. They show little respect for the Sherpas' prayer rituals. Then, in a fascinating exchange, Marcin, who, like Ngada, is a father, decides to trust his intuition: it's all too risky, warm weather makes avalanches more likely, they haven't acclimatised to the altitude properly, they're not operating properly as a team. He's not going with them, or, as he puts it rather formally, he's resigning from the climbing action. Shall we drink vodka, he asks, to seal the deal with no hard feelings? The Russians shrug. They're undeterred.
According to legend, Khumbakarna tells a seeker that the only gift he can give is to those who accept their limitations. "If you do so, I will let you leave unharmed and free to find your way." In the end, the mountain has the last word. Its summit remains unconquered.
Alpine climbers are usually stubborn people. They listen only to themselves
rating
Explore topics
Share this article