Photo Gallery: Bolshoi Ballet class by Charlotte MacMillan |

reviews, news & interviews
Photo Gallery: Bolshoi Ballet class by Charlotte MacMillan
Photo Gallery: Bolshoi Ballet class by Charlotte MacMillan
Principal dancer Dmitri Gruzdyev remembers his own schooling at the Kirov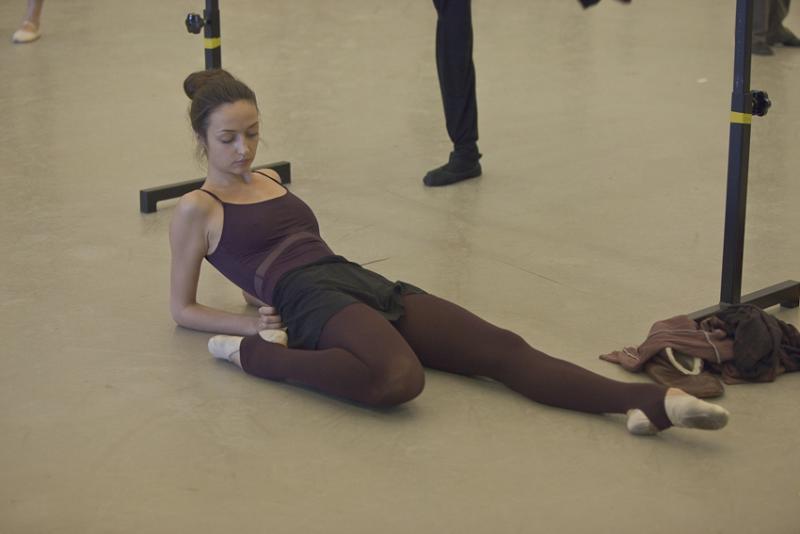 Charlotte MacMillan took these exclusive pictures last week of the Bolshoi corps de ballet in class. The pictures brought back memories of his training to English National Ballet's Kirov-trained principal dancer Dmitri Gruzdyev, as he prepares to perform Michael Corder's Cinderella at the Coliseum next month.
A regular coach for younger dancers after 17 years in the company, he has a keen eye for the training differences between his native land and his adopted country.
DMITRI GRUZDYEV: "Looking at the pictures I see some familiar things from my training - the open shoulders, standing tall, and all the positions are big - 'bolshoi' means grand. But I came from the Kirov, and we had a slightly different schooling there at the time. Now dancers are migrating from one company to another without problems, things are getting mixed now, but when I was in the Kirov you never thought you'd go to the Bolshoi or vice versa. The Kirov used to be known as more classical - purer, the positions used to be softer. In training you had a cleaner fifth position, you thought more about how clean you were making your line and positions than perhaps they did. The Bolshoi used to go for it more.
"Feet and legs turn-out is just the same; it was always the point when we did class to be very turned out, whereas in the West some teachers say if you can't stand in the perfect first position don't force it, you might hurt your knees. Which I don't agree with. To me, first position must be 100 per cent right. Looking at these photos I think with evolution the positions have become cleaner in Moscow. I do see the difference between girls here in the UK and there - they hold legs higher, that's the most obvious thing, they all stand with open shoulders, and you can see their light jumps.
"I'm not sure where the 'Russian back' comes from. Maybe it is the rake of the stage, but it's probably the slightly different schooling. From a young age you were taught to lift your leg as high as you could. Here in England you are taught more to maintain the square position. They stand differently on their legs, with very open shoulders. In the Kirov I had the fantastic Sergei Berezhnoi as my teacher, and he was always telling me, open your shoulders, don't hang them, hold up your head. He was constantly reminding me of that. It's very important for Russians, the upper body. I remember all my teachers through my career. Stand big.
"You can see Marina Kondratieva in the photos here - you always have top teachers going with the Kirov and Bolshoi tours. There's much more one-on-one coaching, between dancer and teacher, or even young dancer and principal dancer. It's a different structure there. Over there you go to an office and say, I'd like to rehearse with this teacher specifically, or that principal dancer, and you work with that person as long as you feel you are getting something from them. Here in the UK, because of ENB's structure and its much smaller size and staff, you keep changing teachers and you just have to work with what you have, especially on tour.
"We were on tour about six months of the year when I was in the Kirov. Then we'd be back in St Petersburg. Then out again. We had fantastic tours, always arranged around us, with good theatres and facilities. I remember the artistic director told us we won't accept any uncomfortable facilities - we'll only do tours that satisfy 100 per cent of what we need. Which is completely different from ENB, where we have to get used to many different kinds of conditions. But that makes you tougher.
"I do think in some ways that the old difference of European and oriental remains between the Kirov and Bolshoi, though it's less visible now. Dancers come into the companies from all over now - Perm, Ukraine, Novosibirsk. Plus all the girls there are selected to be tall and very flexible. When I did my big audition for the Kirov it went on for three days - a medical one, a dancing one, a physical one. When I'm teaching boys here in the UK I say to them, if you can do the 180 degree line, do it. For me, the higher the better, as long as you don't sacrifice the rest of the body. In jetés if you can open your legs 180 degrees it's fantastic. And I think quite a few people from Kirov and Bolshoi can do that.
"I think I do still believe in the Russian training being best. They have such a strong base that they can adapt very quickly to other companies, if they're clever enough. It is really down to the individual though, wherever they come from. I left the Kirov 17 years ago after dancing there for four years, and when I came to ENB I had to adapt a lot as we had a very tough director, Derek Deane, who had his way of thinking how positions should look. Not so much that I was changing myself, but I was trying to add the best of English schooling to myself - clean positions, purity, like their priorities in Russia, but in the different English way.
"A year and a half ago I went back to dance again in St Petersburg, and then did a gala with Ulyana Lopatkina in Moscow. It felt like going home! A lot of people remembered me. Do I dance with an English accent? Yes, I think so. And I don't think it's such a bad thing. Dancing Michael Corder's Cinderella is very English!"
Click on a picture to open full view and enter the slideshow of the Bolshoi corps de ballet in class:
[bg|/charlotte_macmillan/Bolshoi_July_2010]
The Bolshoi Ballet performs Balanchine's Serenade and Giselle tonight and tomorrow; a 'Russian' triple bill of Fokine's Petrushka, Ratmansky's Russian Seasons and Petipa's Paquita, Thur-Fri, Spartacus Sat (mat & eve). Le Corsaire is on 2-5 August and Don Quixote 6-8 August, all at the Royal Opera House. Reviews on theartsdesk so far: Spartacus, Coppelia, Serenade/Giselle.

English National Ballet performs Michael Corder's Cinderella at the London Coliseum 11 – 15 August. Gruzdyev performs on 14 August with Erina Takahashi.
Charlotte MacMillan's website
In the West some teachers say if you can't stand in the perfect first position don't force it, you might hurt your knees. Which I don't agree with
Explore topics
Share this article