The Rise and Fall of Little Voice, Vaudeville |

reviews, news & interviews
The Rise and Fall of Little Voice, Vaudeville
The Rise and Fall of Little Voice, Vaudeville
X Factor star Diana Vickers acquits herself well but it's Lesley Sharp's evening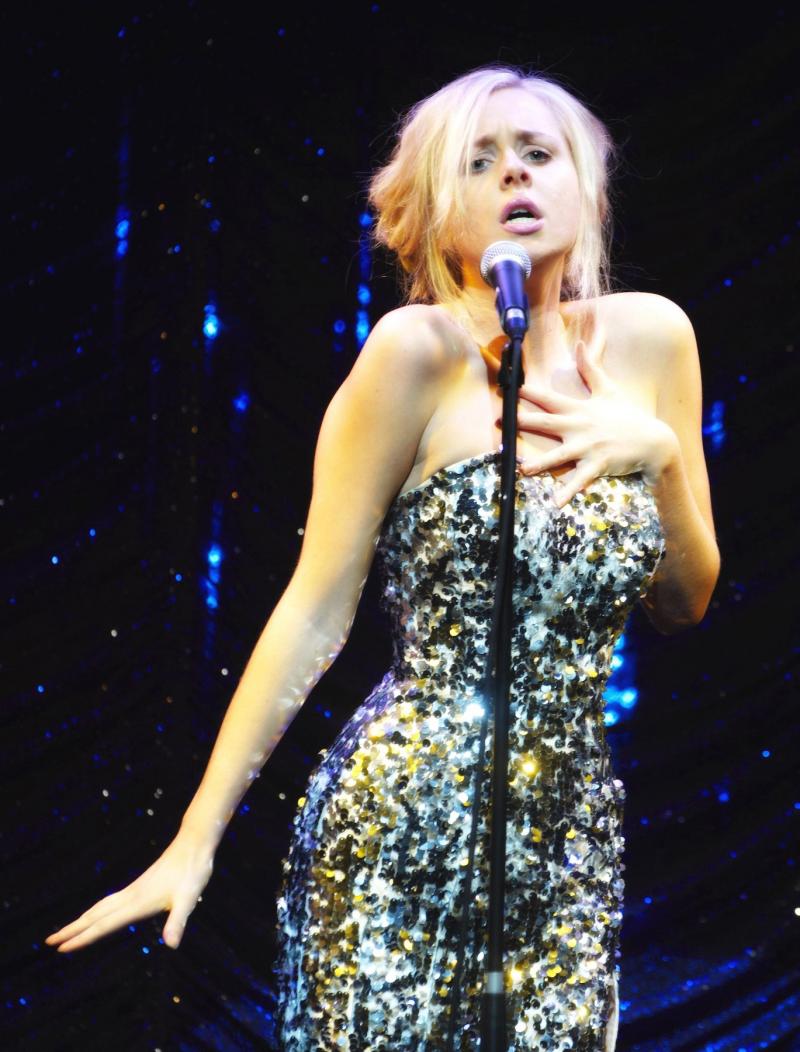 Little Voice: the rise and rise of Diana Vickers
It's a big ask for any performer to take on a role that was written specially for another actor, but Diana Vickers' supporters from her appearances in last year's X Factor on ITV will be pleased to learn that she acquits herself very well indeed. She is Little Voice in Terry Johnson's pleasing revival of Jim Cartwright's The Rise and Fall of Little Voice, which began life in the National's Cottesloe Theatre in 1992 with Jane Horrocks in the title role.
Horrocks' uncanny ability to impersonate several divas, from Shirley Bassey and Gracie Fields to Marilyn Monroe and Judy Garland, formed the basis of fellow Lancastrian Cartwright's play, about a shy, lonely teenager living in a crummy house in an unnamed northern England town, whose only connection to the world is through the vinyl records her adored late father bequeathed her.
Little Voice (LV) plays the records over and over and sings along to them in the privacy of her bedroom. Then along comes Ray Say (Marc Warren), her mother's latest boyfriend, a self-styled agent whose only other clients are no-hopers and strippers. Seeing a money-making opportunity, he forces LV to sing in public at the local working men's club and she is deeply traumatised by the experience, her only friend and ally being Billy, an equally gauche young man who comes to the house to connect the telephone.
At the heart of the play is LV's mother, Mari, a lazy, hard-drinking tart with a wardrobe that consists entirely of spangly, low-cut dresses, and whose neglect of her daughter is reflected in her scuzzy home, beautifully realised in Lez Brotherston's two-tier cutaway set. We first see Mari (Lesley Sharp) pissed and tottering in high heels across her living-room floor to be sick into the kitchen sink before she berates her daughter yet again for playing her music. Mari has, as they say in these parts, a reet gob on her and gets all the play's best lines - "I can feel it in me twat bone. You know I can predict rain wi' that" - in a play full of laugh-out-loud comedy mixed with heart-aching pathos.
Warren plays Ray Say with just the right degree of swagger and underlying nastiness and his parting scene with Mari, in which he lays bare the sad truth of her life, has shocking power. James Cartwright gives great support as Billy and Tony Haygarth does a nice turn as nightclub owner Mr Boo, in an outrageous syrup that looks as if a hamster has landed on his head. Rachel Lumberg plays the unfortunate neighbour Sadie, monosyllabic and overweight, who is cruelly the object of much fattist humour in Johnson's otherwise adept production.
As for Vickers, making her stage debut: well the essential elements of the role of LV are a not-so-little singing voice and the ability both to act and to impersonate the singing styles of all those divas. In truth the 18-year-old doesn't star across the range of talents (her 'voices' are too similar), but she grows noticeably more confident in her acting as the evening progresses, and when the time comes for her big solo number (written for this production by Mark Owen) she proves she has a cracking voice - one that has improved immeasurably since she was on the talent show.
But the evening belongs to Sharp who, despite an accent that strays occasionally, is quite astonishingly good as Mari. She conveys every ounce of the drunken slapper's vulnerability and bitterness at life's continuing disappointments among some very funny comedy indeed.