Schiff, Budapest Festival Orchestra, Fischer, Barbican review – generosity and geniality |

reviews, news & interviews
Schiff, Budapest Festival Orchestra, Fischer, Barbican review – generosity and geniality
Schiff, Budapest Festival Orchestra, Fischer, Barbican review – generosity and geniality
Post-imperial Beethoven and convivial Dvořák from two Hungarian masters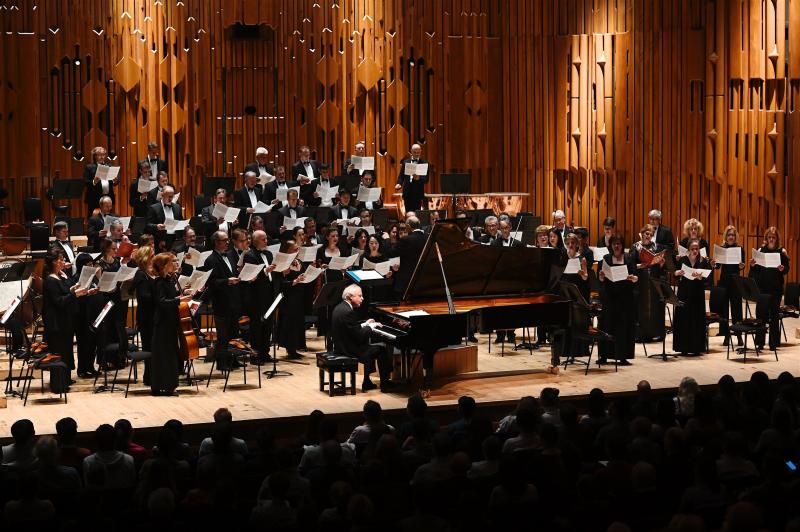 The band that sings: the Budapest Festival Orchestra
There are encores and encores – most a friendly, minimal farewell gesture from the soloist; some a jolly, festive unwind after a particularly taxing piece. And then there's the luxury free gift that Sir András Schiff bestowed on us during the second of two Barbican concerts with Iván Fischer and his Budapest Festival Orchestra.
Jaws quietly dropped as we realised that Schiff intended to follow up
Beethoven
's
Emperor
Concerto (both gigs formed part of the Barbican's Beethoven 250 season) with the
Allegro con brio
first movement of the
Waldstein
sonata.
Surely, this was munificence beyond the call of any star performer's duty. More than that: Schiff played the encore, with his all his flair for exquisite clarity and articulation that keeps veiled passion just in check, as if his career depended on it. No wonder that, after the second half, his fellow-Hungarian Fischer decided that the Budapest band could hardly compete, and so left us with a cheery wave but no going-home present.
The Emperor that had preceded Schiff's Waldstein often felt more collegiate than imperial; more a quasi-democratic ruler than a capricious tyrant, though not without its spasms of stormy grandeur. "Too Mozart-y," quibbled a neighbour. And Schiff, with his fine-boned grace and occasional reticence, does sometimes sound as if he approaches the Beethovenian heights from the more elegant, 18th-century side rather than via the dramatic uplands of High Romantic pianism. That said, his transparent firmness of tempi and textures dovetailed nicely with the debonair, even-toned authority of the Budapesters and their ravishing strings – lavish silky charm, with toughened steel beneath. Fischer's lithe mastery of pace and rhythm stripped the Allegro of all grandiose portentousness. He carved the space for Schiff (pictured below) to take the piano themes on a journey that felt exploratory, open-ended, rather than simply heroic in the old-fashioned way. The grandest, most climactic chords here seemed to be tapped rather than smashed.
Schiff's interest in period practice has certainly coloured his Beethoven. As the first movement unfolded, a few passages seemed, if anything, a shade too staccato, detached and even-handed. The Adagio, though, recovered a lovely dancing tread – with Fischer again able to calibrate the orchestral backdrop perfectly – and a discreet, legato lilt. Beethoven's sly and suspenseful segue into the explosive, upbeat Rondo was managed with touches of pure magic. Fischer lent the concluding celebrations a convivial warmth that offset the swing and bounce of Schiff's solos. Barnstorming, old-school Emperors are hardly in short supply, while Schiff's more measured, clean-lined and finely-pointed interpretation in the end lacked neither weight nor thrills. Then came that Waldstein surprise, with its half-hidden fires and bold elasticity of tempi, to prove that this most scrupulous, rigorous of artists likes to pass on his gifts and ideas with unstinting generosity.
Antonin Dvořák in his most genial of moods accounted for the rest of the evening. The BFO began with a spring-fresh "Legend" – a tripping pastoral that showcased the band's warm, enveloping woodwinds as well as those gently succulent strings. They followed it with the "Ukolébavka" chorus: a lullaby, providing an opportunity for the Budapesters to unveil their usual party piece by standing up to sing. Which they do beautifully – even if this much-enjoyed aspect of their repertoire makes me wonder about auditions for the orchestra. Does a fine voice boost your chances? Do instrumental aces liable to croak tunelessly promise to stand there and gape silently like fishes? The impromptu chorus returned to their everyday tools for a Slavonic dance, studded with cheeky shifts of pace and rhythm, and some neat comedy flourishes from the percussionist. They never despise fun in Budapest.
After the interval, Fischer (pictured above) and friends took Dvořák's sun-splashed and cheerful Eighth Symphony for a glorious country spin. Its melodic profusion, droll and sweet by turns, ensured that the orchestra's flair for theatrical turns had plenty of platforms on which to shine. Fischer always arranges his players to maximise the drama of their music: here, the battery of half-a-dozen basses stood arrayed at the rear while the antiphonal strings stretched out across the whole stage. Cello and violas in the centre proved a big-hearted powerhouse throughout the evening. The horns glowed and purred, perhaps most effective at their quietest. Principal flute Anna Garzuly-Wahlgren, and her colleague Anett Jóföldi, contributed superbly to the forest birdsong that threads through the symphony. The trumpets, Gergely Csikota and Tamás Póti, seized their starring roles with unmilitary, dance-band delight, while leader Yoonshin Song excelled in her solo flourishes. If the waltz of the third-movement Allegretto had an especially liquid and rippling sway, Fischer imbued the whole work with a danceable pulse and good-humoured zest. Surely no-one pulls off this brand of lyrical, kitsch-free merriment better than the BFO. With Schiff, they will return to the Barbican next spring – when we might really need another shot of Middle European joy.