Prom 49, Mahler's 'Resurrection' Symphony, Connolly, Alder, LSO, Rattle review - a long and grand goodbye |

reviews, news & interviews
Prom 49, Mahler's 'Resurrection' Symphony, Connolly, Alder, LSO, Rattle review - a long and grand goodbye
Prom 49, Mahler's 'Resurrection' Symphony, Connolly, Alder, LSO, Rattle review - a long and grand goodbye
A great Mahlerian marks his signature work with a thrilling flourish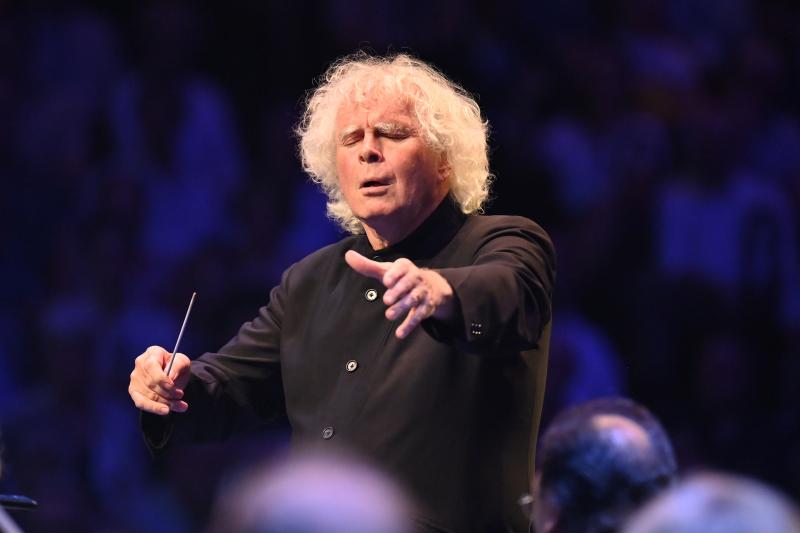 Master of ceremonies: Sir Simon Rattle
Long goodbyes don't get grander, warmer or more passionate than this. Sir Simon Rattle began his farewell season with the London Symphony Orchestra with a Proms performance of Mahler's Second, "Resurrection" Symphony – the mighty work that has waymarked the major moves of his career.
Finely pointed and detailed as ever, yet lacking nothing in the overwhelming uplift of its close, this Resurrection almost felt designed to remind London of the giant gifts it will soon lose. However, if the motives for Rattle's departure for Munich included disappointment over the city's failure to fund and build a bespoke concert hall, then this proved a more ambiguous occasion.
For the good old, bad old Royal Albert Hall had an absolutely stellar night, from the combined choirs of the LSO Chorus and CBSO chorus quietly, then loudly, storming heaven above to the artful deployment of the stage space by the soloists (Louise Alder and Dame Sarah Connolly, pictured below), the spine-tingling offstage brass and percussion, and – not least – a rapt full house that rose in a genuine standing ovation at the end. After four decades, Rattle's Mahler – sustained and refined through his CBSO, Berlin Philharmonic and LSO phases – may have little very new to show us. Still, it remains a career-defining achievement that can yield nights, such as this, to relish and remember.
The evening's valedictory theme began with the opener: the late Harrison Birtwistle's Donum Simoni MMXVIII, written for the conductor in 2018. Rattle's spoken introduction called his friend Harry "warm, gruff and funny at the same time", and identified this brief fanfare-like piece a "tapas" of Birtwistle style. So it proved, with its pawky, mocking tuba and trombones, its clatter and clang of blocks and bells, its outraged interjections from the woodwinds and an almost cartoonish tapestry of quirkily coloured sound.
The composer had warned Rattle not "to pretty it up", and the same injunction held for the opening parts (at least) of the Resurrection symphony. Rattle knows that Mahler's epic journey through every shade of darkness into light needs space and patience for the unfolding drama to grow. His opening funeral march felt (if anything) a little short on maestoso solemnity. Sardonic wit crackled through the movement, from the crunching, slapping lower strings to the spiky, restless woods and the grainy, punchy, snarling LSO brass – full of almost cocksure confidence, here and throughout the work. The silken, or swooping, strings sounded almost bullied by all the rasping turbulence around them, but then Rattle was playing a long game here. His huge dynamic spans, from a gentle whisper to a hall-shaking roar, felt integral rather than mannered, and his accelerandos had a real sense not just of mounting excitement but edge-of-the-cliff menace. We needed the pause that followed, to calm down and prepare for the long climb still to come.
In the lilting Ländler of the andante, that sprinkle of mischief returned to dissolve any risk of schmaltz, with pizzicato strings that stuck just this side of mockery. Far from aiming for a premature monumentality, Rattle in the symphony's first half showed off his urbane, sardonic, almost cabaret-band talents, with strings, luscious slides and all, that sounded slightly lightweight compared to the stonking swagger of his brass. However, he was holding plenty in reserve. With its gurgling, fishy woodwinds, beautifully despatched, the supposedly "calmly flowing" third-movement scherzo had plenty of underwater snags and whirlpools too. The sickened, lurching mood of the music found the LSO in superbly bilious mood, with woodwind injections full of accent and attitude and a riveting star turn for the trumpets. Here, as elsewhere, you heard the score-less Rattle's astonishingly sure command not just of this whole cathedral of feeling but of each grimacing gargoyle or fragment of luridly stained glass.
As so often with Mahler, the human voice will redeem us. The brass chorale gorgeously soothed our fevers, and Sarah Connolly's sang "Urlicht" with commanding serenity, poise and strength, enhanced by the lovely contributions from LSO leader Andrej Power. We still have a long road to travel, though, and Rattle kept his most ferocious episodes back for the despairing savagery of the fifth movement. The offstage horns have never sounded more eerie; the apocalyptic drumrolls of doom stopped your breath (on a night of explosive virtuosity from the LSO timpani). But then Timothy Jones and the horns, James Fountain and the trumpets, Peter Moore and trombones – all sounded splendid, with Gareth Davies and Sarah Bennett's flutes finely flavoursome as well. Harps (Bryn Lewis and Helen Tunstall) and, at the close, Richard Gowers' heavenly organ, signally enriched an orchestral tone that could be luxurious but never just lush. As for the strings, their increasingly mellow warmth truly glowed as Louise Alder joined Connolly for the setting of Klopstock's poetic assurance that "thou wert not born in vain".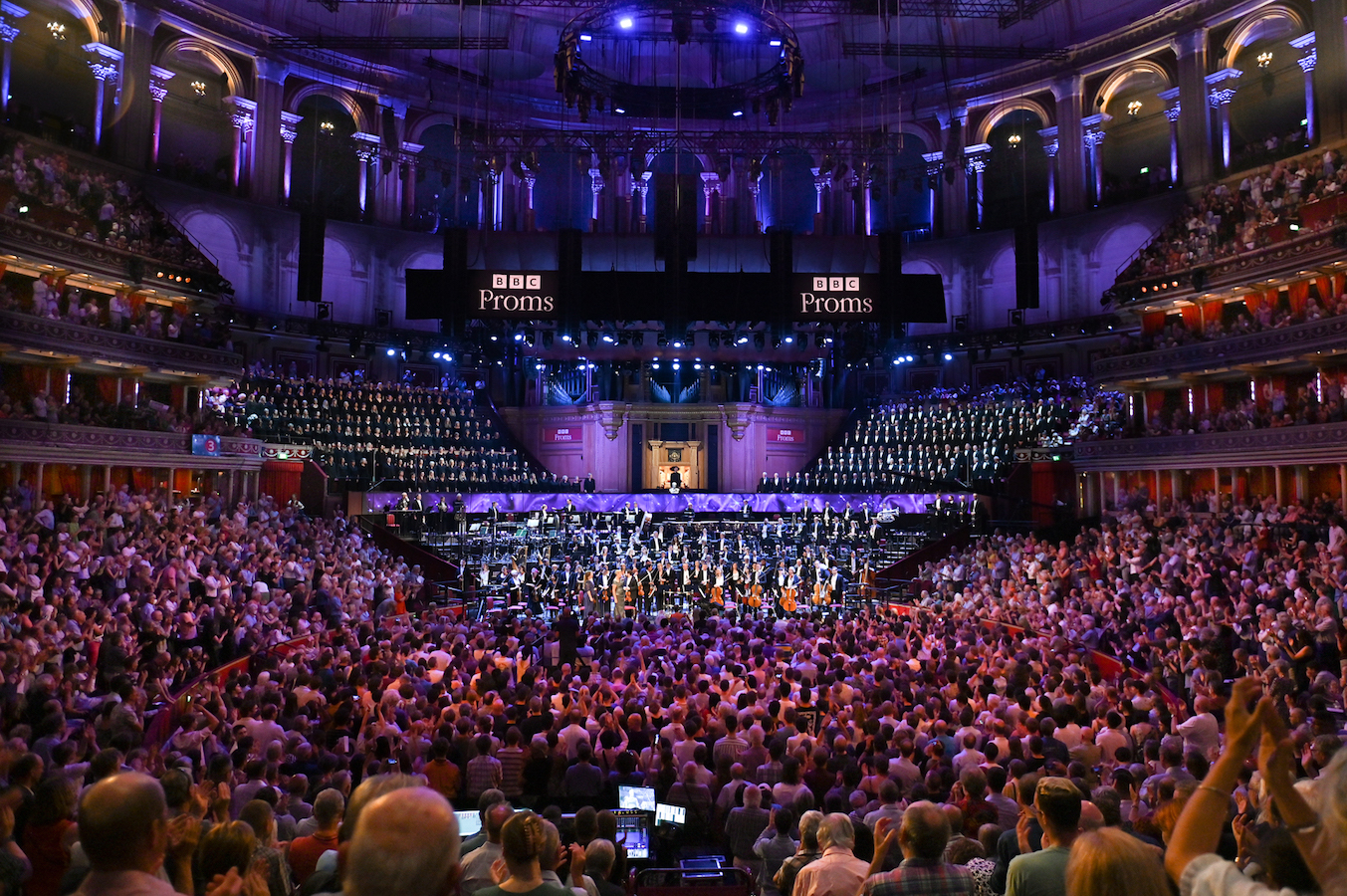 First above on one side, then from front-of-stage with Connolly, Alder sang with a tender fervour that soared thrillingly above the fray. However, the finale – here as often – belonged to the chorus. Hushed and delicate at first, the CBSO and LSO rose in every sense – they stand only before their final lines – with a clarity of phrasing (and lucidity of diction) that made the closing passages humanly touching, not just collectively ecstatic. The chorus masters (Rattle's long-standing comrade Simon Halsey, with Julian Wilkins) masterminded a sublime leave-taking, which felt not like a heavy, bullying mass declamation but a private voice of hope somehow shared by all.
If the sheer theatricality of Rattle's step-by-step, phrase-by-phrase direction of the whole vast voyage impressed once again, so did the intimacy he can bring to even the smallest corners of the big picture. The dramatic tension, even suspense, scarcely dropped for a moment. The thunderous outbursts froze the blood; the passages of stillness and peace made it flow again. Over-exposure, to this conductor or this work, can make you wonder why either have to matter so much. Last night he gave a resounding answer.
You heard Rattle's astonishing command not just of this cathedral of feeling but of each grimacing gargoyle
rating
Explore topics
Share this article