Buchbinder, Gewandhausorkester Leipzig, Nelsons, Barbican / COE Soloists, St John's Smith Square review - European sophistication in spades |

reviews, news & interviews
Buchbinder, Gewandhausorkester Leipzig, Nelsons, Barbican / COE Soloists, St John's Smith Square review - European sophistication in spades
Buchbinder, Gewandhausorkester Leipzig, Nelsons, Barbican / COE Soloists, St John's Smith Square review - European sophistication in spades
Sonic wonders from a great orchestra in the City and chamber ensemble in Westminster
Andris Nelsons aspirational in Strauss with his Leipzig orchestra
When in 2018 Andris Nelsons and his "new" Leipzig orchestra sealed an auspicious partnership with a locally significant but modestly scaled symphony, Mendelssohn's "Scottish" (No. 3), they could not have foreseen two years ahead when the bigger orchestral works would stay under wraps. Nelsons' "Richard Strauss project", shared between Leipzig and his other orchestra, the Boston Symphony Orchestra, makes sumptuous amends.
Sadly, the Boston diptych due to follow this one in London has been cancelled, and the second of the Leipzig concerts (★★★) – I missed the first owing to Europe Day duty/pleasure, more of which anon – lacked its star soloist, Yuja Wang, who had decided not to tour; we had Rudolf Buchbinder (pictured below) instead in Strauss's Burleske, a relatively early pre-Till-Eulenspiegelish chameleon which has risen in concert-hall stakes recently. It needs youthful needle-point focus even in the heavier cascades, and Buchbinder's brilliance was often approximate (a fellow pianist suggested in the interval that he may have been having trouble with his right hand).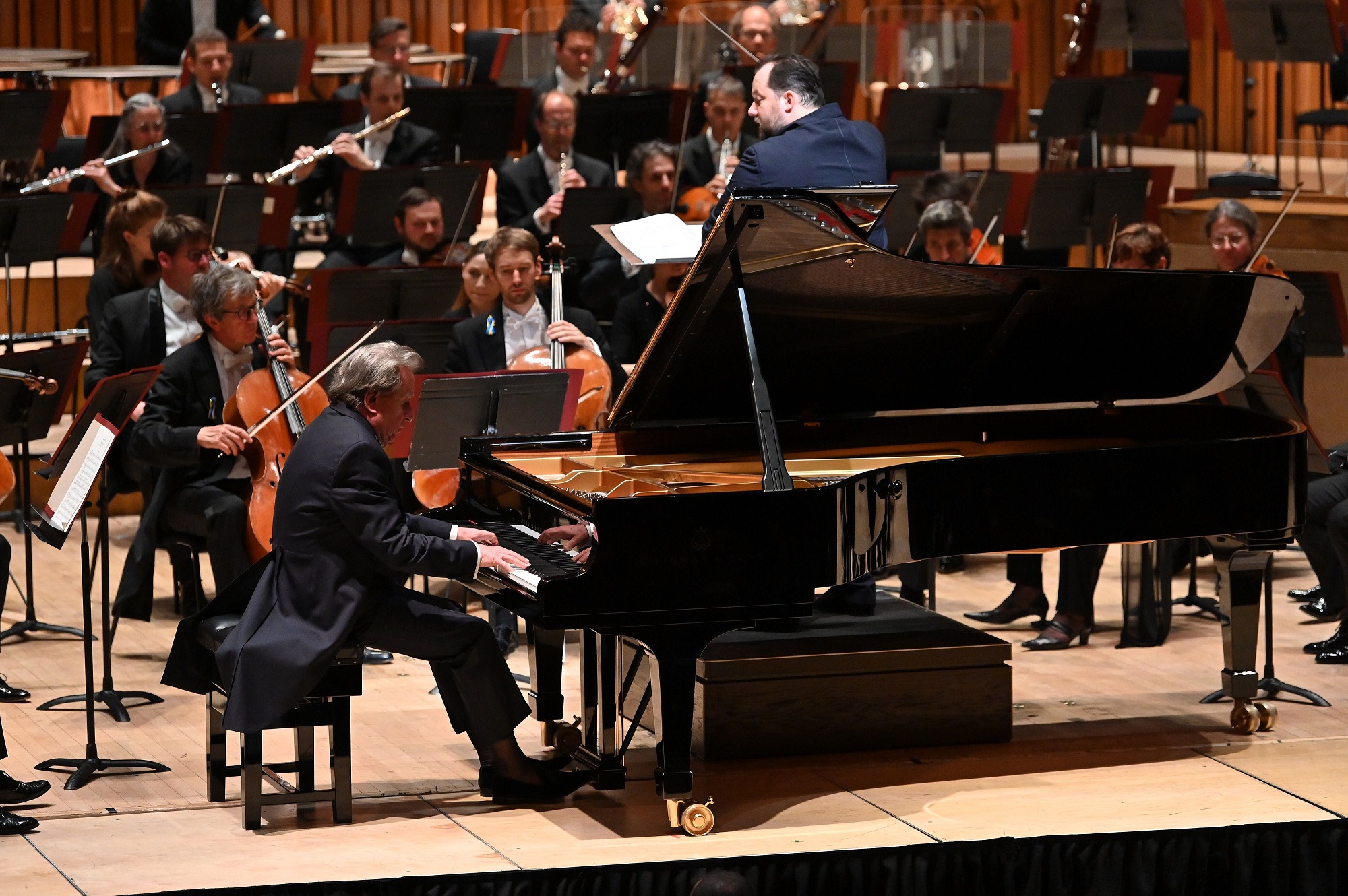 The second theme had charm, but after that there was an obscure fudge of notes. Buchbinder's encore was fun if you like that sort of thing, and appropriate given the wry waltz which emerges belatedly in the Burleske – Alfred Grünfeld's Soirée de Vienne, a virtuoso play on the Fledermaus Waltz and others by another Strauss, Johann II.
Orchestrally the Burleske was impeccable: on the strength of the opening and closing thematic tattoos, played with teasing artistry by British orchestral member Tom Greenleaves, it should be subtitled "Concert piece for timpani, piano and orchestra". Full focus and fun, no doubt also to be heard on the recording with Wang, came from the rest of the orchestra under Nelsons' elastic baton.
That was compensation for an oddly lumpy Don Juan at the start of the evening, the two love affairs way too slow for an impatient sexual adventurer, the oboe solo in the second sounding coquettish rather than innocent and vulnerable. Only the magnificent horn theme which makes a thrillingly late appearance brought the necessary lift and thrill.
Best, thankfully, was Also sprach Zarathustra, Nelsons and his orchestra recapturing some of that sense of wonder which must have struck audiences in the late 1890s and early 1900s (you could once again hear why Bartók decided to return full-time to composing on encountering the Budapest premiere). This time broad tempi paid off in the early stages as Strauss poetically images Nietzsche's bid to throw off the shackles of earthly mundanity. Every colour from growling tuba to shrill E flat clarinet came through; the start of the multipart string hymn and the twelve-note fugue theme starting on a handful of double-basses and cellos have never sounded more mysteriously compelling.
Once liberated in the "Dance Song" of Nietzsche's Superman, the volatility came close to going off the rails. It didn't help that leader Sebastian Breuninger's was turned away from those of us seated to the left of the stalls, allowing us to catch only sudden lunges and not much else. But the orgy at the midnight bell was duly thrilling, the incandescent epilogue bewitching and fully in tune from the woodwind; there had been a few clarinet intonation problems in Don Juan.
That you could never say for a moment of Romain Guyot (pictured above by Jamie Smith), principal clarinettist of the Chamber Orchestra of Europe, which furnished a top team of six players for this year's Europe Day Concert at St John's Smith Square (★★★★). The jewelled centrepiece was Guyot's spellbinding solo performance of "Abîme des oiseaux" – cusp of silence to ear-ringing full frequency - from Messiaen's Quartet for the End of Time, which he so eloquently introduced as to imply that the wartime prison-camp circumstances of composition linked to the EU's unfaltering support for Ukraine under terrible circumstances. The audience stood for both the Ukrainian and European anthems at the end of the concert, both supremely eloquent on string quintet.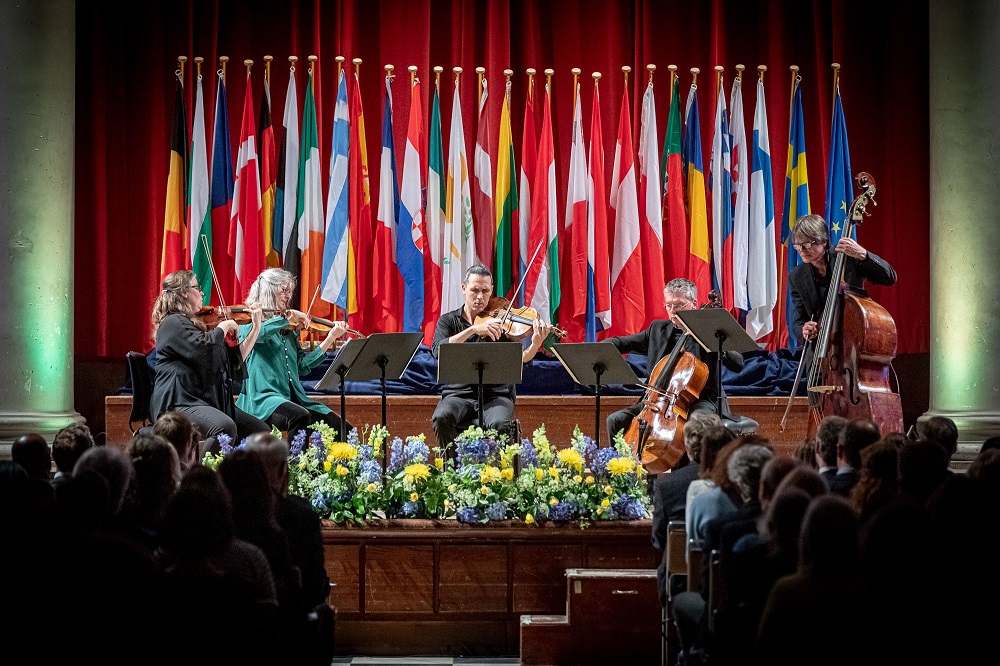 Three of the players, second violinist Elizabeth Wexler, cellist William Conway and double-bass player Enno Senft, are proud founding members of the COE from back in 1981; first violinist Lucy Gould joined in 1996, very distinctive viola-player Nimrod Guez in 2019. The sophistication was supreme, from Gould's matching of Guyot's natural ornamentations in the Mozart Clarinet Quintet – he performed it, I think, in the original basset-clarinet version, with a higher preponderance of low notes – to the subtle freedoms in the heart-easing slow movement of Dvořák's Second (G major) String Quintet.
It was not the players' fault if a part of the audience, riveted by the Messiaen, started to get restless at this point; previous events have served up a banquet of shorter works for full orchestra, more in keeping with a full celebratory programme that always begins with speeches. The best ever, I think, came this year from Clemetine Aagaard (pictured below), confident and charming head girl of the Grey Coat Hospital Comprehensive School for Girls just down the road, on why young people should always be part of the European project.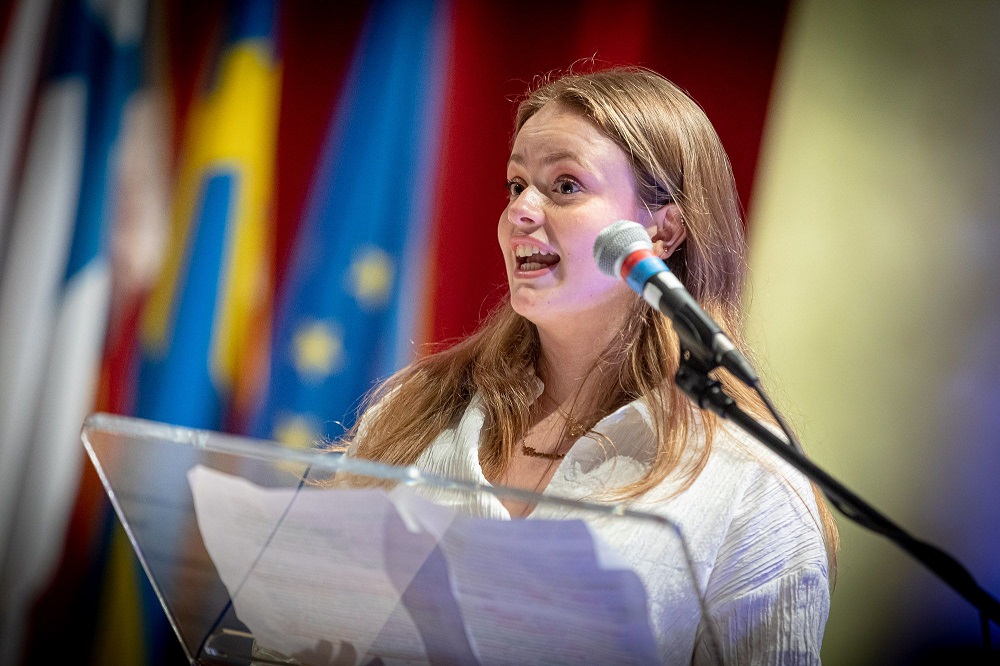 Other students were in attendance, special attention having been paid to this European Year of Youth. Though their rights to travel and work freely on the continent have been taken away from them, on Monday evening they could feel part of something bigger. Long may the Europe Day Concert tradition continue in London.