George Szirtes: The Photographer at Sixteen review – how grief becomes art |

reviews, news & interviews
George Szirtes: The Photographer at Sixteen review – how grief becomes art
George Szirtes: The Photographer at Sixteen review – how grief becomes art
A poet's moving memoir of his mother and the barbarism that haunted her
Exposures: George Szirtes
How long does it take for grief to crystallise into art? No timetable can ever set that date. The poet George Szirtes's mother took her own life, after previous attempts, during the hot summer of 1975 in the outer London suburbs where she lived. The fate of the woman born, as Magda Nussbächer, to a Hungarian Jewish family in Romania in 1924 has shadowed earlier sequences of poems by Szirtes. They dramatised, and imagined, scenes from his family history.
Not until now, more than four decades after his loss, has the vast emptiness she left behind resolved into a prose memoir.
Certainly, The Photographer at Sixteen is no less artful, no less consciously shaped, than any poem. Its narrative spools backwards from Magda's death into the murkier territories of her youth and girlhood, where her son must strain to find and follow her in places beyond the reach of memory. Photography – the trade and art that Magda pursued in post-war Budapest – informs all his story-telling. Szirtes reflects on the occult power of its images to stop or shuffle the time that "tumbles about them chaotically, future and past indistinguishable, simultaneous, like voices in storm". Pictures of Magda herself, of her husband László, of George and his brother, of other relatives devoured by time and genocide, punctuate his narrative in a ghostly counterpoint. For all this formal craft and cunning, though, an unannealed pain that no word or picture can assuage periodically breaks through the surface of the prose. And it pierces you, like a jagged rock on a dark path that cuts the lost walker's feet to shreds.
At first, Szirtes tells his own as much as his parents' story. There is the postwar childhood in humdrum but peaceable north-west London, with its standard-issue frustrations and rebellions; the refugee family, in flight after Soviet tanks crushed the Hungarian uprising of 1956, who prospered modestly – house, car, holidays – in their strange island home; the live-wire mother burdened beneath her glamour, vivacity and "superhuman" will by chronic heart problems and (we gather) depression with lacerating roots. For Magda, that Middle European whirlwind improbably becalmed as a Metroland housewife, "Life was about survival first and foremost". As time slips and the leaves in the Szirtes photo album ripple backwards, we glimpse just what she had been forced to survive.
As narrator, Szirtes finds himself implicated in every step on this arduous journey. Magda's children answered an overriding need in her for "intense consolation" after "the pain of contempt, rejection and devastating loss". George, her "little squirrel", took a place from birth along an arc defined by tragedy. As isolated snapshots build into a family portrait, and a historical fresco, we grasp the wider picture.
Both Magda and László came from secular Jewish backgrounds. Even in London, Magda associated her origins with an accursed destiny and welcomed George's marriage to a woman from a liberal Baptist family as further escape from "the minefield of Jewish identity". As for László, he had begun as a plumber's mate in Hungary, and, assisted by his impeccable working-class credentials, rose fast under the Communist regime to become a senior official in the construction ministry – Hungary's top plumber, if you like. As a Jew, though, he remained forever vulnerable: a factor in the Szirtes family's perilous flight over the Austrian border and on to London in 1956. They had dreamed of migration to Australia, but Magda's heart condition barred their way.
Szirtes seizes this scorchingly intimate material from a dramatic, episodic – indeed, photographic – angle. He avoids forensic hindsight. As he writes of Magda, "I want to report her presence and register it as it moved through life by moving back into her own past with her". We remain aware of the necessary distance between observer and observed. Even with a mother's life – especially, perhaps, with a mother's life – empathy and identification will hit a wall of unknowable inner experience. Not even the most loving child can surmount that. So he must make things up. But "the trick is to invent the truth".
Szirtes does that wonderfully well, even in those passages that test the resources of insight and imagination to the very edge of possibility. For this, we discover, will also be a Holocaust memoir. László lost relatives to the camps; as for Magda, most of her family was "wiped off the face of the earth" after the Nazi occupation of Hungary had triggered mass deportations in 1944. Magda herself survived months in the infamous women's camp of Ravensbrück and, later, at Penig near Leipzig. Her son knows he cannot really cross the wire with her; but he recreates these terrors in a wholly credible and subtly understated style. One bravura passage portrays this "walking corpse", who weighed 38 kilos on her release, slowly coming back to life and health after the liberation of Penig by American troops (one of whom fell in love with her). In a photo of Magda with the fresh-faced GI, she looks robust; almost radiant. Within, her injuries remained unhealed. After the camps, "She grew bitter about humanity at large." This book lets us measure the abyssal depth of those invisible wounds.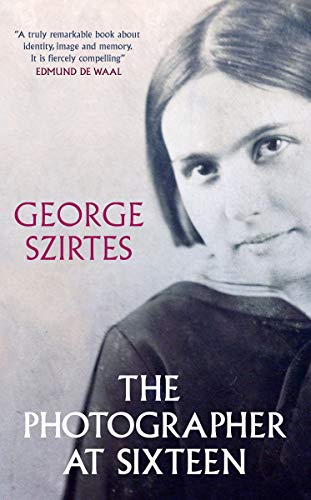 For the Nussbächers, the Holocaust had torn a gash in time that no consoling narrative could ever stitch back again. Szirtes, though, presses on, and presses back, into a final act that lays out five haunting photos from Magda's childhood – of herself, of her relatives – like a poker hand that gambles on some last-gasp salvation. However, not even these flash-lit instants of grace can arrest the slide towards doom. "The storm seems to freeze for a moment but will not settle and starts up again."
Coming near the end of this beautiful, devastating work, this passage inevitably put me in mind of Walter Benjamin's "Angel of History"; that spirit who, with his face "turned towards the past", perceives not a chain of events but "one single catastrophe which keeps piling wreckage upon wreckage and hurls it in front of his feet." Benjamin's angel, inspired by a Paul Klee painting, "would like to stay, awaken the dead, and make whole what has been smashed." But a storm blows in from Paradise that "irresistibly propels him into the future". Benjamin tried to identify that ruinous storm with "Progress". With its agonising development of long-buried traumas, The Photographer at Sixteen seems to forbid hope in the sort of progress achieved through a new country, a new name, a new family. A thin veil of change, like the "skin and scent" evoked by photographs, only masks the utter wreckage of the past. Perhaps real progress, true healing, Szirtes hints, can be found alone in fresh creation, like "the magic art of poetry" that so bewitched him as a teenager. Or the magic, time-defying art of prose as quietly fierce as this.
The Photographer at Sixteen: the Death and Life of a Fighter by George Szirtes (MacLehose Press, £14.99)