A Midsummer Night's Dream, The Grange Festival review - heroic comedy in hard times |

reviews, news & interviews
A Midsummer Night's Dream, The Grange Festival review - heroic comedy in hard times
A Midsummer Night's Dream, The Grange Festival review - heroic comedy in hard times
Rough-edged but recognizably Britten's creation, this show has gone on against the odds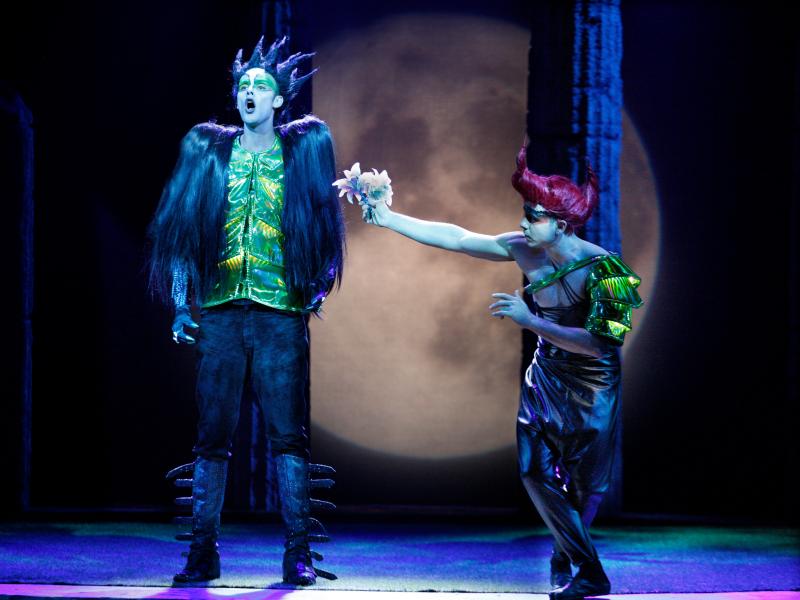 Alexander Chance as Oberon and Chris Darmanin as Puck
When the history of 2021's slow emergence from lockdown comes to be written, musical administrations will stand out among the heroes. That's especially true of the country-house opera organisations which have mushroomed in recent years.
Don't ask where some of the money comes from, or who it's for, but celebrate for now how much work these set-ups have given top-notch singers, players and production teams, many of whom have hardly worked in the previous 14 months. Michael Chance at The Grange Festival has had a particularly tough time – we don't know the half of it, though I learnt a little more in the interval last night – including the last-minute necessity of finding a solution to the fact that a full Bournemouth Symphony Orchestra couldn't be accommodated in the small pit.
That solution yields a little miracle. Owing to Covid complications, the very experienced Sian Edwards recorded a soundtrack with the orchestra, while another conductor, Anthony Kraus, can sit back during introductions and interludes, but works with recording producer (and fine young conductor in his own right) Tom Fetherstonhaugh to adjust to the singers (I'd love to have had insight into how this functions, but it does, magnificently). A smaller group in the pit wouldn't have captured all the colours of one of Britten's more larger-scale and luminously variegated scores, and those forest sighs and groans on glissando strings in one of opera's most phantasmagorical openings wouldn't work on pianos. The co-ordination isn't quite as perfect as you would expect with a live 42-piece band, but it's remarkably good and carries a real charge in Britten's more visceral moments (Bottom's asinine transformation causing panic among the other mechanicals, for instance, or the mounting wildness of the lovers' quarrel. Pictured below: the first-night Bottom, Henry Waddington, with Samantha Clarke's Tytania).
Another snag is that, with the decision made to set back the opening of the season to what Chance had hoped would be the end of lockdown meant that director Paul Curran had to return to America several weeks before first night. That may be why the ensemble acting isn't as tight as it could be; less fuss, action and mimed talk around the main dramatic events would have yielded more focus, though it was a good idea to present a stylized version of the Act One tangle at Theseus's court before the music begins in the wood (which is actually, in Curran's set design, a ruined Greek temple, Sounion-style, revolving when the web gets tangled to no great effect and much creaking). The intent of some of the gestures seems a bit half-hearted, much like Gabriella Ingram's costumes – outlandish, but not enough (why not go the full glam-rock hog? Why does Tytania's hoop-skirt go so very high at the front, why the blood on the train? And the Greek references – in a drama where Athens is only a nominal setting – don't go far enough in the lady lovers' garb at first, a bit too far in the last act, though it fits the lamentable comedy of Pyramus and Thisbe well). Puck looks good but Chris Darmanin isn't encouraged to be naughty enough; a few agile leaps on to broken columns are about as far as the characterisation goes.
The real riches are vocal as well as orchestral (fabulous double-bass solos in the soundscape, though Puck's trumpet needs to be more forwardly placed). Lest we think of it as nepotism that Michael Chance's son Alexander now gets to shine in his father's most famous role, it must be pointed out that three others who were cast had to withdraw because of the nature of the times. And Chance the Younger sings it really beautifully, with proper nuance. If he isn't yet naturally authoritative on stage – this is his first role – it seems that Curran has encouraged a stillness in him which others could sometimes adopt. His Fairy Queen is Samantha Clarke, graduating (or sidestepping) from her role as an hilarious Helena at the Guildhall School of Music and Drama (where she was awarded the Gold Medal in 2020). Playful, rapturous, sexy-coquettish in Tytania's dream-idyll with Bottom, she manages everything with exquisite musical taste.
Eleanor Dennis is the plucky Helena here to Angela Simkin's more grounded Helrmia; Lysander really requires a beefier tenor than the lightish Peter Kirk, but there's no denying he and Alex Otterburn's very promising Demetrius look good in the underwear to which the lovers are so often reduced in play and opera. Not quite so convincing that, presumably due to Covid restrictions for hands-on engagement, all four somewhat unconvincingly take their own clothes off. There are some ingenious gags throughout the long and tricky spat of Act Two, though. Last-minute vocal lustre comes from Roberto Lorenzi's Theseus and Angharad Lyddon's Hippolyta, gorgeous of voice and figure (pictured above on the right with Dennis, Otterburn, Simkin and Kirk).
The mechanicals need more focus in their rehearsal scenes, but pull off a genuinely funny play before the Duke. Scene-stealer is Ben Johnson's resourcefully reactive Flute as Thisbe, as fits how Britten wrote the role (for partner Peter Pears to give a wicked impersonation of Joan Sutherland as Lucia). But there's also funny-mug work from Gwilym Bowen's Snout/Wall, Johnny Herford's Starveling/Moonshine and Sion Goronwy's tunic-losing Snug/Lion. Last night was the originally-cast James Platt's first as Bottom – happy day for the Grange when his Covid test returned negative – and this is one hell of a rich bass voice, alongside Goronwy's and William Thomas's as Quince:a golden age has dawned for the voice-type among young singers, it seems. Not often laugh-out-loud hilarious, but rich of hue indeed.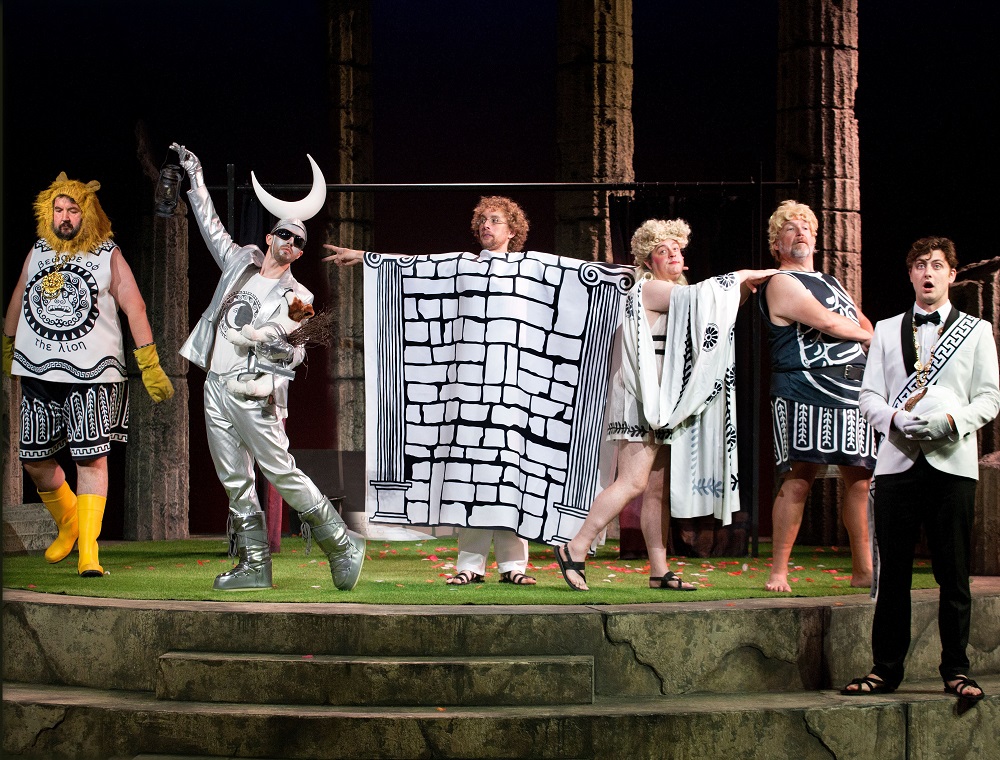 It's a shame the Fairies couldn't have been sung by boys, as Britten intended – there's real pathos when that happens – but young women from the Royal Academy of Music do as good a job as they possibly could, even if I'd have preferred to see less of them when the orchestra is doing its job of creating wood-magic during interludes which require only an empty stage. Overall, though, an excellent cast - the three stars standard become five given pandemic difficulties - and here's a thought: since The Grange Festival has its orchestral soundtrack already, why not record the whole thing for sound-only release? That's something Garsington used to do, and it could have a wide listenership. One good piece of news came at the end of the evening, when Michael Chance came onstage to tell us not only that England had won against Germany, but also that there can be full houses for Thursday. So more tickets have suddenly become available.