Edinburgh International Festival 2019: Eugene Onegin, Komische Oper review - no-holds-barred romanticism |

reviews, news & interviews
Edinburgh International Festival 2019: Eugene Onegin, Komische Oper review - no-holds-barred romanticism
Edinburgh International Festival 2019: Eugene Onegin, Komische Oper review - no-holds-barred romanticism
Stunning singing in a luxuriant and lovely production
Günter Papendell as Eugene Onegin pleads with Tatyana (Asmik Grigorian) to run away with him
Returning to Edinburgh International Festival, Berlin's Komische Oper brought Barrie Kosky's sumptuous production of Eugene Onegin to the Edinburgh Festival Theatre. It's a production that isn't trying to do anything overly clever or convey a layered meaning; it's simple in its grandeur in that it looks beautiful, sounds beautiful, and is faithful to Tchaikovsky's music and Pushkin's story.
The curtain comes up to reveal a lush green stage, complete with grassy carpet and a rich forest behind, designed by Rebecca Ringst. It is the garden of sisters Olga and Tatyana's house, and the two girls, dressed in pastel colours, sing a light-hearted duet, while two their mother and their nurse, clad in black, reminisce on their past loves and losses. Karolina Gumos, as the happy-go-lucky Olga, is cheerful and charming, as she waits for her betrothed, Lensky, sung by Ukrainian tenor Oleksiy Palchykov, to arrive. Olga's more serious sister, Tatyana, was gloriously sung by Lithuanian soprano Asmik Grigorian. Her voice is rich and impeccably controlled, but still with a human honesty to it, which wonderfully portrayed the angst of the teenage Tatyana.The chorus, dressed in colourful, sweetie-paper shaded hues, frolic and play in the background, though this can be a bit distracting, especially the pair who are playing actual badminton on stage – what if they dropped the shuttlecock?! (they didn't).
As Lensky arrives, he brings with him his friend Eugene Onegin, sung by German baritone Günter Papendell. Papendell has a gorgeous, velvety voice - the kind that would inspire you to write him a love letter having met him only once. The instantly lovestruck Tatyana pours out her feelings, first to her nanny Filipyevna – whose stern yet caring nature was portrayed by Margarita Nakrasova – and then in a long letter to Ongegin.
Act Two sees Tatyana's family throw a party for her name day. Though beginning in high spirits, things soon turn sour when Lensky becomes jealous of his betrothed, Olga, dancing with Onegin. Papendell and Palchykov stagger around on stage, bottles in hand, portraying the two characters as steaming drunk, getting into a needless brawl. As the rest of the guests leave the stage, their absence is felt, and a darker sense of gravitas was brought to Lensky and Onegin's duel scene, bringing the second act to a chilling end.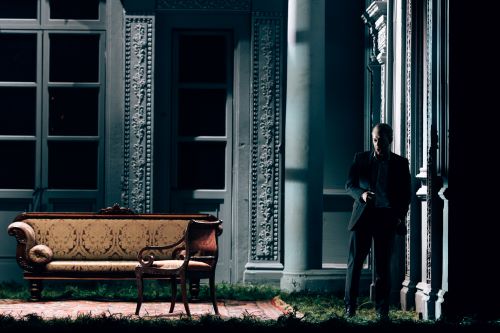 After the interval, Act Three begans, years later, in the now grown up and married Tatyana's house. The whole fashion sense has changed too, the chorus out of their cute, colourful frocks and now in luxurious, sophisticated gowns. Onegin pays a visit to this stately home and is overcome when he sees the lady of the house is Tatyana, whom he coolly rejected all those years ago. As the realisation dawns on him, the walls and furnishings of the house are slowly dismantled from round about him, leaving him once again in the forest of Tatyana's family home. Papendell's impassioned duet with Grigorian, as Onegin begs Tatyana to run away with him, had a tremendous amount of emotion. Grigorian was truly fantastic here, singing with a perfect balance of vocal control and raw human emotion. As she heart-wrenchingly tells Onegin their love is doomed, it starts to rain on stage. Yes, real rain – apparently the grass is blow dried in a lorry behind the theatre after each show.
The orchestra of Komische Oper Berlin sounded tremendous under the baton of Ainārs Rubiķis, producing swooping, cinematic sounds. With polished performances both on stage and in the pit, this was a no holds barred, heart on sleeve telling of one of the greatest operatic tales of unrequited love.
Papendell's Onegin has the kind of voice that would inspire you to write him a love letter having met him only once
rating
Explore topics
Share this article