What We Do In the Shadows, BBC Two review - black comedy vampire spin-off from cult movie |

reviews, news & interviews
What We Do In the Shadows, BBC Two review - black comedy vampire spin-off from cult movie
What We Do In the Shadows, BBC Two review - black comedy vampire spin-off from cult movie
Squabbling neck nibblers raise the undead in spritely sitcom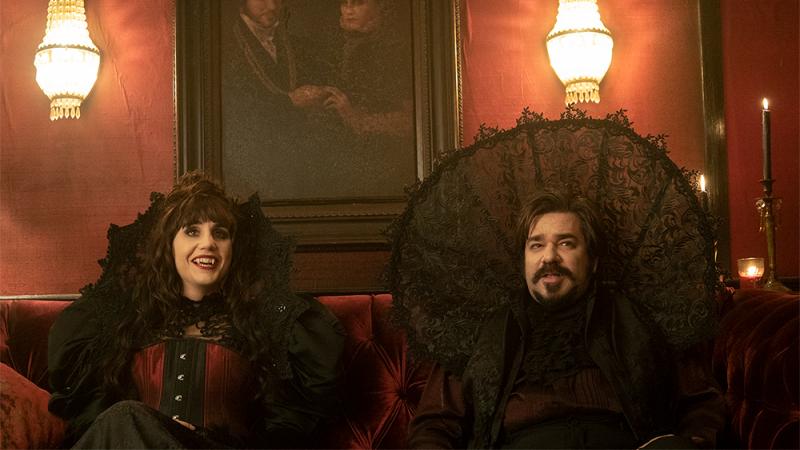 Nadja and Laszlo share dental hygiene tips
This is a toothsome treat for Sunday nights and one of those rare occasions when the BBC has got hold of the kind of nifty comedy series that Netflix usually pumps out. What We Do in the Shadows started out as a New Zealand vampire flick in 2014.
Two Kiwi friends, comedian Jemaine Clement and Taika Waititi (who went on to helm
The Hunt for the Wilderpeople
and most recently
Thor Ragnarok
), created it. Their affectionate portrait of the every-night life of a house occupied by squabbling vampires living in downtown Wellington became something of a cult hit.
Now comes the spin-off tv series which sees the bickering blood-suckers relocated to the New World. They had to leave the old country after encountering too much prejudice against the ghostly colour of their skin and the fact that they had a tendency to kill people and drain their blood. It's all very silly but endearing, with a faint whiff of The Young Ones, Third Rock from the Sun and the original mockumentary Spinal Tap. Goth fans of Twilight and the cerebral Let the Right One In probably won't enjoy the relentless spoofing of vampire conventions.
This opening episode was all about establishing the cast of characters; Nandor the Relentless (Kayvan Novak, pictured above left), who "pillaged everyone" in the Ottoman Empire but finds it hard to command much respect with his camp delivery and penchant for glitter and crepe decorations. Insurrection comes from Laszlo (Matt Berry), a smug British vampire who likes to play the organ and doesn't mind which gender he has sex with as long as it's suitably disgusting. His mistress is Nadja (Natasia Demetriou), who yearns for her long-dead human lover Grigor and stalks a hunky New Zealand bloke who looks a bit like him.
Lurking in the basement is Colin Robinson, a horribly dull energy vampire in a drab grey suit who bores his victims into torpor with his interminable conversation. The task of finding virgin victims, disposing of the corpses and keeping the sunlight out of the house falls to Guillermo (Harvey Guillén, pictured above right), a familiar who longs to be turned into a vampire as a reward for 10 years of slavery. The undead's domestic routine is disrupted by the arrival of the Dark Lord, Baron Afanas, who rises from his coffin like a skeletal mime artist. He wants to know what they are doing in miserable Staten Island and why they have yet to conquer America.
The special effects are minimal but effective, there are some witty if grisly illustrations and the well-designed set has a little of the flavour of The Addams Family films (Hollywood veteran Scott Rudin produced both). Intercutting the drama scenes are sit-down interviews addressed to an invisible documentary crew which allow plenty of jokes as each character reveals their dreams and irritation with each other. It should be fun to see how it develops over its 10-episode run.