Coming Clean, King's Head Theatre / Twilight Song, Park Theatre reviews - gay-themed first and last plays falter |

reviews, news & interviews
Coming Clean, King's Head Theatre / Twilight Song, Park Theatre reviews - gay-themed first and last plays falter
Coming Clean, King's Head Theatre / Twilight Song, Park Theatre reviews - gay-themed first and last plays falter
Kevin Elyot's 1982 debut has value, but his swansong should have stayed in the dark
Jason Nwoga and Tom Lambert in 'Coming Clean'
Like his smash-hit My Night With Reg, Kevin Elyot's first and last plays have a role to play in the history of gay theatre, but do they work? Emphatically not in the case of Twilight Song (★★), completed – one is tempted to say, sketched – shortly before his death in 2014, though four out of five actors at the admirable Park Theatre give it their best shot.
Coming Clean
(★★★) is a different matter: a frank and well-structured essay in a crumbling relationship from the early 1980s, before AIDS truly came to the fore in the London scene.
Unfortunately Coming Clean – the innuendo isn't pertinent and it's a shame Elyot was compelled to change the original title, Cosy, with its play on the Mozart opera, the famous trio from which has a key role in the drama – gets the less accomplished production and performances. Which is a pity, because the insecurities of its characters mostly ring true and haven't dated despite the period detail. Thirtysomethings Greg and Tony are celebrating five years together, but theirs – it quickly becomes obvious – is a relationship built on sand, and when a seemingly gauche young god engaged as their cleaner comes to play in the pit, things swiftly fall apart.
The catalyst for Elyot's waspish and often unkind humour is Tony's camp, outrageous Bradford pal and fellow clubber William, played note-perfect by Elliot Hadley. Jason Nwoga makes Greg rather dislikable, presumably the intention: a writer from New York who takes himself too seriously (and whose accent slips from time to time). The weakest link is the one which needs to be the strongest, Lee Knight as Tony (pictured below with Nwoga) – too brittle for the pathos which needs to accumulate, though he does sob well when the bombshell drops that a new love, rather than another casual sexual relationship, has blighted the picture.
He also just about carries off Elyot's masterstroke, a seventh and final scene in which Tony manages to tell us all we need about the ultimate failure of the relationship through a linguistic misalliance with a leather-clad German pick-up (Hadley, very good again). Tom Lambert is not only that rare thing, a young actor who carries off walking around the stage stark naked – physical perfection helps, let's face it – but also gives his own take on cleaner and would-be actor Robert presenting as a naive ex-public-school graduate. So the slyness in getting his man really pays off.
Adam Spreadbury-Maher's production is competent in the small space of the King's Head, but not quite right on the detail within Amanda Mascarenhas's designs: the Kentish Town flat where the action takes place is grim, with more than a hint of rising damp, when Elyot writes that it has "the potential of being tasteful, but lacks the necessary care" (William, as usual, nails it – "good orgasms are much more important than clean surfaces, don't you think?" – except that good orgasms are not being had by the main couple). Showing the kitchen was a mistake; anyone in there would hear the conversation taking place in the main room (call me literal, but so is the set). And the music which plays a crucial part – Greg and Tony's "tune" is the Barber Adagio, Robert wants to have sex to Mozart's "Soave sia il vento", and the Schubert Quintet plays in the final scene – doesn't always come from the right records (no inner sleeves, quelle horreur) and sounds too quiet on the gramophone.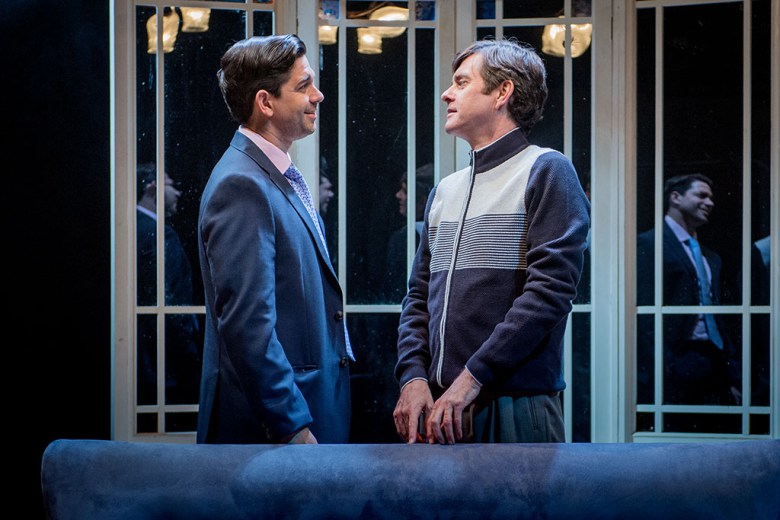 Music is heard on various sound-systems, too, in Twilight Song, though why we have to get a snippeted but still protracted version of Tchaikovsky's Nutcracker Pas de Deux is as much of a puzzle as the mostly cipherish characterisations. Barry (Paul Higgins) lives with his appalling mother Isabella (Bryony Hannah) and in a goodish opening scene initiates grubby sex with an estate agent who seems to be gay for pay (Adam Garcia, pictured above with Higgins by Robert Workman). The drama quickly loses its grip, though, with flashbacks to the 1960s and the unhappy early days of Barry's parents' marriage (Higgins also plays Barry's father, a nonentitiy of a role). The one strand which might have been more interestingly developed is between Uncle Harry (Philip Bretherton) and his covert lover Charles (Hugh Ross, very fine), blighted by pre-1967 fear of imprisonment.
Instead the interest is supposed to focus on Isabella, a malcontent for whom it's impossible to care since she has no hinterland. The mousey and not always audible voice Hannah brings to the role further blights any chances of involvement, and she's inadequate as the bitchy 75-year-old from whom Barry can't get away (why not?) Eventually it's seen that Isabella's own indiscretion, or rather its source in a cocky gardener (Garcia again), ties all the strands together in a horrid way, but who cares? The poetry misfires and the "grab what happiness you can while you can" motif is just banal given such thin context.
It's still a pity that the many lovely evenings and sunsets referred to by the characters aren't seen in James Cotterrill's otherwise note-perfect designs or Tim Lutkin's lighting, but Anthony Banks's production does well enough with a dud. It's just possible that had Elyot lived the drama might have been developed in rehearsal, but the fact remains that whoever looked at the script should have decided it were best consigned to the flames.