Sunday Book: Zadie Smith - Swing Time |

reviews, news & interviews
Sunday Book: Zadie Smith - Swing Time
Sunday Book: Zadie Smith - Swing Time
At home and abroad, a nimble novelist dances through divided lives and changing times
Zadie Smith: 'an author of vast, varied gifts'
In his lovely memoir My Father's Fortune, Michael Frayn dubs the Holloway and Caledonian Roads the "Tigris and Euphrates" of his family history. In that case, just a few pages west in the London A-Z (the mystic scripture that baffles an American celebrity-minder in this novel), the course of the Kilburn High Road and its flanking suburbs must count as Zadie Smith's grungy, gridlocked Nile.
Her ever-fertile source, it floods into a rich silt of fictions - from her debut novel
White Teeth
(2000) to
NW
(2012, with a BBC2 dramatisation due next week) - where this urban microcosm focuses change across a wider world.
When Smith's nameless narrator in Swing Time spots her best mate's errant dad as far away as Kentish Town, it shocks her: "I really couldn't think beyond a one-mile radius". Although it spans the high life of Manhattan and the hard life of a dirt-poor village in a tiny, dictatorial West African state much like The Gambia, Swing Time always loops back to NW6 and NW2. Here, for a dance-mad heroine who grew up spellbound by the liberating moves of Fred Astaire or Michael Jackson, life first found then lost its footing. And here she must finally pick herself, dust herself down, and start all over again.
The narrator - a first-person experiment for Smith, lavishly gifted with her maker's own wisdom and fluency - grows up, ambitious and respectable, on a housing estate. She spars with her fiercely autodidactic Jamaican mother but chills out with her warm, easy-going white English father, a Royal Mail worker. Best schoolfriend Tracey has the same "shade of brown" but parents of the opposite colours (the proper way round, she thinks), an Aladdin's cave of shiny toys, and precocious talent as a dancer: "a darker Shirley Temple".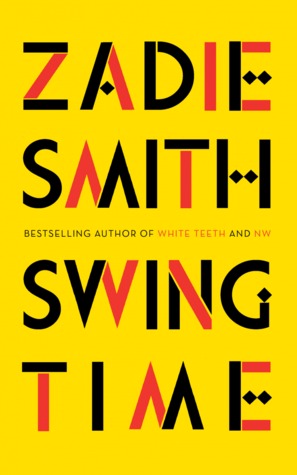 Our driven storyteller forsakes the glamour of dance for fitful study, work on the glitzy side of TV production and, for a decade, a globe-trotting berth as personal assistant to an Australian pop mega-star: a monstrously charismatic Kylie-Madonna-Angelina mash-up. Volatile Tracey, meanwhile, trips and taps her hard-working way into West End musicals but soon stumbles, aggravating the tension always half-hidden in their duelling friendship. Prone, like many of the rural Africans we meet, to belief in conspiracy theories about a wicked global elite, Tracey's sorry paranoia makes grimly topical reading as the world wakes up to the reality of President Trump.
Smith's work so often turns on the forking destiny of doubles. Paired and parallel characters prove to us via their divergent paths how class, or race, or history, or fate - or all of the above - can make aliens and strangers of mates and intimates. Early, we hear of two blameless kids thrown by muggers into the Thames: "the one who lived and the one who died". It might be her motto.
Swing Time shuns straightforward chronology. Its time-twisting choreography starts and ends with the narrator sent back from New York in disgrace after a media scandal has engulfed her boss, Aimee. In between, scenes of our heroine's perilous two-step with Tracey alternate with her mother's steel-willed rise to become a Labour MP, and spangled glimpses of life in the slipstream of global celebrity. At length, Aimee's grandiose plan to set up a girls' school in Africa permits Smith not only a return to the roots of the dance, captured as nimbly as any writer could, that both kids adore. It prompts a strenuous but consciously slow-moving attempt to evoke not just another culture but (via a synopsis of an avant-garde documentary that can only be Chris Marker's Sans Soleil) "different notions of time".
For this is novel about time more than about dance. To the narrator, dancers - above all those burdened by a past of slavery and subordination - embody "a different kind of history". Or rather, they may swing clean out of history's orbit into a utopian present of weightless bliss. Aimee, who shrewdly channels the legacy of black dance, can surf straight over "the waves of time" that drown ordinary mortals. "A great dancer has no time."
In contrast, the feminist, Marxist mother reminds us of the iron hand and leaden feet of time-bound history. Time will ineluctably drag her, her daughter and the hapless, graceful Tracey down to earth. Read Smith's fiction, or consult her first-rate critical pieces, and you will frequently sense an author of vast, varied gifts pulled between two aesthetic poles: time-defying formalism, and time-embracing narrative. Call it synchronic versus diachronic fiction; or, perhaps, Modernist Zadie and Realist Zadie. Swing Time deepens that creative goldmine of a quarrel, although the smooth, sumptuous purr of its first-person storytelling - which even began to remind me of Charles Ryder's voice in Waugh's Brideshead Revisited - gives history the upper hand.
For all the finesse and audacity of its insight, in top-end showbiz New York as much as on the scrubby red ground of the village, Smith observes these locations, but inhabits her London. To our narrator, in thrall to the gravity- and history-defying moves of the vaulting gods of Hollywood and MTV, "a dancer was a man from nowhere… without a nation or people". But Smith herself can drift when far away from home. In the village, she delights in the creation of sexy, pious, merrily conflicted trainee teacher Hawa - a smart girl who would feel right at home in Willesden - but the conscientious wrangles over aid, power and philanthropy slow time to a crawl.
Such a verdict can sound reductive: as if the critic yearns to tether the author to her 'hood and block the flight - the dancer's leap - from the presumptive limits of class, gender or colour that propels all Smith's leading ladies. On the contrary: think of Faulkner's Yoknapatawpha County, Joyce's Dublin, or - most germane in this case - George Eliot's Middlemarch. Classic fiction can always mine universals from particulars. In her critical collection Changing My Mind, Smith has an incisive essay on Eliot that renders homage to the Victorian writer's fathomless generosity of attention, as her small Midlands town yields an entire planet of humanity. For Smith, Eliot's art of intensive, inclusive sympathy shows that "we are one another's lesson, one another's duty". Even within the bounds of a single postcode, that lesson need never end.
NW is on BBC Two at 9pm on 14 November
Tracey's sorry paranoia makes grimly topical reading as the world wakes up to President Trump
rating
Explore topics
Share this article