Björk Digital, Somerset House |

reviews, news & interviews
Björk Digital, Somerset House
Björk Digital, Somerset House
Virtual-reality show confirms Björk's place in the avant-garde
Thursday, 01 September 2016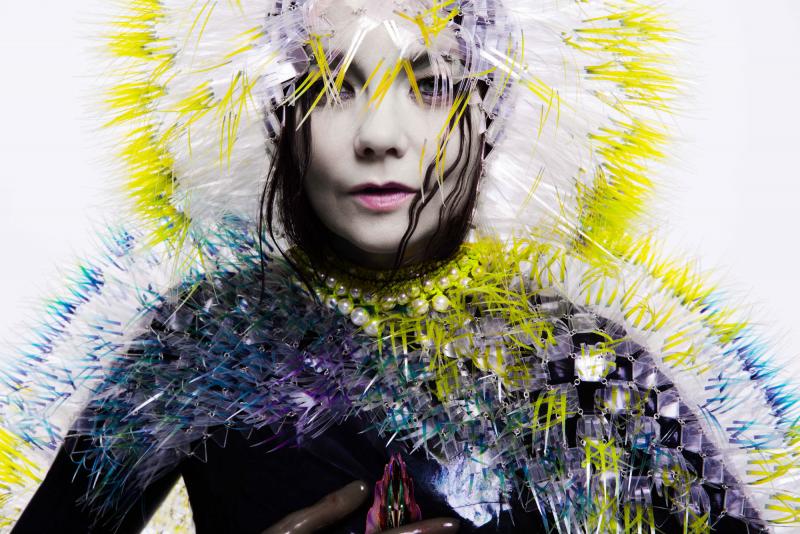 Björk: vulnerable and unguarded
Australia and Japan were first to host Björk Digital, but it lands at London's Somerset House with fresh, never-before-seen work. The immersive virtual reality exhibition collates several digital- and film-based works born from Björk's critically acclaimed album Vulnicura.
Arguably her most revealing release to date,
Vulnicura
– in all its forms – documents the destruction of her marriage, with devastatingly unguarded lyrics.
Visitors are greeted by a 360-degree film commissioned by the Museum of Modern Art, Black Lake. Accompanying the track of the same name, the dual-screen panoramic video lands you in the harsh terrain of the Icelandic highlands. With the support of an impressive surround sound system, Björk serenades viewers with arguably the most emotionally bare track on the Vulnicura album: "Our love was my womb but our bond has broken,/ My shield is gone, my protection is taken." The impact induces a lump in the throat. Directed by Andrew Thomas Huang, the Icelandic landscape is striking, although it's Bjork's theatrical choreography that steals our full attention, vulnerable and unguarded.

"Stonemilker" VR (pictured above) transports us to a remote Icelandic beach. Seated, we follow Björk delivering a recital for one. For a few moments we see double, teased by not one but two Björks in a fantastical spectacle of sound and vision. You almost forget that you're wearing snug goggles and headphones. That is, however, if you manage to adjust them to your liking in the first few seconds of putting them on – the sound and film begin automatically as you secure them around your head. Immersed in this virtual reality bubble, your personal experience is unaffected by the mumbled ponderings of others around you; you are encouraged to look not just around you, but also inwardly.
It explores the concept of how music, technology and nature connect
It's not just inside ourselves that we're looking, though: "Mouth Mantra" VR (pictured below), created by Björk in collaboration with director Jesse Kanda, teleports the viewer into the inside of Björk's mouth. She sings the song of the same name, as we sit exploring Björk's tongue and teeth. The view gradually begins to warp before your eyes, so hold on to your seat. Whilst the experience is immersive, some blurred vision (depending on how the goggles sit on your nose) and tangled headphone cables can distract slightly from the overall experience. Whilst I was able to enjoy the journey around Björk's mouth – a line I never thought I would write, nor read – I found myself holding the goggles to my nose in order to fully appreciate the immersive view. Don't be put off, just prepared; adjusting the goggles up and down your nose until you get it just right will quickly fix blurred vision.
"Notget" VR is particularly striking. Directed by Warren du Prees and Nick Thornton, we witness an illuminating Björk evolve into a digital moth giantess, growing taller throughout the song, and seemingly inches in front of us. Neon colours glow with the strength of 100 fireflies and the eruption of micro fireworks – quite something to behold.
In a break from goggle-wearing, visitors can make use of the educational space. With an ipad and headphones, you can peruse the Biophillia app, which was released by Björk to accompany the album of the same name in 2011. It explores the concept of how music, technology and nature connect, enabling the user to travel through a constellation of music-making activities. It's certainly made an impact, having been part of the Icelandic curriculum in middle schools for three years. For technophiles who are yet to fiddle with the tool, it's incredibly enjoyable. However, for those already accustomed to the app, it can be a slightly underwhelming finale to a great show.
The exhibition reminds us that Björk is an artist whose innovation expands the creative boundaries set by popular culture. So forward-thinking is her innovation, that even virtual reality – with its need for you to find the sweet spot on your nose in order to get the full experience – has yet to catch up.
From the Icelandic Media Collage in Reykjavik, Björk "attended" a press conference at Somerset House in avatar form, adorning a "mocap" suit. As an innovator in the widest sense of the word, has she ever felt frustrated with technology trying to keep up with her imagination and vision? When asked, she claimed not, and replied, "I look at myself as an average, normal person – someone who builds bridges between the human things we do everyday and technology. I'm more of a liberator." Looking inwards as this exhibition encourages you to do, do allow yourself to feel such liberation. Let's hope Björk Digital becomes the normal.