Sex Party Secrets, Channel 4 |

reviews, news & interviews
Sex Party Secrets, Channel 4
Sex Party Secrets, Channel 4
Fascinating and level-headed look at well-to-do group sex in modern Britain
Thursday, 08 January 2015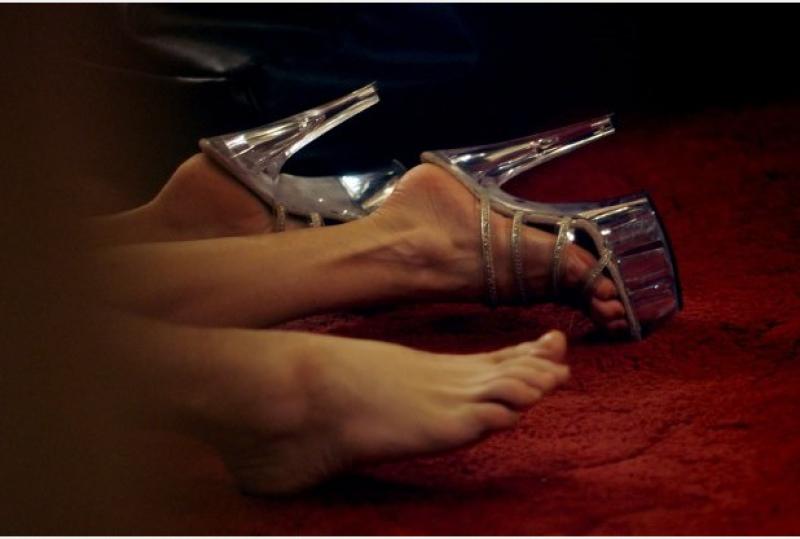 A glimpse of upmarket orgying
Let's face it, we're all fascinated by orgies. The idea of them gets the blood up. Sex Party Secrets promised a window into this netherworld, advising that such events are increasingly popular, that we're becoming a more liberated nation. At least, the rich are. The documentary's hashtag, #POSH ORGIES, lays down the parameters.
This isn't about the world of paunchy, middle-aged suburban wife-swapping but, instead, parties that promise high-end glamour and ecstatic release, as recounted by the organisers, alongside the experiences of attendees.
Director James Newton does a great job marshalling his sources into a subtle narrative, never judging but intimating what drives those involved and what the results are. Chris Reynolds Gordon, for instance, runs the Heaven Circle which prizes itself on youth and "stereotypically attractive", with 90 full members compared to thousands of applicants. We see him and his girlfriend choosing from potential profiles and, in the end, their event has 29 single girls and 60 couples. It's revealed halfway through that he used to be a successful runner, aiming for the Olympics, until his mother died and he inherited her wealth, invested it spectacularly, then lost it all during the recession. He seems very driven. Now he wants to hold the best orgies, to fuck "14 girls in a night". He's not as odious as he sounds, but he does seem a little damaged.
The viewing schedules rely on our desire to nose into other people's sexualityGenial, northern and pneumatically-breasted Louise, who runs Pure Pleasure parties in Ibiza, is much more matter-of-fact. Her 18-year-old son is even present as she sets up. There's an orgy area on the roof of the villa, although he won't be allowed up there later, she says. She tells how her partner of eight years led her into the world of group sex. He died in an accident two years later. She clearly adored him and, while it's not heavy-handed, there's the unspoken implication that her continuing extreme sex life is a tribute to him.
The organiser who seems least comfortable in his own skin is John Blue, once a "reproductive biologist" – or possibly a fish farmer, according to a guest at his party later on. Corsetted, drag queen-eyelashed and disco-glammed he holds a myth-themed event at a mansion in Dorset, talking up his freedom, but giving off the air of someone willing themselves urgently to inhabit a persona they don't quite fit.
More interesting are those who attend the parties, all appearing masked onscreen. Some wanted to live out their fantasies but occasionally these turn out to be not all they'd hoped. "Sandy", very posh, reveals she wanted to try girl-on-girl action but as she explains, looking as if she's just taken a mouthful of sour milk, "It reached towards the end of the evening and things slowed up and I could just taste her." The admirable thing about Sex Party Secrets is there's no disapproving judgemental moral stance (as there always is in TV documentaries about drug use). We are shown happy couples who claim to have moved beyond physical jealousy into realms of mutual pleasure, bonding and personal revelation. However, as "Charlotte" explains, "If you're not strong together you must not step forward onto this path because it will break you up." And, of course, this is what happens to some, losing a wife to her S&M sex partner, or even falling in love, God forbid, and not being sure what to do with that.
As everything reached a - yes, yes, yeeeeesssss - climax, music supervisor Sarah Bridge and the programme's editors should be congratulated for the dynamic collage of blurred body-bits bouncing, orgasmic moaning and a frenzied take on Grieg's "In the Hall of the Mountain King". A huge amount of TV depends on sex. The viewing schedules rely on our desire to nose into other people's sexuality, and to stimulate our own, from reality shows to soap opera drama to the adverts in-between. Despite its huge presence, however, there's rarely much attempt, beyond puerile titillation, to analyse our relationship with it. Sex Party Secrets is a rare creature, a fascinating, well-curated peek at an aspect of contemporary British sexuality.
Overleaf: Watch a trailer for Sex Party Secrets