Meet the Police Commissioner, Channel 4 |

reviews, news & interviews
Meet the Police Commissioner, Channel 4
Meet the Police Commissioner, Channel 4
David Cameron's big idea in action mercilessly scrutinised by docusoap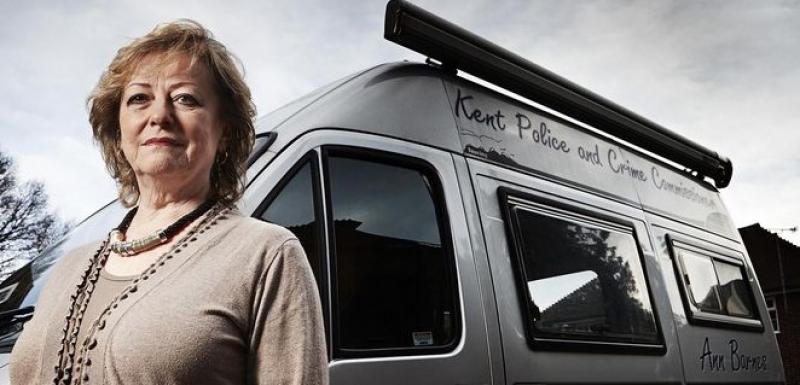 Who needs comedy writers? Kent's PCC Ann Barnes with Ann Force 1
The Big Society. Not to be confused with other Bigs: the Big Bang, Chill, Sleep, Easy, Lebowski, Fat Greek Wedding, Trouble in Little China etc. History records that David Cameron's sizeable brainwave vaporised on impact with reality around the time of the last election. Its only visible remnant is the office of Police and Crime Commissioner. This is the new post that anyone – even former deputy PM John Prescott - can stand for without previous knowledge of policing.
Voter turnout in 2012 was on the low side.
But what does a PCC actually do? Step forward into the headlights, Ann Barnes, a former head teacher who found herself the subject of Meet the Police Commissioner. PCC Barnes is in charge in Kent. It's a demanding county to police, she explained, on account of its huge coast, complex road network and its, er, huge coast. PCC Barnes allowed Channel 4's cameras to wander about in her fragrant wake as she toured her fiefdom in a jalopy jauntily known as Ann Force 1.
It seems she is highly visible in Kent. More visible, residents may complain, than actual bobbies on the beat. This would account for the rising tide of what are locally termed burgle-ries, committed by burglarers. She chaired an important meeting about maintaining the status quo in policing levels. "For technical reasons," interceded a Kentish apparatchik, "we don't use the word 'status quo'. We call it 'maintaining existing services'."
As police numbers drop as a result of government cuts, it wasn't clear that Kent's PCC has the answer to crime. One of her initiatives found mobile police stations setting up for an hour at a time in outlying villages. She visited one.
"What's the reception been like?" she asked.
"Good and bad," replied a bobby hesitantly.
"No no!" said the PCC. "We'll go for the good if you don't mind."
"I would say positive," came the dutiful response.
"How many people have you seen today?"
There ensued a perfect pause.
"Well, none."
Who needs satirists? On the inside, the film crew will have been doing celebratory backflips. Other gifts came their way. The new chief constable, whom she clearly fancied, was appointed by Barnes because "he always seems to make good decisions even if they're the wrong ones". She clearly didn't see eye to eye with his predecessor, and to prove it gave a speech of towering naffness at his leaving do. Under a balloon his face tried not to look daggers.
Somewhere inside this observational docusoap an edition of Panorama was struggling to peep out. The programme clearly wished to investigate whether the office of police commissioner is a scandalous waste of public funds, and to make this point it did Barnes up like a kipper. Easy work if you can get it. Barnes is one of those documentary subjects who is fooled into believing that she can charm the screen with old-fashioned horse sense and much plain speaking about tea and lipstick. The day after her budget was centrally capped she brought her dogs into work one day to cheer up the staff. It will have mainly cheered up the director. Anyone participating in such films should ask to hear the soundtrack first. If what they hear is the mischievous pluck of pizzicato strings, they should sprint for the hills.